At the World Olympic Gymnastics Academy Classic in Frisco, Texas, 9-year-old Rachael Lukacs gazed at her outstretched hand to view the gleaming Georgia gymnastics championship ring sitting elegantly on her finger.
"That was it," said Lukacs' mother, Laurie. "That's where she was going."
The daughter of a high school wrestling coach, Lukacs grew up watching athletes compete for a position on a podium. That day in Texas, she caught a glimpse of how she could earn her own spot as a champion.
Then-Georgia gymnastics head coach Jay Clark attended the WOGA Classic to recruit. He noticed Lukacs peeking at the jewelry before he asked if the young gymnast wanted to try it on.
"I remember thinking that hopefully, one day, that dream will happen to me," Lukacs said. "Hopefully they'll be interested in me."
Now a sophomore, Lukacs is one of Georgia's two all-around gymnasts. The GymDogs sit at No. 11 at the halfway mark of the 2020 season. The team looks to make another postseason run after reaching the 2019 NCAA semifinals.
Before competing at Georgia, Lukacs shared her time between wrestling and gymnastics mats.
"[Rachael] grew up with the best wrestlers that I ever had," said Lukacs' father, Steven, who coached Bound Brook High School wrestling in New Jersey for 30 years and won four state titles from 2012 to 2016 with nationally-ranked teams. "She got to see how they competed and how they worked."
Lukacs helped with concession stands and 50/50 raffles. Sometimes she would just stand by her dad to witness the action. The Bound Brook wrestling team would clear off the mats so Lukacs could perform tumbling passes after the matches.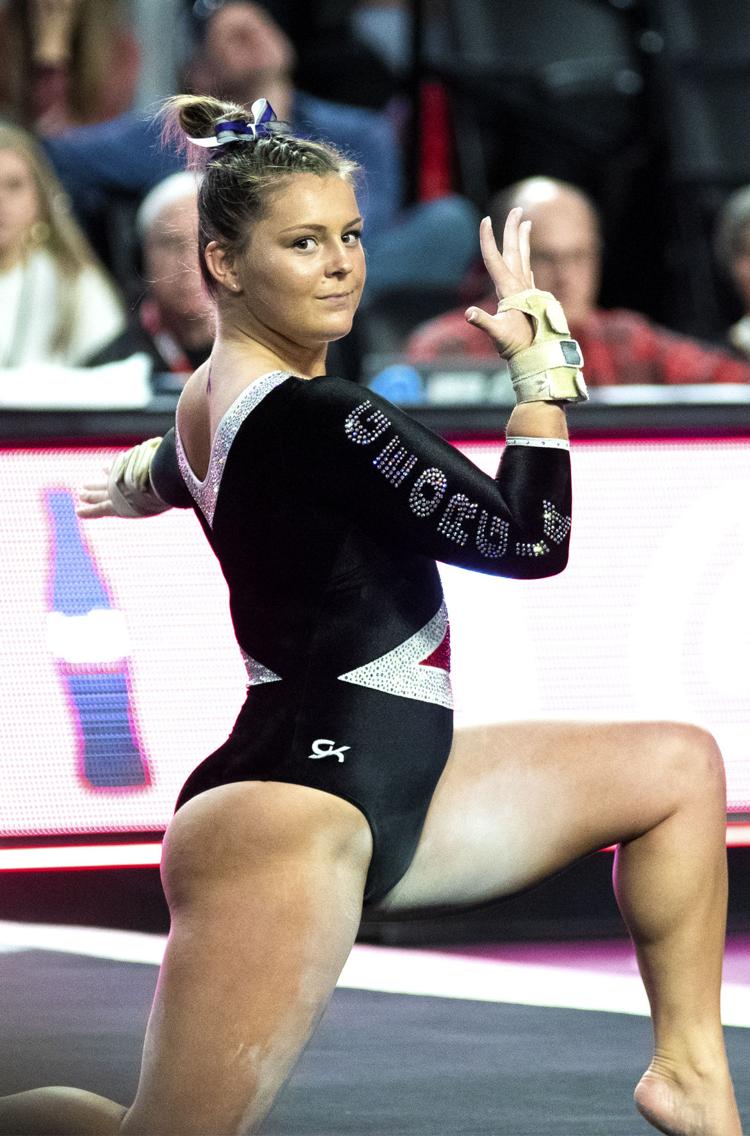 "I have a brother, but I also had a team of brothers, too," Lukacs said. "Going to wrestling was always the highlight of my day."
The wrestling team showed Lukacs the dedication it took to be an elite gymnast.
"The way my dad trained them, it was very disciplined," Lukacs said. "I feel like I took that on in my life and in gymnastics."
One Bound Brook wrestler, Mekhi Lewis, is a reigning NCAA champion at Virginia Tech. He recently qualified for the 2020 U.S. Olympic Trials.
The 2019 NCAA wrestling championships happened at the same time as the SEC gymnastics championships. As Lukacs prepared to march out with Georgia, she asked the team to stop and watch Lewis on a nearby television.
"Seeing him progress in his wrestling has influenced me to keep going, too," Lukacs said.
Lukacs' father spent the SEC championships running back and forth from the gymnastics meet to the concourse area televisions to keep track of both athletes.
"Wrestling and gymnastics are two of the hardest sports," Lukacs said. "They're a constant battle. You need to be able to react quickly and fix mistakes."
The GymDogs started 2020 in Orlando, Florida, at the Critique Classic Invitational, which turned out to be a difficult meet for Georgia. Right before Georgia started its last event on beam, Lukacs asked head coach Courtney Kupets Carter for a push forward.
"Just get on me," Lukacs told Kupets Carter. "Just tell me I can do it."
In such moments, Kupets Carter sees wrestling's influence on Lukacs.
"Her personality overall is just like what her dad's is — just that rough and tough," Kupets Carter said. "A we're going to get this done mentality. Let's get on each other."
Now, Lukacs said she hopes to help lead the GymDogs to another postseason run.
The image of a Georgia gymnastics championship ring on her finger is still etched in her mind.
"It's awesome to look back," Lukacs said. "I never thought that I'd be where I am. It's the best place in the world."