In late March, Georgia outfielder Ciara Bryan hit a home run in four straight games — the first time a Bulldog has done it since 2014.
Bryan combined for just three home runs in her first two seasons at Georgia, but has hit eight already in her junior season. She wasn't always a home run hitter, but she now poses the threat of hitting one whenever she comes to the plate.
How did Bryan make the leap to an explosive hitter in her third year with Georgia?
Natural skills
Coming into college, Bryan held a set of talents that provided the foundation for her success as a hitter.
Power and weightlifting were never a problem for the Covington, Georgia, native. Alyssa DiCarlo said with confidence that Bryan lifts the most in the weight room and is easily the strongest player on the team. Bryan has also been prone to showcase her powerful swing in practice throughout her years at Georgia.
"She's hit some of the farthest balls in practice ever. It's never been a lack of power," associate head coach Tony Baldwin said. "Home runs are a product of making consistent contact. When she puts a good swing on it, and she hits just below center, the ball's gonna go out."
Baldwin also said Bryan possesses "elite" hand-eye coordination and a fast-twitch ability to change directions, which apply to both swinging a bat and base running. Other than that, Baldwin always knew Bryan was a special athlete.
"Nothing, as it relates to athletic qualities, surprises me about [Bryan]," Baldwin said. "She's one of the better athletes if not one of the best just raw, explosive athletes we've had."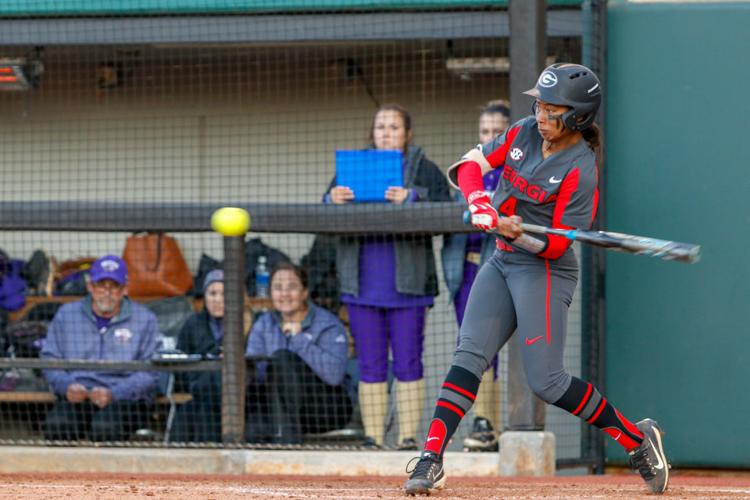 Learned skills
While the power and other athletic abilities were always there for Bryan, her patience and mindset in the batter's box is what held her back.
"I can remember when she was a freshman, she was just in there taking the same swing on every pitch," DiCarlo said.
With the help of coaches like Baldwin, Bryan was able to grow as a hitter throughout her years at Georgia. DiCarlo said she's improved on aspects like ball-strike reads and overall smarts at the plate.
Bryan felt like her patience in the batter's box is something that's improved greatly during her time at Georgia.
"Just working a deeper window," Bryan said. "Not reaching for the ball, letting it get to me and then just exploding when the ball gets there"
Baldwin agreed with what Bryan and DiCarlo brought up about improvement, but he felt her learned ability to adjust has been key.
"For her, the biggest transition has just been the maturity and her ability to adjust within at-bats, within a game, pitcher to pitcher," Baldwin said. "She's learned to use her strengths to her advantage and the adjustment part of it is the biggest growth she's made."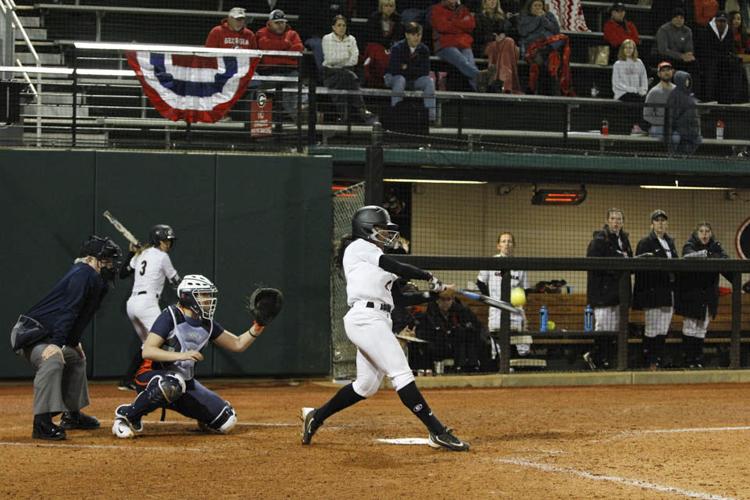 Producing at a high level
Through 44 games this year Bryan has almost tripled the total amount of home runs she hit in her first two, with a possibility of more. Bryan never eclipsed more than 14 RBIs in her first two season, and has put up 25 this season. Her increased productivity on offense has helped a sometimes inefficient team immensely.
Alongside her improved offensive game, Bryan is a reliable fielder. The junior has only seven errors in almost three years of playing outfield for Georgia. Bryan also brings high-IQ base running and DiCarlo mentioned her increased willingness to be a leader for the younger players on and off the field.
With all that being said and the emergence of her home run swing, the junior looks more versatile than ever.