Atlanta FaZe head coach James Crowder has been a part of 'Call of Duty' esports for over ten years. As a player, Crowder won several tournaments, including a world championship in 2015 where he took home $100,000 with Denial eSports.
Crowder's coaching career began with the commencement of the 'Black Ops 4' season in 2019, where he became the shot-caller for 100 Thieves, leading them to a runner-up performance at the world championship last year. Now, Crowder is coaching the No. 1 team in the 'Call of Duty' League, the Atlanta FaZe.
The Red and Black's Assistant Sports Editor Adrian Godoy spoke with Crowder over the phone to discuss his job, his sport and what the FaZe is doing to prepare for the biggest 'Call of Duty' tournament in the history of the esport.
Adrian Godoy: What are some factors that go into being an esports coach that go overlooked by those unfamiliar with professional gaming?
James Crowder: A lot of people view coaching as running drills outside on the football field and in esports, it's kind of the same thing. You're going through practices, you're talking about strategies, what you want to do and how you want to do it. A big thing that gets overlooked is player management — making sure that the team is happy and on the same page. As easy as that sounds, that can be one of the hardest things to do since you're working with some of the best players in the world, and they all have their own philosophies on what they need to do to win.
Godoy: How would you compare becoming a professional esports athlete to becoming a professional athlete in a traditional sport?
Crowder: There's definitely similarities that people might not expect. To become a professional in esports, it starts out in the same way as traditional sports. When you're a kid and you play baseball or basketball, you do it for fun with your friends when you get the chance. As you get older it gets more structured and you begin your path to become an NBA player or an MLB player. It's the same thing in esports; you're really young, you get really into video games and you want to get really good at them. Eventually you find out about online tournaments, the structure starts to come in, and you start to realize you want to be even better. Eventually there's money on the line as you work your way up to the big tournaments, where you can start to get some eyes on you from the professionals and eventually hope to get an offer.
Godoy: What does a regular day of practice look like for you as a coach, and for your players as a team?
Crowder: Our team prepares for practice about an hour before the practice actually starts. We'll have a film session where we watch our gameplay and go over specific strategies or things we're struggling on and how we need to fix them. The most important part of our practice is making sure we point out our mistakes and learn from them rather than just going through the motions. We start practice at two o'clock, where we play all the games and modes against another pro team. After that, we'll have a short break to eat and go over any struggles we might have had in the first practice to make sure it's corrected before the second practice against another professional team.
Godoy: What would you say is the most important factor to a team's success in your esport?
Crowder: In-game communication is the most important thing right now in Call of Duty. You have five players on your team, and there's a lot going on at any given moment. Essentially, there's two ways to look at it: if you're talking too much, between five players talking over each other there's going to be a lot of information that gets missed. On the other hand, if there's players that don't speak enough, they don't provide the team with enough information to make the most amplified plays. It's super important to find that happy medium where everyone is getting the important information out there, but in a clear-cut, concise way.
Godoy: What is the main thing your team is focusing on to prepare for 'Call of Duty' Champs?
Crowder: We're making sure we're focusing on our own game and perfecting it. If a player thinks he's struggling, I tell them to reach out to me at any time of the day and we'll go over it. I've been emphasizing to the players to make sure they're the best player and version of themselves they can be for the next month, and if they do that it will translate into their gameplay. I never want to go into a tournament thinking that there was something else we could have done, and instead I am making sure they are giving 110% up until the tournament.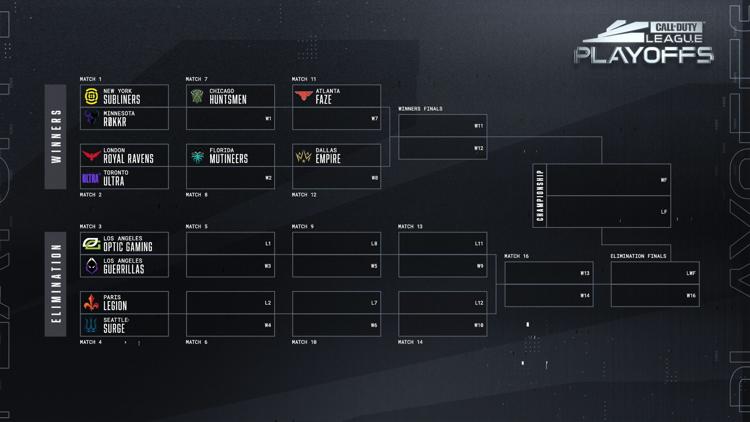 Godoy: Considering today's social climate, how would you describe the outlet that gaming and esports can provide for people from all backgrounds?
Crowder: Gaming has always been a great outlet for getting your mind off things and creating your own space for a few hours. It helps to be able to come together with friends and meet people from all over the world. I've met some of my best friends online, friends I wouldn't have met since they range from California to Europe, Canada and other places. I've been able to learn so many things throughout my life because of the people I've met from so many different countries and states, that teach me things I would've had no idea about because it's not in my own little bubble.
Crowder and the FaZe squad will be looking to come out on top in the league's $4,600,000 final tournament, beginning with the playoffs on August 19 which will be aired via the CDL YouTube Channel.