NASHVILLE, Tenn. — Georgia was lost on offense without Tyree Crump in its 94-64 loss to LSU on March 7, shooting 36.2% from the field and 11.5% from behind the arc.
Head coach Tom Crean doubted Crump would be available during the Bulldogs' SEC tournament run due to infectious mononucleosis, so a regroup was needed. Georgia would be playing with a shorter bench and would need contributions from across the board. With no Crump, the Bulldogs' outside threat dwindled down even further.
Two of the remaining three upperclassmen — Jordan Harris and Rayshaun Hammonds — stepped up in Crump's stead. The duo combined for 43 points in Georgia's 81-63 win over Ole Miss.
Harris finished with 21 points, seven rebounds, shot 8-for-11 from the field and hit three 3-pointers. Wednesday wasn't the first time Harris has shown his capabilities in the SEC tournament. Last season, he finished with 26 points in Georgia's 71-61 loss to Missouri in the first round.
Harris knew what to expect and deferred the praise to his teammates and coaches who put him in the position to be successful.
"I just went out there and gave it everything I got," Harris said. "Everything was just falling into place. I feel like I needed to pull out this [performance] for us to win."
Hammonds logged his sixth double-double of the season as he finished with 22 points, 12 rebounds and four assists. He hit two 3-pointers and brought constant energy on both sides of the court, coming up with loose balls and second-chance points.
Hammonds also pointed to his teammates as the reasoning for his game-changing performance.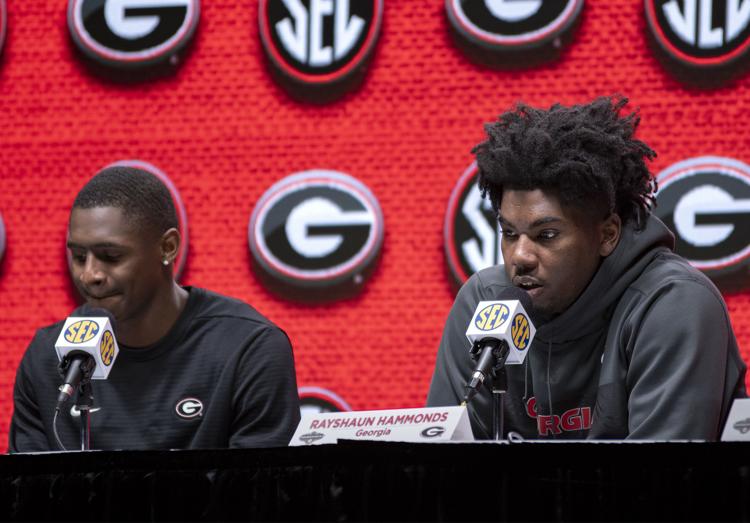 One of those teammates was Anthony Edwards, who added another inefficient shooting game under his belt. The star freshman finished with six points and shot 2-for-13 from the field. He still played all 40 minutes, despite Crean questioning if he should give him a break or not.
"We need to win the game, right? The timeouts are there, I'm watching him," Crean said. "There were probably five or six times I thought about taking him out, then I overruled myself."
Crean's decisions were warranted. Edwards made his impact in other areas, first by undertaking the toughest defensive assignment for the Bulldogs — guarding Ole Miss' Breein Tyree.
In Georgia's 70-60 loss to the Rebels on Jan. 25, Tyree scored 20 points and helped halt the Bulldogs' comeback attempt. On Wednesday, Tyree scored 18 points but shot 8-for-18 from the field as Edwards did a solid job covering him on every possession.
Even when Crean drew up plays for Edwards, the freshman said he didn't want to force it. He knew his shot wasn't going in and he thought Georgia would be better off giving the opportunities to the likes of Hammonds and Harris.
"Just use me as a decoy," Edwards said. "I don't care about scoring the ball most of the time because I know what I'm capable of and I feel like a lot of people know what I'm capable of."