Nov. 16 marked the beginning of the regular signing period for NCAA sports outside of football and basketball. Here is a look at where the 2019 classes for Georgia sports stand as of Nov. 19. 
Check back for more updates on Georgia recruiting at https://www.redandblack.com/sports/recruiting/.

Volleyball
On national signing day, four new volleyball players were added to the Bulldogs roster on Monday. With five graduating seniors, this will create a young team for the Bulldogs.
The 2019 class includes middle blockers Londyn Gray from Weatherford, Texas and Meghan Froemming from Marietta, Georgia, setter Alexa Fortin from Johns Creek, Georgia, and outside hitter Kacie Evans from Wadsworth, Ohio. - Lindsay Van Houten
 Equestrian 
During the national signing period, 11 riders signed national letters of intent to further their equestrian careers at Georgia. McKenzie Aebi will be coming to Georgia from Dhahian, Saudi Arabia. 
The remaining 10 riders are complied of four western riders and six hunter seat riders. The hunter seat riders are comprised of Celia Bresch (Barrington, Illinois), Bay Noland-Armstrong(Harrison Township, Michigan), Sophia Pilla (Ridgefield, Connecticut), Ada Roah (Montpelier, Vermont), Julia Stone (Santa Barbara, California) and Hazel Taylor (Rising Fawn, Georgia). The western riders are Kennedy Bryant (South Padre Island, Texas), Grace Himes (Bristol, Indiana), Tori Kendle (New Albany, Ohio) and Caitlin Lyons (Mead, Washington). — Tori Heck 
Gymnastics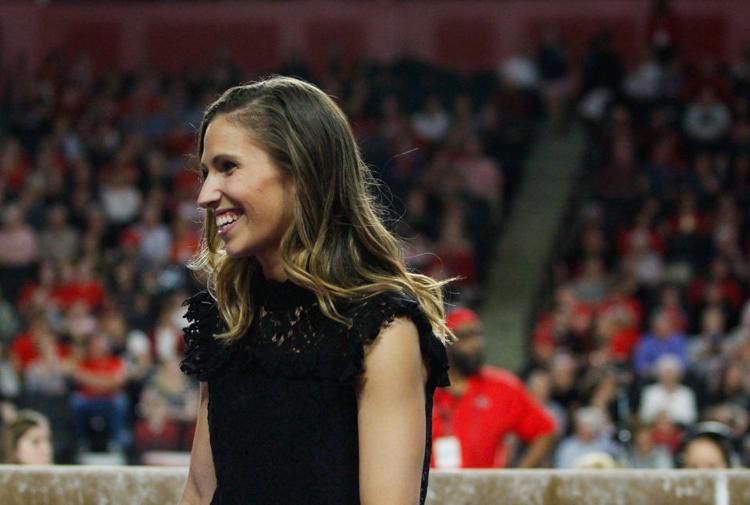 Georgia gymnastics announced the addition of Amanda Cashman to the 2019 signing class Thursday. Cashman comes to Georgia from Belle Mead, New Jersey, after placing in the top 10 at the Junior Olympic Nationals in 2015, 2017 and 2018.
Two out-of-state gymnasts found their future home in Georgia this week. Soraya Hawthorne of Memphis, Tenn. and Haley de Jong of Port Coquitlam, British Columbia, Canada have signed to continue their athletic careers with the GymDogs.
Hawthorne has routinely placed in all events of national competitions since 2015 and is currently the 2018 National Vault Champion. The USA Junior Olympics Code of Points even has a skill named after her, called the "Hawthorne."
The Tennessee native looks forward to honoring her late father's memory by becoming a Georgia Bulldog next fall. Hawthorne's father, who passed away of cancer in Dec. 2014, was part of the 'Bulldogs,' special ops rescue team.
Across the northern border, de Jong has competed in events with Team Canada since 2016, where she earned Team Gold medals at the 2016 Junior Pan American Championships and the 2016 2020 Hopefuls Cup. She was recently awarded an individual silver medal on vault at the 2018 Canadian National Championships. — Augusta Stone 
Men's golf 
Nicolas Cassidy, a senior at Johns Creek High School, will join the Georgia men's golf team next fall.
Head coach Chris Haack announced on Thursday that Cassidy signed a national letter of intent to compete with the Bulldogs.
Cassidy, a former member of the AJGA Junior All-Star Team, was named a Rolex Junior All-American two times. He had three American Junior Golf Association victories and five additional top-12 efforts. — Kristina Thomas 
Men's tennis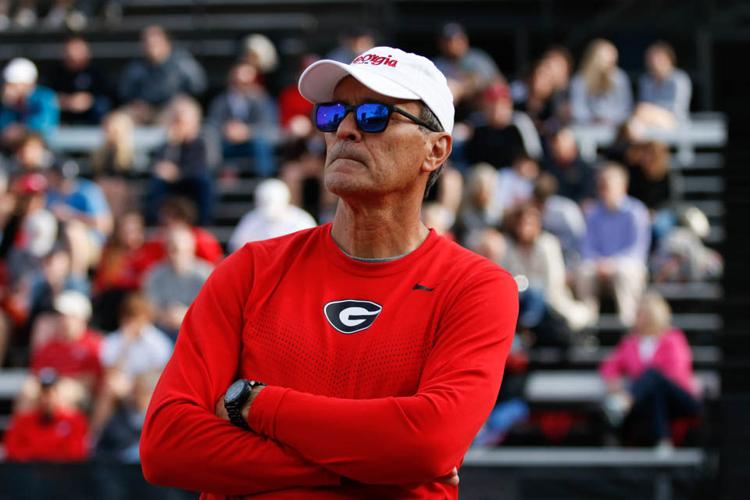 Georgia men's tennis added Tyler Zink of Bradenton, Florida, to its 2019 recruiting class on Friday.
After signing his national letter of intent, Zink is the first signee for head coach Manuel Diaz in this year's signing period. The Bulldog recruit heads into his senior season ranked as the eighth-best prospect nationally, according to TennisRecruiting.net.
He will be an eligible freshman by the beginning of the 2019-2020 season. — Quentin VanHoozer 
Soccer
The Georgia soccer team signed eight new players from the high school class of 2019. Chloe Chapman of Mitchelleville, Maryland, is the biggest name of the class not necessarily because of her soccer skills but because she also officially committed to play basketball on Wednesday for Georgia.
The remaining players of head coach Billy Lesesne's most recent recruiting class include Elizabeth Ammon (Aldie, Virginia), Jocelyn Hugo (Ontario, Canada), Emily Pulver (Atlanta), Morgan Smith (Buford, Georgia), Haley Sorrell (Lewisville, Texas), Tori Wheeler (Seattle, Washington) and Macie Witter (Foothill Ranch, California).   — Henry Queen 
Softball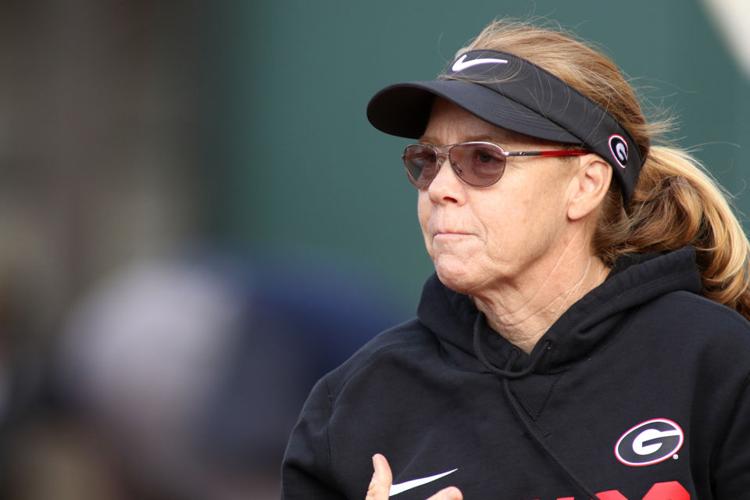 The Georgia softball team added four new recruits to its 2019 roster and three to their 2020 its during the recent signing period.
Georgia's 2019 roster gains two transfers in Alley Cutting and Hannah Coulter. Cutting is a right-handed pitcher from Grand Island, New York, and will be joining the Bulldogs after two years with the Kennesaw State Owls. Coulter comes from Cochran, Georgia, and is transferring from Gordon State College to play catcher.
The team also adds two players to the 2019 roster from Georgia in Jaiden Fields and Laura Bishop, who will be enrolling early to play this upcoming season. Bishop is a right-handed pitcher out of Woodstock, Georgia, and Fields is a first baseman/utility player from Kennesaw, Georgia, whose brother, Justin Fields, plays quarterback for the Bulldogs.
The 2020 roster welcomes three new additions, two of which come from the state of California.
Sydney Kuma, an infielder from Fresno, California, and right-handed pitcher Shelby Maier from San Diego, California, have committed to play for Georgia after finishing high school. The team will also be joined in 2020 by Sara Mosley, and infielder from Ellijay, Georgia. — Michael Cercone 
Track and field 
Georgia signed 14 prospects between Wednesday and Friday, including national high school leaders in the pole vault, heptathlon, triple jump, long jump, high jump and in the sprints. 
The No. 1-ranked athletes signed by the Bulldogs are sprinter Arria Minor (Denver), triple and long jumper Jasmine Moore (Mansfield, Texas), heptathlete Anna Hall (Highlands Ranch, Colorado), jumper Shelby Tyler (Noblesville, Indiana), pole vaulter Julia Fixsen (Shoreview, Minnesota), pole vaulter Haze Farmer (Hot Springs, Arkansas) and sprinter Caleb Cavanaugh (Houston). — Henry Fletcher 
Women's basketball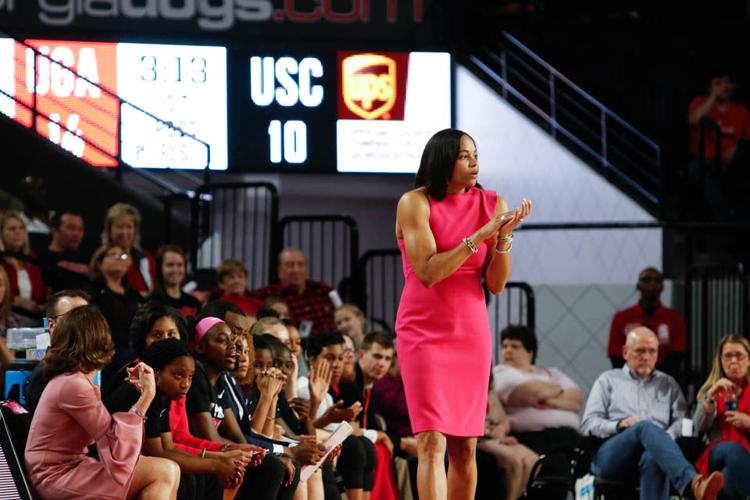 Georgia women's basketball landed its first official signee of its 2019 class Thursday, as the team announced five-star point guard Chloe Chapman signed a national letter of intent to play for the Bulldogs starting in 2019.
Chapman ranks No. 28 in the ESPNW Top 100 prospects for 2019 and is the No. 7 point guard.
Georgia also signed five-star recruit Javyn Nicholson, the No. 38 overall prospect for 2019, according to ESPN. The 6-foot-3 forward from Collins Hill High School in Lawrenceville, Georgia, averaged 11.6 points and 9.2 rebounds as a junior and was named to the Georgia Coaches Association All-State Team. 
Georgia also added in-state forward Jordan Isaacs from St. Francis High School in Alpharetta. The 6-foot-2 Isaacs is rated as a five-star prospect by Prospects Nation and ranks No. 15 nationally. According to ESPN, she is a three-star prospect and the No. 14 overall forward in the class of 2019. — Marshall White 
Women's golf 
Georgia officially signed five highly-rated recruits on National Signing Day. International prospects Celeste Dao (Canada), Caterina Don (Italy) and Jo-Hua Hung (Taiwan) join Georgia natives Jenny Bae and Caroline Craig to round out the 2018 recruiting class.
All five prospects are accomplished at the amateur, and even professional levels. Bae was named the Georgia Class 7A Player of the Year, while Hung made the cut in three professional tournaments. Dao appeared in the U.S. Women's Open and Canadian Women's Open, and Don, a Turin native, is currently ranked 56th in the World Amateur Golf Rankings. — J.C. Gonzalez