Minutes before the women of the Georgia women's club rugby team take the pitch for an 80-minute battle of clashing bodies, they crouch in a huddle, chanting in a whisper: "Ruck, maul, pillage and burn."
As their voices gradually grow in volume, the players rise from the ground until the chant has escalated to its loudest intensity and all of the athletes are jumping up and down. Adrenaline is pumping. The energy is electric.
"It's basically like a mini-mosh pit by the end of the chant," fifth-year Marlyse Sifre said.
On Saturday, Georgia will host their first annual Fall Brawl at Sandy Creek Park in Athens, where they will be facing North Georgia, Kennesaw State and Tennessee. For this full slate of matches, the Bulldogs will work to capitalize on their team morale and communication skills.
Arm in arm 
The rules of rugby naturally place emphasis on team chemistry. For instance, when players are bound together in a maul formation, they are hunched over and linked by their arms, forced to rely on the strength of each other to keep the play in motion. Cohesiveness is the key to success in these situations.
"You have to be able to trust each other and know that person has your back," junior Leah Todd said. "That kind of intensity on the field and having to trust those people makes you also really close off the field."
---
"It's basically like a mini-mosh pit by the end of the chant,"
- Marlyse Sifre, Georgia rugby player 
---
Comradery also boosts morale in critical moments and aids communication during games. Sifre recalled in last season's playoff match against Alabama, Georgia rallied from a 26-0 halftime deficit thanks to a speech from then-senior Nakia Lee.
"I think the losing fueled her," Sifre said. "She was like 'Bama can't hang with us.'"
Sifre held back tears recalling that comeback win. Although collegiate women's rugby may be less prominent than other sports, Sifre's emotions serve as a testament to the closeness of Georgia women's rugby and the importance of the game to the women who play it.
Collegiate rugby clubs are growing in numbers across the United States, but it still isn't quite as popular here as it is in other parts of the world. Rugby is played even less often by females, as there are only 373 women's teams registered in the country as opposed to 592 men's teams.
Still, Caroline Quandt shares this strong attachment to the club team. The relationships Quandt made through rugby are a major motivating factor as to why she stays on the team, she said. She also gives credit to rugby and its support system for making her a more confident person.
"The first thing they teach you is don't say sorry," Quandt said. "That changed my life."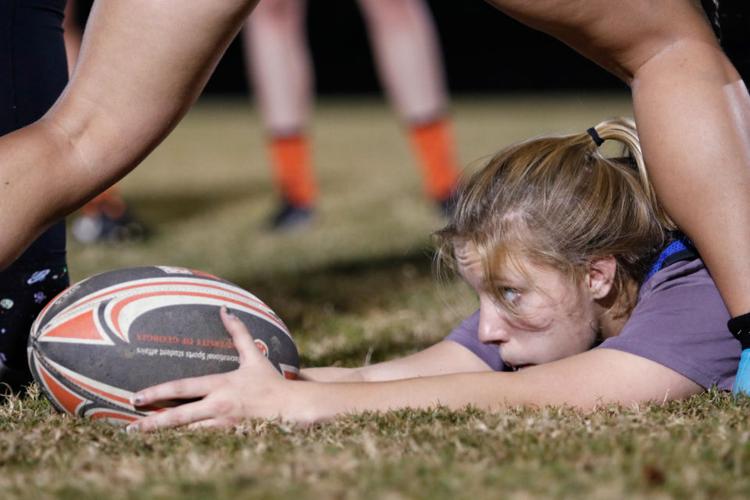 Swipe right for rugby 
As many women join rugby having no prior experience with the sport, Georgia relies on recruitment to find new ruggers. Some of the strategies they employ are standard, like tabling at involvement fairs and advertising on Facebook posts.
However, the team also uses a rather unconventional method to get out the word. Some players, including Sifre, found the club after matching with Georgia women's rugby on the popular dating app Tinder.
Senior Joe Tam created the team's Tinder to gain publicity. The profile, set with a five-mile distance to attract students, links to Georgia women's rugby's official website and includes pictures of practices, games, team activities and even a puppy owned by a player.
"It kind of started off as a joke, but then we actually got really [a] good response from people," Tam said. "Now it's just a regular part of our recruitment process."
Georgia women's rugby is where many of its players found their place on an overwhelming campus, united by an interest in a more "aggressive" sport than they played in high school.
---
"We're a very eclectic group of random individuals. We all get along so well somehow."
-  Jenny Barto, Georgia rugby player 
---
An 'eclectic group'
While the nature of rugby, with its fast pace and unpadded tackling, may seem intimidating to some women, the various backgrounds of Georgia's players make it clear rugby is a sport for anyone who wants to play. They have been softball players, basketball players, soccer players, marching band members and some had never played a sport before rugby.
"We're a very eclectic group of random individuals," senior Jenny Barto said. "We all get along so well somehow."
It's likely Georgia's closeness off the pitch is what propels them to success on it. Traditions like their pre-game chant and team events like potlucks and game nights cultivate friendship within the club that goes far beyond practice and gameday for many of its players.
Barto says the team-oriented nature is her favorite aspect of rugby. She believes rugby is unique because a team can't be carried by one "superstar" player, unlike other sports she has played.
"If everyone's not doing their job and doing the work they need to do, you're not going to go anywhere," Barto said. "Everything's so cohesive and dependent on everyone."