Jessica and Samantha Drop, twin sisters and runners for the Georgia cross country team, take pride in their athletics as well as their food. 
Due to their success at regionals, Jessica and Samantha Drop will be competing at the NCAA Cross Country Championships in Terre Haute, Indiana, on Nov. 23. They were the only two Bulldogs to advance to the championship. 
The Drop sisters have made headlines at Georgia through their successes in cross country, but their newfound love of cooking is bringing them new success and helping to keep them energized during meets.
In their free time, the Drop sisters manage their food Instagram account, @running_foodies, a platform where they post healthy meals and recipes. They started the account a year and a half ago, and it currently has 1,635 followers and 349 posts. 
"We were like 'we are really bored,'" Jessica Drop said. "We were cooking a lot and were like 'We really want to share this with everyone.'"
The Drops post almost all the healthy and easy recipes that they try. The food varies from homemade wheat bread to sushi. They typically include the ingredients used in their posts.
Their most popular recipe is their banana bread. It was what they started with when experimenting with recipes. They are proud of their recipe and love sharing it with other people.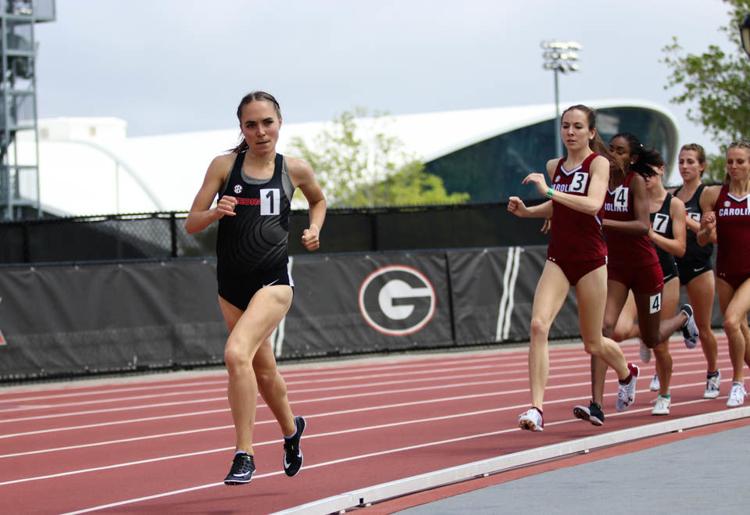 "Anytime it's someone's birthday or someone is having a bad day, we make them a banana bread," Jessica Drop said. 
While they have many appetizing meals, they each have their favorites. Jessica Drop has remained loyal to their popular banana bread, but Samantha Drop's preference is different.  
"I really like this coconut shrimp we've been making," Samantha Drop said. "It's really good." 
Race day food 
Their Instagram page includes a pinned story called "Race Day Food," where they post their meals throughout the day leading up to and after the meet, as well as the race results. 
"We try to make sure we are eating foods that will fuel us," Jessica Drop said. "We usually make sure we have salmon and potatoes." 
Sarah Renaghan, sports nutritionist for the UGA Athletic Association, believes it is important to know how certain foods affect their performance before a meet.  
Renaghan recommends the athletes try different foods during workouts to determine how they feel before the meet. She focuses on "plate coaching" to help the athletes learn to portion their plates instead of following a specific meal plan. 
"An athlete's food choices can greatly affect their performance, especially from a recovery standpoint," Renaghan said via email. "We preach recovery so much because if you don't 'refill the tank,' so to speak, you are running on an empty tank the next morning of training."
Distance coach Patrick Cunniff is another advocate for clean eating before a meet. He believes eating right is a great way to conserve energy during the long race.  
"Every once in a while, we'll have someone who ran out of energy," Cunniff said. "Either the coaches, trainers, or the sports nutritionist will debrief with them, and we do find there may be something a little off with nutrition." 
Cheat days
Although Renaghan does not recommend high fat or greasy foods leading up to a meet, she still encourages some splurges.
"But that doesn't mean recovery nutrition can go out the window!" Renaghan said via email. 
Jessica and Samantha Drop allow themselves to splurge after the meets. 
"We are big on desserts," Jessica Drop said. "So after a meet we usually have ice cream or something like that." 
Their conversation about dessert caused the two sisters turn to each other and laugh about their different favorite desserts. 
"I like donuts, she doesn't like donuts," Samantha Drop said. 
Jessica and Samantha Drop plan to continue sharing their pre-meet meals and healthy desserts on Instagram after running in their final collegiate cross country race together at the NCAA Cross Country Championships.