Going into her second knee surgery, Sarah Ashlee Barker worried any future dreams of playing basketball were over. 
Two years later, Barker led Spain Park High School to its first state championship. As the final buzzer went off and the rehabilitation process beside her, an emotional Barker knew at that moment that she had made it. Her comeback story had just begun. 
After battling through two injuries, Barker is now a freshman for undefeated Georgia women's basketball. Head coach Joni Taylor knew her perseverance would make for a perfect match at Georgia and took a chance on the young freshman, and Barker is quickly averaging 6.5 points per game in 18.8 minutes of play. 
Barker is living out what she dreamed of since a young age — creating her own legacy. Six games into the 2020-21 season, Barker has already earned SEC Freshman of the Week honors and is only getting started.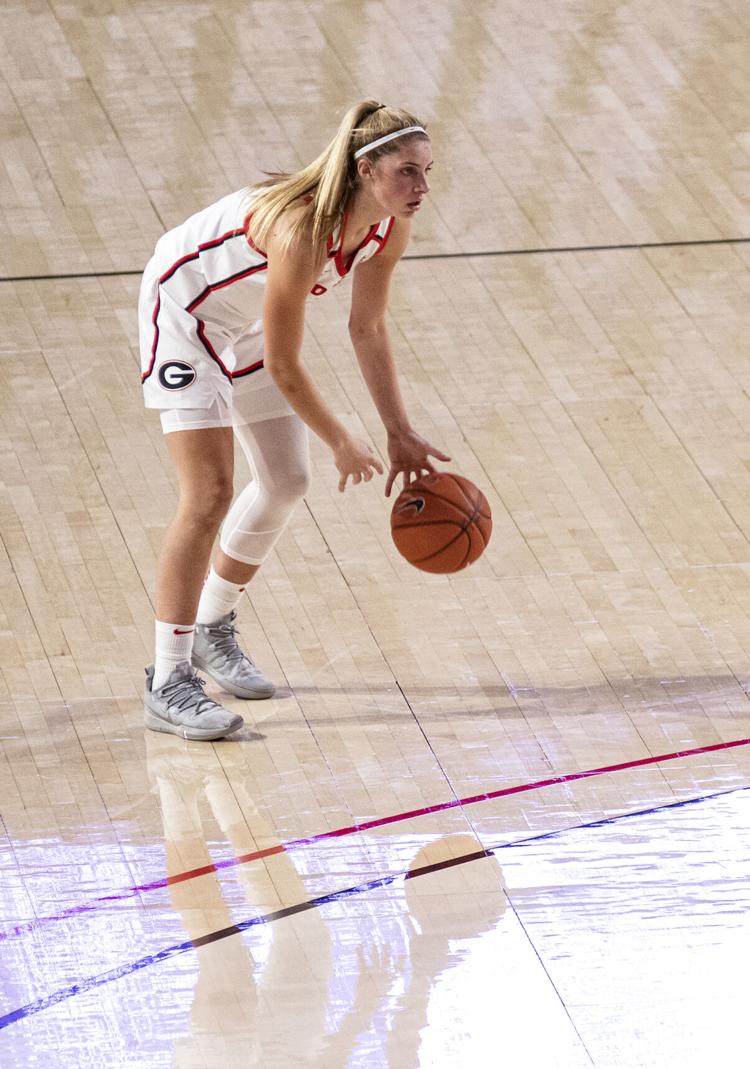 Repping Georgia red and black would be unheard of as the Barker family name runs deep in the state of Alabama. When people hear of Sarah Ashlee Barker, they may think of her as the daughter of Jay Barker, a former quarterback at Alabama who won the 1992 national championship. Connections could be made to Braxton Barker, a sophomore quarterback at Alabama, or her twin brother Harrison Barker, who's a freshman quarterback at UAB. 
Growing up in a household full of boys and shooting hoops with them in the driveway, Barker started to embody their athleticism in the sixth grade. A standout on her team, Barker picked up three more sports and realized she was good enough to play for her brother's basketball teams. 
But over the last four years, Sarah has been committed to making sure people appreciate her for the athlete she is. 
The first person to notice this passion was her former high school coach, Mike Chase. 
After hearing about the young phenom, Chase attended every girl's rec game hoping to see Barker's athleticism in action, but she was nowhere to be found. 
"I went to a guy that knew her and said, 'Hey I've been looking for this kid but can't find her playing,'" Chase said. "He asked me, 'Well, are you going to watch the boy's games? She plays in the boy's leagues.'"
At that moment, Chase knew Barker deserved his attention and got to know her after practice with her brother's team. After spending an entire year on the seventh grade team, Chase brought her to practice with the high school team. 
As she was about to make Spain Park history for being the first middle school girl to play for a varsity high school team, Barker was faced with a life-changing test. 
A knee injury suffered during a volleyball practice in 2015 led to doctors diagnosing her with osteochondritis dissecans, a condition where bone underneath the cartilage of a joint dies due to a lack of blood flow. If not treated right away, osteochondritis dissecans could lead to the development of osteoarthritis at an early age. 
Barker, then 13 years old, had to decide what surgery was right for her. 
"I went into my first surgery and there was a 50-50 chance the surgery would work, but we took it because it was a 30-minute surgery compared to a four-hour surgery," Barker said. 
After six months of rehab, nothing changed, so she returned for the four-hour surgery in February 2016. 
"That second surgery was the hardest thing I have ever gone through," Barker said. "It was tough, and there were times I thought I wouldn't be the player I was before, be as fast, or cut as much. There were even times I thought I would never step foot on the basketball court again." 
Back in the same position she started, Barker sat out for another six months only this time non-weight bearing. For a year, her life was spent on the sidelines hoping she could get back to the game she loves. 
Chase continued to invest his time in Barker to get her back to the player she used to be. 
"I was going over to her P.E. classes and doing rehab with her," Chase said. "It was just her and I in the weight room just doing stuff and we got her back." 
It was the trust he instilled in her that led to Barker gaining her confidence again. 
"Having someone that is always there for me and telling me you can get through this is what made us so close," Barker said. "He always wanted the best for me." 
Just as she hit the one-year mark after her second surgery, Barker took her freshman team to the state championship before losing to rival Hoover in overtime. During her sophomore season, she brought the state championship trophy back to Spain Park with a 56-20 win and a team-high 14 points and 9 rebounds. 
And colleges started to take note. That December and January, Barker received offers from SEC schools to play basketball collegiately on a full ride. 
It was only a matter of time before her home-state school of Alabama made an offer to the daughter of one of their very own. Narrowing down her choices to Alabama, Auburn and Georgia, there was something about the latter that Barker could not turn down. 
After all, Georgia aligned perfectly with her dream to become her own athlete. 
"Once I finally got on campus, it was one of those things where I knew that Georgia was where I was supposed to be," Barker said. "It was a different feeling than what I got from other colleges." 
Pressured to represent her name well, Barker found it easy to get down on herself as a freshman on an experienced Georgia team. Her grit and elite athleticism stood out to her teammates even in the first practice. 
"When she started running in practice, she beat everybody by a mile," said senior Gabby Connally. "We did a one-on-one drill and I took things a little lightly and she beat me completely off the dribble and that is when I knew she is not someone that I can go through the motions with." 
Once she got in her groove, there was no stopping her. 
"It's funny because against Georgia Tech she jumped on someone for a rebound, and that is just what she does," said redshirt junior Jenna Staiti. "Right when she got here, we knew she was that energy person for us." 
It was that energy that led to Taylor giving Barker significant playing time in her first collegiate game. Since Mercer's victory, Barker has earned her spot amongst a Georgia team with four seniors. 
"She is aggressive, can shoot the three, she is tough, strong and an overall confident kid," Taylor said. "She remembers the one mistake versus the five things she did well, so it is important to show her the positive things she has been doing and continue to challenge her. She is someone who wants a challenge and accepts a challenge." 
Keeping up with the Bulldogs' fast-paced offense is one of many challenges, Barker said, but each game poses a new opportunity to get better at the game she loves. Like her relationship with Chase, Barker said she is grateful that Taylor trusted her enough to have over 18 minutes of playing time. 
"Coming in here, I wanted to make an impact on this team no matter what it was," Barker said. "I have always been told you can't control the shots that go in but you can control your effort, and that is what I'm doing right now."
Barker is the first and only college basketball player in her family. Although she has at least three more years of eligibility, Barker has earned the respect she's aspired to create for herself since following behind her brothers. 
"I've been a basketball coach for over 25 years and I haven't had a better kid that has been a bigger leader for me," Chase said. "Even though she is a freshman now, she understands what it takes to be a great player as far as communication with her coach and teammates. Once the seniors graduate, I know she will end up taking over."