It's still too early to tell who will take the field in the place of 2020 Buffalo Bills draftee Jake Fromm. It's also still too early to tell if there will be a field to take.
"We believe that late July will provide the best clarity for making the important decisions ahead of us," SEC Commissioner Greg Sankey said following the conference's July 13 meeting of athletic directors.
According to the SEC's statement, leadership discussed testing procedures and potential fall schedules at their face-to-face meeting in Birmingham, Alabama on Monday. The conference did not release a definitive statement in line with the Ivy League's elimination of fall sports and the Big Ten's conference-only fall format. 
But as SEC athletic directors deferred their decision on the fall football season on Monday, head coach Kirby Smart's 2020 quarterback choice became more difficult. 
When he transferred to Georgia 47 days ago, Former Southern California quarterback J.T. Daniels threatened what looked to be Wake Forest graduate transfer Jamie Newman's starting job. But the former Trojan had to wait to see if the NCAA would make an exception to its ban on Division I football athletes competing the season immediately after transferring.
On July 13, Daniels announced he received the waiver.
Thank you to the NCAA for granting me immediate eligibility and allowing me to play football this fall. I will not comment on the waiver or transfer, but look forward to a great 2020 season with my teammates.

— JT Daniels (@jtdaniels06) July 13, 2020
So, where does that leave Newman and the other seven quarterbacks listed on Georgia's 2020 roster? As with more basic questions about what the fall season will look like, and if Georgia will play its schedule as it stands now, it's unclear who will lead the Bulldogs offensively come September. 
With minimal offensive reps and not even a walk-through since spring practice was cut short in mid-March, neither Newman nor Daniels have had the opportunity to prove their SEC-readiness. 
That will change in the coming weeks. On June 17, the NCAA approved a concrete timeline for the remainder of the offseason, allowing 20 hours per week of mandatory meetings and workouts beginning on July 24. Only then will the foggy quarterback depth chart begin to come into focus.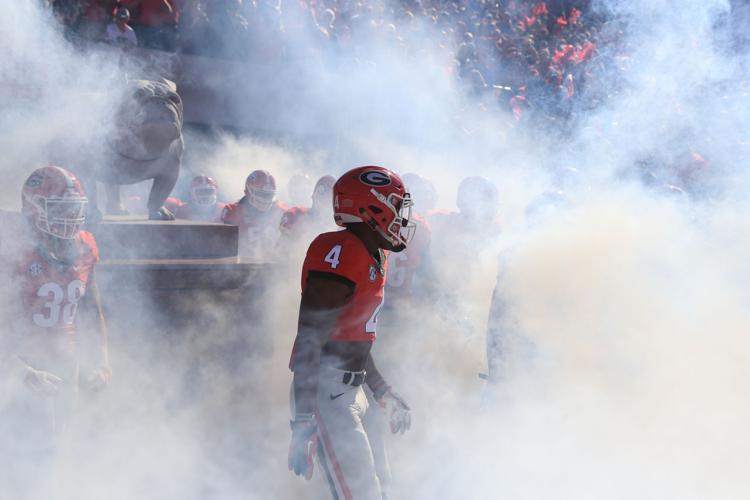 While it seems unlikely Smart would add Newman and his final year of eligibility only to have him call in plays from the sidelines, Daniels transferred with Fromm's vacancy in his eyes. 
After starting his freshman year at Southern California, a knee injury forced the former No. 2 national recruit to watch as his replacement outperformed him in nearly every statistical category. Daniels' relocation to Athens gave the redshirt sophomore a chance to get back in the huddle at least by 2021. 
With the NCAA waiver, he might have eliminated another year of waiting.
Yet Newman hasn't been an understudy since November 2018 when he threw three touchdowns on 66.7% passing in his first college start for the Demon Deacons. 
He never looked back, starting 12 games in 2019 and completing 60.9% of his passes for 26 touchdowns and six interceptions. His stat line last year far outpaced Daniels' freshman season in which he threw 14 TDs and 10 picks.
Smart as well as the conference has less than 60 days to decide on fall logistics before the Bulldogs kick off in their Sept. 7 season opener.