Joni Taylor is being called off the bench.  And this time it's not sitting next to former Georgia women's basketball head coach Andy Landers — she's the one making the calls. 
But this isn't something Taylor is unfamiliar with.
Taylor, Landers' former associate head coach of four seasons, has been groomed for this position. It's just a matter of adjusting to a new coaching staff and a new style of play. She has had to step up before and operate the team at other times, so Taylor is aware of what is expected. She's just anxious to get out there.
"Coach Landers was wonderful to me," Taylor said. "And in the summers and in the past, he allowed me to run the team and run practices. So I'm very familiar coaching practice, making a practice plan, and even making game time decisions."
However, as smooth as the transition may be from a basketball perspective it's not completely cut and dry as Taylor would like it to be. 
"Where it's been the biggest difference is non-basketball related things," she said. "You have so many different hats that you have to wear and it pulls you away from your team and it pulls you away from basketball and the recruiting piece."
And Taylor said her experienced staff is there for her to make sure nothing slips through the cracks when her attention is directed elsewhere.
NCAA women's basketball has adopted a handful of new rule changes this season that will alter the pace of play, including the separation of the game into four quarters rather than two halves. Taylor wants her team prepared to keep up with the quick tempo, necessary because of the rule changes.
In order to make that a reality, the conditioning has been amped up and previously injured players have been making rather remarkable recoveries.
One player in particular was senior Shacobia Barbee. She fractured her right distal fibula in a loss against Tennessee last year and has been as sharp as ever according to Taylor.
"The first time Shacobia had touched a basketball was her summer workout in June," she said. "And it was unbelievably impressive how sharp she was. She has a little pain that is subsiding everyday but you know from a skill standpoint she didn't miss a beat at all."
And what better time for Taylor to become head coach for her first season in charge than this year?
---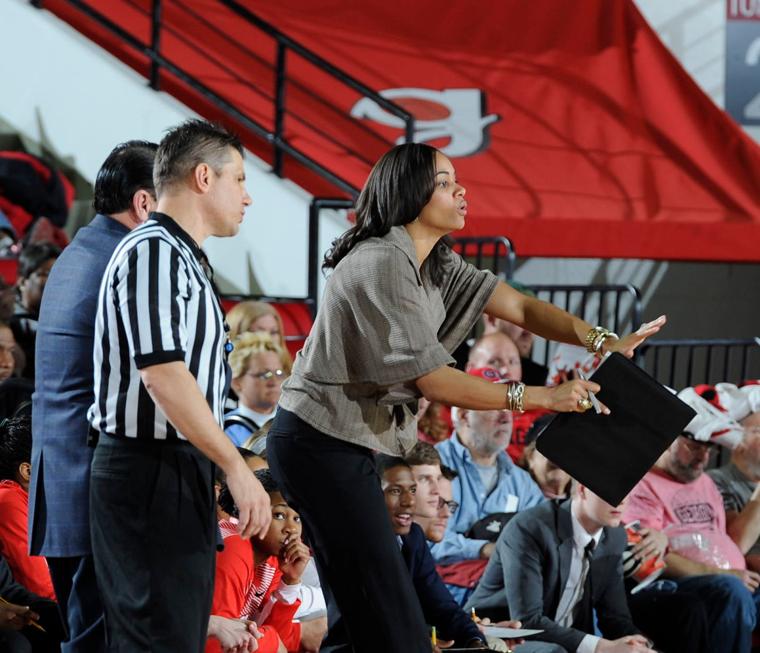 Georgia Sports Communications
---
The Bulldogs carry over four returning starters that include senior Tiaria Griffin, senior Merritt Hempe, senior Marjorie Butler, and Barbee, while saying goodbye to only one starter, Krista Donald.
Taylor has been presented with the experience and the leadership to make a statement and perhaps most importantly, a run for the NCAA tournament. 
"They've been really, really good in pulling our young kids along," Taylor said. "And being sure they know what to expect when to play in this league."
It couldn't have been written any better as Taylor gained the promotion and a boost from a skillful and well-qualified squad to propel her to a successful season. 
Nevertheless, the mentorship of Landers still lingers with Taylor and the rest of the coaching staff.
In fact, his passion still shows with the basketball team as he looks over Taylor's shoulders to see who the potential recruits are and what they would bring to the team overall.
Preparation was key to this opportunity for Taylor.
Landers gave her the tools she would need and is there for her to lean on when she needs assistance.
But it's Taylor's one shining moment this time. And she couldn't have seen herself anywhere else.
"While I was under Coach Landers, why would I go anywhere else?" Taylor said. "Because of the responsibility that he gave me cause of the things I was able to learn and grow under him. It's definitely a dream come true for me."