Georgia swimming and diving senior Veronica Burchill was prepared to compete in five relays and two individual events at the NCAA championships over March 18-22. It was her fourth invite to the NCAAs in as many years. Instead, COVID-19 shuttered the national tournament a week before its scheduled date. 
"I'm not going to sugar coat it, it was kind of sad," Burchill said. "We understood, but it stung in the moment."
She and her fellow seniors didn't realize that the team's Feb. 29 Bulldog Last Chance Meet was their final opportunity to compete as Bulldogs. Even though their season extends throughout the spring, swimmers and divers missed out on the eligibility extension offered by the NCAA to spring-sport athletes in March. 
The cancellation hit Georgia's women's team especially hard. Their championship was set to take place at home in Gabrielsen Natatorium. 
"They saw the pool right in front of them," Georgia swimming and diving head coach Jack Bauerle said. "You can only talk with them and say 'Look, you're not alone.' Misery loves company, they say."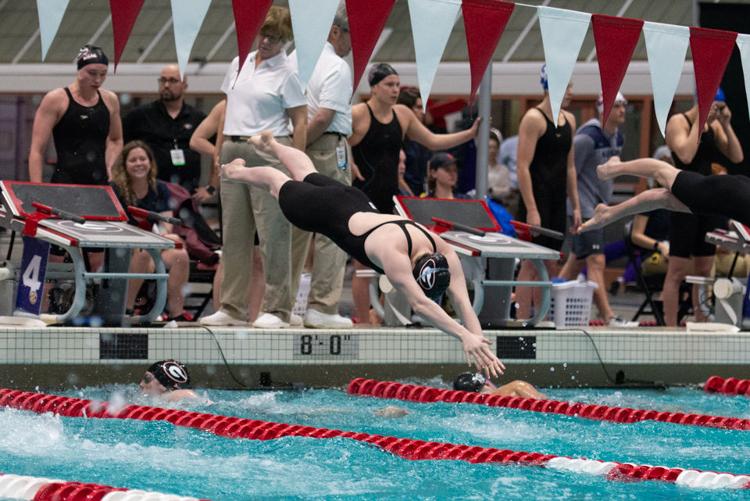 Bauerle highlighted Burchill in particular as a swimmer gearing up for a breakout showing at NCAAs. At the SEC championships in mid-February, she posted personal best times in the 50, 100 and 200-meter freestyle. Her 200 time was good enough for No. 3 in the country and her 100 time ranked No. 7.
Although the regular season slate of competitions — and the conference meet for national contenders — are mostly just fodder for trimming time and preparing for NCAAs, Burchill didn't consider the season a wasted effort. 
"I think all that training sticks with you no matter what," Burchill said. "I stepped out of my comfort zone to swim [the 200] at SECs and really just put it all on the line. I think that it just gives me more confidence because I know that I can do it again."
Burchill's final swim with her teammates came a day after learning the championships were canceled. She said it was a somber practice with the natatorium still decorated for NCAAs. 
Amid their confusion and disappointment, the swimmers stayed in the pool for about an hour before the seniors took off their Georgia swim caps for the last time.
"It was our last chance to act like everything was going to be normal for the next few months like we wish it was," junior breaststroker Jack Dalmolin said.  
Dalmolin hasn't returned to the Ramsey Center since then. His strong times at SECs and the last chance meet earned him a shot at NCAAs as well, but he didn't imagine his spring would end without even having a pool to train in.
With his senior year still ahead of him, Dalmolin said he felt for his graduating teammates and the Olympic hopefuls on the squad. Senior Javier Acevedo redshirted for 2019-2020 purely to prepare for the Tokyo Olympics this summer.
"I was really upset not to see some of those guys go out the way they wanted to," Dalmolin said. "Because our senior class was awesome this year. We had some guys like Clayton Forde, Walker Higgins [and] Kevin Miller who didn't even shave [for SECs]. It was sad to see that they didn't have their best swim ahead of them ready to go. It was tough."
Unlike Dalmolin and Burchill who shot for a top time at the conference meet, some seniors who had already qualified for NCAAs didn't rest, shave their bodies or put on what Dalmolin called a "fast suit" to hit their highest possible mark. They were still saving up for nationals. 
But that doesn't mean their swimming careers have ended. Already with a sponsorship from swimwear company A3 Performance, Burchill sets out on her professional career with an eye on the postponed 2021 Olympics.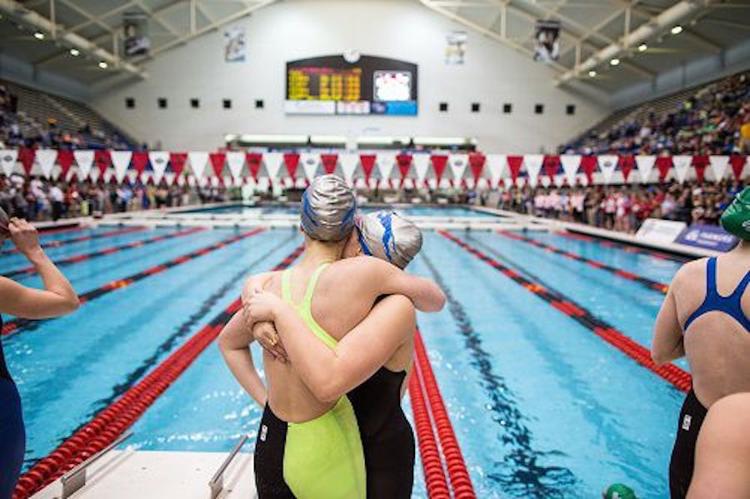 After training earlier this summer in a small infinity pool constructed at her mom's house in Carmel, Indiana, she's back in Athens swimming under Bauerle with a group of pros in Watkinsville. 
The biggest change for the freestyler, who has a remote internship with ONEtrack International lined up this fall to complete her degree in human development and family science, is that she'll no longer compete with her younger sister Sammie, a rising senior at Georgia. 
"It's weird not seeing her on the pool deck every day at the moment," Burchill said. "But I'm hoping that everything goes as planned next year."