With the cancellation of the SEC men's basketball tournament and the rest of the season amid the health concern for COVID-19, three careers have been cut a few games too short. Jordan Harris, Tyree Crump and Donnell Gresham Jr. were the only seniors on the 2019-20 Georgia men's basketball roster, accompanied by nine freshmen.
They were tasked with contributing on the court but also to act as leaders for the young group of players. Under head coach Tom Crean, the seniors saw downticks in points and minutes from previous seasons but still found a way to make an impact.
Although the potential for any of the three seniors to recoup one year of eligibility is still up in the air, Harris and Crump have said their goodbyes via Instagram.
Jordan Harris
Harris came to Georgia as a three-star shooting guard from Seminole County High School in the 2016 recruiting class. In his first of two seasons under head coach Mark Fox, Harris eased into a steady role for the Bulldogs. 
He started in 12 of the 30 games he appeared in during his freshman year and received more minutes as Georgia got into conference play. He finished the season averaging just under five points per game and shot 44.9% on 3-pointers.
In his sophomore year, Harris continued in more of a bench role for the Bulldogs until Feb. 3, when he was suspended indefinitely. The reason for the suspension was unknown but after featuring in 18 games, he didn't play for the rest of the season. He averaged 3.5 points and 2.1 rebounds per game.
In his third year, Harris made his way back into the rotation under Crean in his first year. His athleticism and energy led him to the highest-scoring average during his four-year career. He averaged 7.8 points in 29 games of action, 13 of which were starts. He ended his junior year on a positive note against Missouri in the first round of the SEC tournament, scoring a career-high 26 points.
Prior to the first game of his senior year, Harris was "deemed ineligible to compete" for the first nine games of the season. When he did return, he quickly solidified a prominent role for the rest of the season. In his first game back against SMU on Dec. 20, he showed off his bounce with a soaring putback dunk just before halftime. He would go on to showcase his importance as a defender and shot-maker. The abrupt end to his senior season came after he logged 22 points in a first round win over Ole Miss at the SEC tournament.
Tyree Crump
Alongside Harris, Crump is the only other four-year player on the roster. He was a three-star guard from Bainbridge High School and grew up not far away from Harris. The two have a deeply-rooted bond and even committed to Georgia on the same day. For Crump, he had a bit more trouble inserting himself into the rotation compared to Harris.
In his freshman year, he averaged just over seven minutes across 29 games. Crump was used mostly as a sharpshooter, with 19 of his 33 made field goals coming from behind the arc. He recorded one start in his first season against Tennessee on Feb. 11, scoring 13 points and was key down the stretch in Georgia's 76-75 win on the road.
Crump's contributions took a step up in his sophomore year, including 17 points in Georgia's upset win over No. 21 Saint Mary's. He was especially important for the Bulldogs halfway through conference play after Harris was suspended indefinitely. After Crump averaged 3.9 points and nine minutes per game through the first 11 SEC games, he averaged 21 minutes and 8.7 points in the final seven games.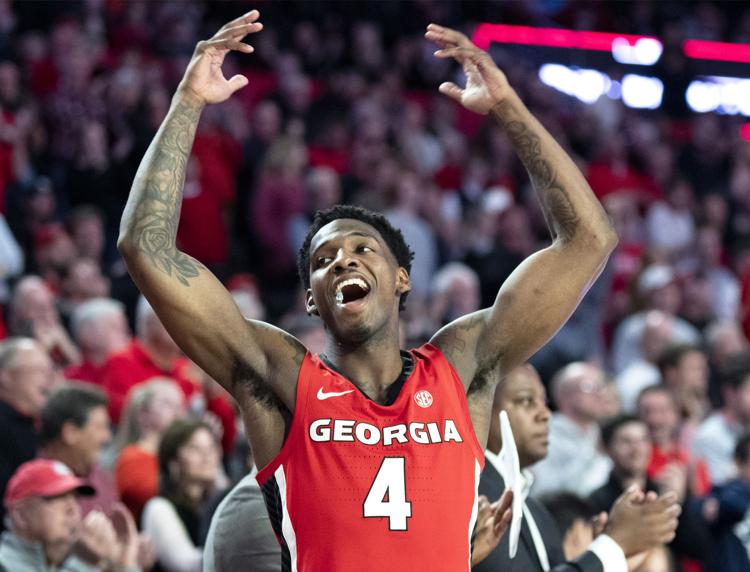 Under Crean, Crump has featured steadily, averaging over 20 minutes across the past two seasons. He averaged 9.1 points in his junior campaign and shot nearly 35% from behind the arc. He only started four games and was used mostly as the first player off the bench for the Bulldogs. He scored in double-digits 11 times, with his best performance coming against Texas Southern on Dec. 3 when he scored 25 points.
In his senior season, Crump emerged as a starter in non-conference play but fell back into his old rotation spot when conference play kicked into high gear. His scoring dipped down to 6.9 points per game still came up with a few memorable performances. He hit a game-winning 3-pointer 35-feet from the basket on the road against Vanderbilt on Feb. 22 and scored eight points in the final four minutes in a win against Arkansas on Feb. 29. Crump ended his career No. 10 all-time in 3-pointers made at Georgia with 176. 
Donnell Gresham Jr.
Gresham spent his first four seasons at Northeastern University, where he became known as a savvy point guard with deep range. He logged 29 double-digit scoring performances and ranked No. 2 all-time in 3-point percentage for Northeastern, finishing at 41.3% during his career.
When Gresham came to Georgia, he was one of the few players with NCAA Tournament experience, losing to Kansas in the first round in 2019. Gresham started the first 20 games of the season until he was moved to the bench and featured less prominently. He still left his mark on the program and was key in Georgia's upset win over then-No. 9 Memphis on the road. Gresham finished 12 points, eight rebounds and three 3-pointers.
Despite Gresham falling down in the rotation toward the end of the season, his experience helped the younger players get adjusted and prepared for the college basketball experience. Gresham finished his one and only season at Georgia averaging five points and four rebounds per game, and shot an efficient 45.1% from the field and 81.1% from the free-throw line.