Before the 2018 season, Georgia soccer head coach Billy Lesesne said the 2017 team wasn't "resolute" enough on defense and "didn't create enough or finish enough chances" to score.
Lesesne said almost the exact same thing about this year's squad after practice on Oct. 9. The Bulldogs hadn't been as "resolute" as they need to be defensively and "haven't created enough chances" offensively, he said.
Offensive and defensive woes continue to plague Georgia, but it can still qualify for the SEC tournament in Orange Beach, Alabama starting on Oct. 28.
Currently 12th in the SEC with a 1-4-1 conference record, Georgia needs to place in the top 10 to make the SEC tournament for the first time since 2015, Lesesne's first season on the job.
Fortunately for the Bulldogs, a win on Friday against Tennessee would propel them from 12th to eighth. That's because four SEC teams are currently tied for eighth place with a 2-3-1 record.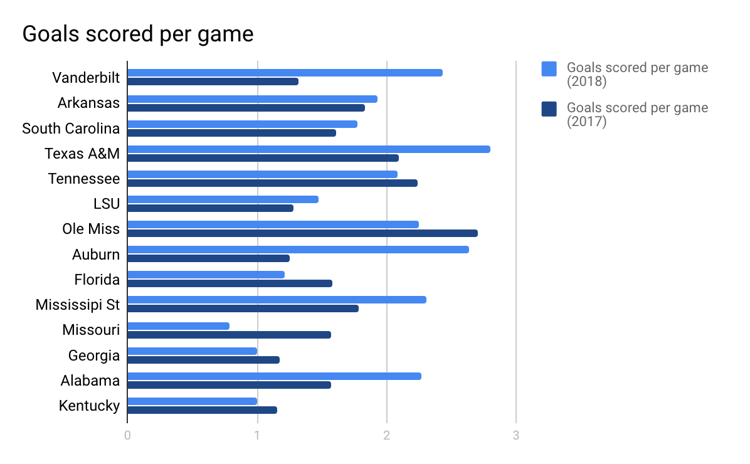 Georgia still has four games, or 40% of its SEC schedule, to play. With the standings as congested as they are, the margin for error is razor thin, the possibility for chaos very large and the proclivity for retrospection noticeably likely.
"Everybody wants to play with the chance to get to Orange Beach," Lesesne said. "That's why we're disappointed that we let points get away from us against South Carolina…And the same thing at Auburn. I thought we played well enough to get some points but again didn't defend against set pieces."
Georgia's only demoralizing loss was against Vanderbilt, who defeated the Bulldogs 5-0. Every other SEC loss has been within one or two goals. In addition, three out of Georgia's four losses have been to teams ranked in the NCAA top 12.
"We haven't really had any detrimental losses besides Vandy," sophomore forward Reagan Glisson said. "So we're with everyone."
The games have only been close, however, because of freshman goalkeeper Emory Wegener. The defense in front of her has been porous and especially bad at combating set pieces, including but not limited to corner kicks.
Four out of the five goals Georgia conceded against Vanderbilt were against set pieces, which was also the undoing of the Bulldogs against South Carolina and Auburn.
Defense against set pieces is the team's biggest weakness, sophomore defender Kayla Bruster said on Oct. 2.
"And that's why we're practicing on it a lot more and trying to figure out different strategies for dealing with it," she said.
Wegener leads the SEC in saves but has given up 17 goals. Georgia has allowed 88 shots on goal, the third most in the SEC behind bottom dwellers Kentucky and Alabama.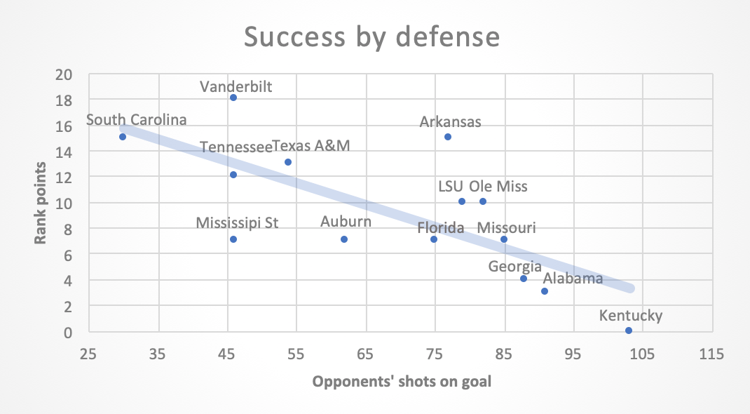 Meanwhile on offense, Georgia hasn't scored a goal since its win against Arkansas on Sept. 13. Opponents have shutout the Bulldogs in five consecutive games.
Glisson, Georgia's lead scorer, said the team isn't making any changes ahead of Friday's game against Tennessee.
She and the rest of the team can take solace in the fact that they defeated Arkansas, ranked second in the SEC, in Georgia's first conference game.
"We've beaten a very good team," Lesesne said. "We talk about that often. What was the difference in that game [compared to] the Vandy game?…There was excitement about starting conference season. Last couple games when you don't get results, you kinda lose a little bit of that glitz and that glamor about us. We're trying to bring some of that back and really get excited about our last four SEC games."
Since the Arkansas victory, Georgia hasn't looked any better than last year on offense or on defense, but Lesesne said the team has improved in at least one key area.
"Last year, I don't think we had quite as much fight and grit as this team has," Lesesne said.
The Bulldogs will need that fighting spirit to qualify for the postseason in the SEC, where anything is possible.
"It's a crazy league," Lesesne said.