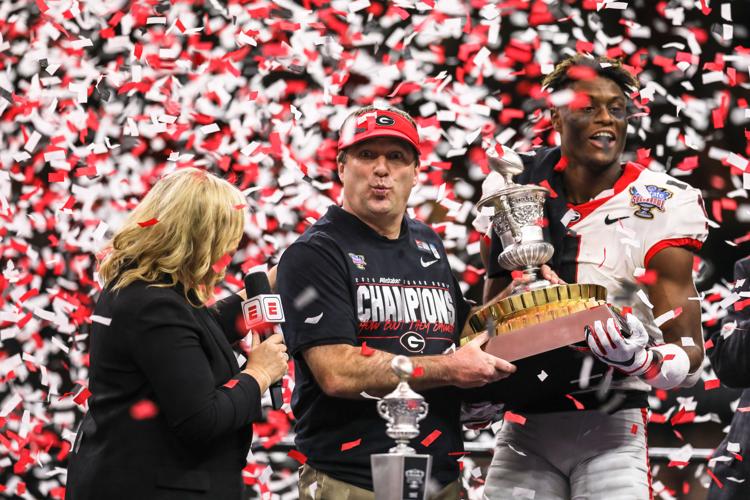 Georgia football was primed for success this season. It boasted third-year starter Jake Fromm at quarterback, 1,000-yard rusher D'Andre Swift, a highly-touted offensive line, veterans across the defense and Rodrigo Blankenship as one of the nation's top placekickers.
The 2019 season concluded with a 12-2 record and was defined by a staunch defense, inconsistent offense and two heavy losses. 
But the year also included two post-loss recoveries head coach Kirby Smart had emphasized as early as preseason camp. Since the 2018 season ended in a 28-21 loss to Texas in the Sugar Bowl, Smart made early mention of the lingering sour taste. 
"How we finish is important, and you learn from that," Smart said on Aug. 2. "We're always looking forward." 
After taking the SEC East throne, Georgia made its third consecutive trip to the conference championship in 2019 but ended up outclassed, falling 37-10 to eventual Heisman Trophy winner Joe Burrow and undefeated LSU. The Tigers earned a College Football Playoff berth after taking the conference title, defeated Oklahoma in the semifinal and will play Clemson in the 2020 College Football Playoff National Championship. Georgia, meanwhile, earned its second Sugar Bowl trip in a row.  
But this season's Bulldogs rallied to a 26-14 win over Baylor in the 2020 Sugar Bowl, which tasted much sweeter than the last. 
Despite preseason goals of a College Football Playoff appearance and undefeated season, the Bulldogs wound up pleased with their climb to a Sugar Bowl victory and 12 wins. 
Georgia kicked off the 2019 season with a statement, outscoring its first three opponents 148-23. The home opener against Murray State on Sept. 7 ushered in a new era for the Bulldogs, as they dedicated the field at Sanford Stadium to legendary former head coach Vince Dooley — making Dooley Field at Sanford Stadium a reality. 
---
"It was a great season to me. You win some. You lose some. But I feel like every day, every practice, every walkthrough, we just fought. I like winning that way instead of winning the easy way out. I like fighting for the win." 
-Wide receiver George Pickens 
---
In the Bulldogs' 55-0 win over Arkansas State on Sept. 14, fans held a 'pink-out' in support of Red Wolves' head coach Blake Anderson, whose wife Wendy passed away after a battle with breast cancer. 
The Notre Dame game on Sept. 21 sent shock waves through Athens and electrified the football program. ESPN's flagship program, "College GameDay," set up shop on Myers Quad, Athens residents rented out their homes on Airbnb for an influx of visitors and the University of Georgia Athletic Association apologized after students complained about a lack of seating at the game.
On the field, Sanford Stadium's record-breaking crowd of 93,246 watched the Bulldogs claim a 23-17 win over then-No. 7 Notre Dame.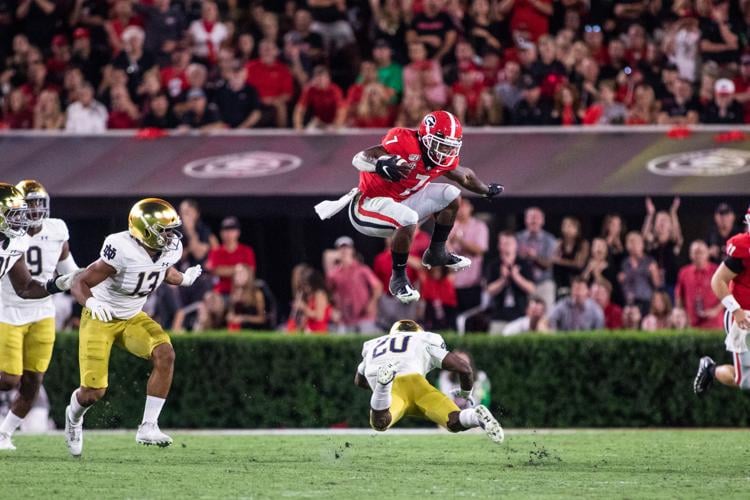 Praise continued to roll in when Georgia then cruised to a 43-14 victory over Tennessee in Knoxville on Oct. 5. 
South Carolina wasn't anticipated to be a marquee matchup for the Bulldogs. Leading up to the Oct. 12 game, the spread favored Georgia by more than 20 points, and the Gamecocks entered Sanford Stadium having won only two of its first five games. But the Bulldogs' eventual 20-17 double overtime defeat at the hands of the Gamecocks surprised them, exposed them and altered what could have been a perfect season. 
"This is when you find out about yourself," Smart said on Oct. 12. "You look in the mirror and say 'What can I do better?'"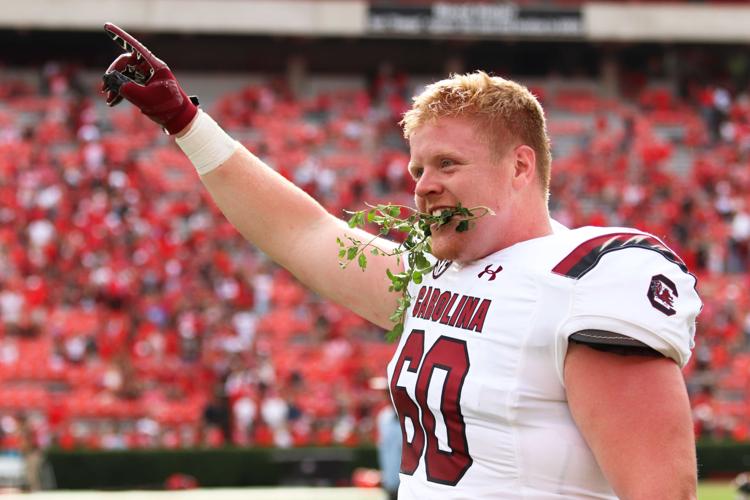 Georgia followed the shocking loss with its first rally, closing out the year 6-0 and capping off an 11-1 regular season record with a third-straight SEC championship game berth. 
The Bulldogs' run included five consecutive conference wins, a 24-17 victory over then-No. 6 Florida on Nov. 2 in Jacksonville and a 21-14 road win over then-No. 12 Auburn on Nov. 16. 
Defensive coordinator Dan Lanning's group made national headlines by playing nine games before allowing a rushing touchdown. Georgia's season concluded with four victories over teams ranked within the Associated Press top 15 at kickoff time. Blankenship became the school's all-time leading scorer with 440 career points.
Still, Fromm finished with his lowest completion percentage (60.8%) and struggled to build chemistry with an underdeveloped receiving corps throughout his final season. He declared for the NFL draft after his junior campaign on Jan. 8. 
Georgia's Sugar Bowl victory on Jan. 1 offered an answer to the offense's recurring question at receiver. George Pickens solidified himself as a reliable target after a 12-catch, 175-yard performance and earning the Most Outstanding Player honor.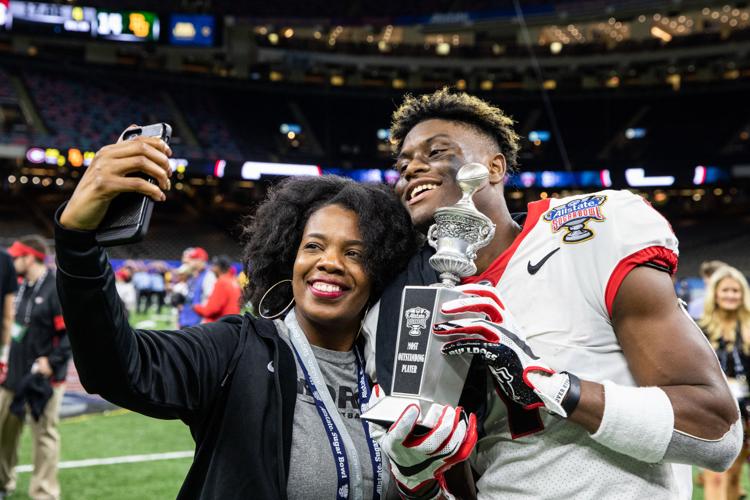 Appropriately, Pickens didn't mind the ups and downs of the 2019 Georgia football season, which was his first in Athens. In fact, he preferred the up-and-down rollercoaster. 
"It was a great season to me," Pickens said. "You win some. You lose some. But I feel like every day, every practice, every walkthrough, we just fought. I like winning that way instead of winning the easy way out. I like fighting for the win." 
Swift declared for the NFL draft after the Sugar Bowl, following offensive linemen Andrew Thomas and Isaiah Wilson who had announced their NFL decisions before the bowl game. The 2020 edition of Georgia football will be without those three, Fromm, Blankenship, Lawrence Cager, Tyler Simmons and Solomon Kindley — notable offensive positions left to be filled. 
Key defensive player J.R. Reed graduated, but a number of other defensive contributors, such as Eric Stokes, Richard LeCounte and Monty Rice, elected to stay at Georgia for their senior years. 
Georgia's 2020 recruiting class is ranked No. 3 in the nation as of Jan. 9, per the 247Sports Composite, giving a glimpse into the future ahead for Smart's Bulldogs on the field. And the cultural foothold Georgia football holds in Athens shows no sign of letting up.