Georgia was in desperate need of a win when Alabama traveled to Athens on Sunday, but the Lady Bulldogs had to take the court without one of its best players.
Taja Cole, Georgia's starting point guard in every game this season and the SEC leader in assists, sat out the important contest, suspended one game for violating a team rule.
"Does Taja not playing affect what we do?" head coach Joni Taylor said. "Sure, but I don't think anyone had the mentality that we weren't going to go out and expect to win a basketball game."
Cole was still missed. Georgia's offense sputtered, as the team shot only 29 percent from the field in one of the team's worst offensive performances of the season. Georgia went on to lose 58-53.
"There's not one player on this team that wins games for us," Taylor said. "That's not what Georgia basketball is. We win games because we play hard, we follow the scouting report and we defend the heck out of you."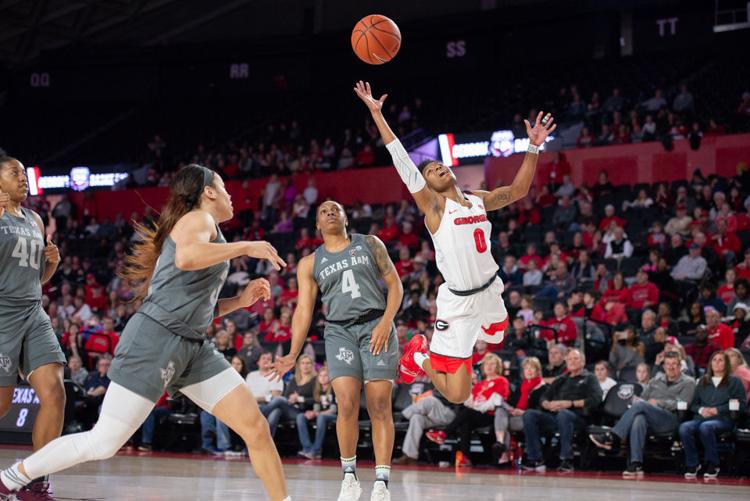 The defense wasn't the issue against Alabama. Even without Cole, one of the team's best and most active perimeter defenders, Georgia put forth a defensive effort similar to its stellar averages this season. If you take out a disastrous second quarter, it might have been one of the team's best defensive performances of the season.
Gabby Connally, who slid over to Cole's point guard spot for the entire game, was excellent defensively. She had a team-high five steals and brought energy similar to what Cole brings every game.
Without the more than six assists Cole averages per game, best in the SEC and seventh nationally, Georgia's offense struggled. The team leader against Alabama was Connally with five, but she also had five of Georgia's 18 turnovers.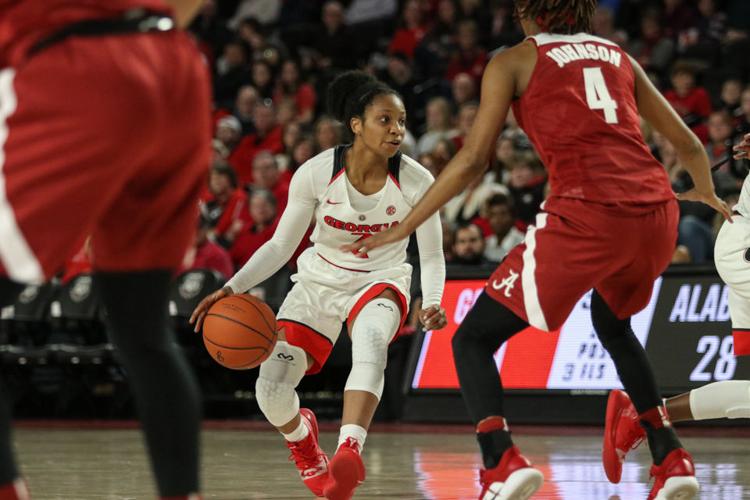 "It's not anything that the defense does," Connally said. "Sometimes I don't make the best decisions. I had five turnovers. That has to be better, especially when I'm playing the 1-guard position."
Cole, as with most high usage players, averages her fair share of turnovers as well. What Georgia missed most as they attempted to come back from an early deficit was the redshirt junior's experience and calming presence on the offensive end.
Que Morrison, who played a season-high 32 minutes with Cole out, referenced a string of three straight turnovers, saying that the team needed someone to notice that and settle everyone back down.
Normally, that would be Cole's job.
Another consequence of Cole's absence was Connally no longer being on the wing. She has excelled playing next to Cole, when her shooting ability plays up because of Cole's playmaking.
Connally is a natural point guard, but her perimeter shooting ability has been a big lift for Georgia this season. In her role off the ball, she's turned into Georgia's leading scorer.
"When Gabby is at the point, it takes away her ability to get shots on the wings," Taylor said. "She shoots the ball really well and when she's got the ball in her hands the entire time it limits her touches offensively."
The loss of Cole knocked down enough dominos to extend Georgia's losing streak to three games. The team's last win came two weeks ago against Tennessee.
The good news for Georgia is that it will be back on the court sooner rather than later, and this time, Cole will be playing. Georgia travels to take on Arkansas Thursday in Fayetteville, looking to leave its three-game losing streak in the past.