The entire Georgia gymnastics team held its breath as Sydney Snead prepared for her final pass on her floor routine Saturday evening in Stegeman Coliseum.
"We saw her do a 10 last year, so I think everyone had that in their mind," head coach Courtney Kupets Carter said. "Not really talking about it, but I know everyone on the team wanted that for her."
Instead of a perfect 10, senior Snead fell on the last pass of her floor routine on her senior night. The grace with which she handled the error exemplified who she is as an athlete.
"She was fine, that's the thing about Sydney," Kupets Carter said. "She'll shrug it off and she understands, she's realistic with everything. It's not this devastating thing to happen, it's just 'oh, I made a mistake, and I know exactly what it was'."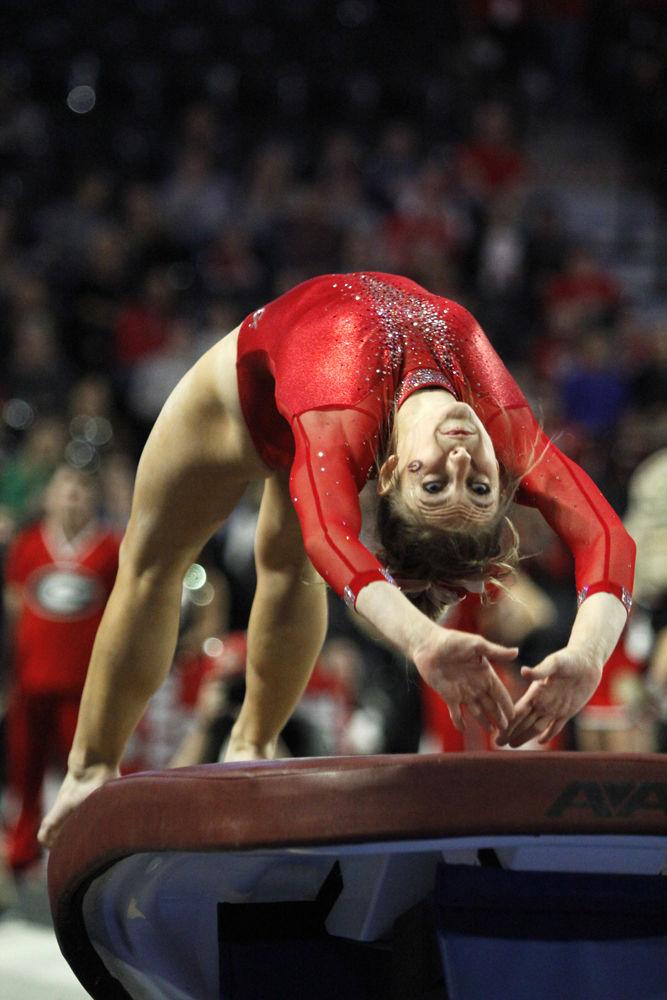 Saturday night was Snead's final regular season competition in Stegeman. Lucky for her, the GymDogs will be hosting the NCAA Regional tournament April 4-6, so she will have a few more chances to take the mat at Georgia. Still, the moments leading up to her floor routine on Saturday were emotional.
"I took a deep breath and I was like, 'don't cry, don't cry, don't cry'," Snead said. "It was just emotional and really exciting."
Snead earned only a 9.775 on floor. This was her second lowest floor score all season. However, she also earned a 9.9 on vault, 9.825 on bars and a 9.875 on beam. The 9.9 vault on Saturday night allowed Snead to complete her final regular season having earned a 9.9 or higher on all 12 vaults she performed in competition.
Snead said that an early vault by Mikayla Magee highlighted the evening for the GymDogs. The freshman has competed on vault in every meet for the GymDogs since the second meet this season, with the exception of last week's tournament. Her vault is a yurchenko full, and it earned her a 9.875, her highest score of the season.
As the only senior this season, Snead came into her final year knowing that she had an important role to fill, and it has not gone unnoticed by the nine freshmen on this squad.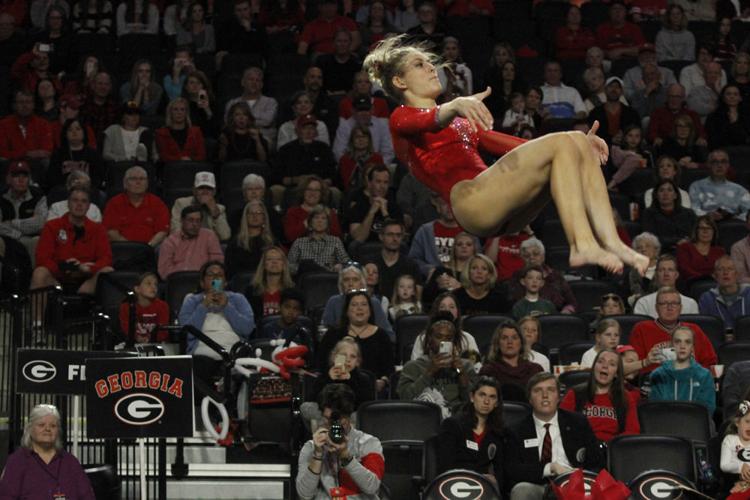 "Wow, she's done so much for me," freshman Rachael Lukacs said. "I'm just so proud of her and everything she's done."
This love from underclassmen to upperclassman goes both ways. Snead said that the special relationships they share contribute to their success. She seems to adore the newest class of GymDogs just as much as they adore her.
PHOTOS: Georgia gymnastics upsets Utah in final home meet
The Georgia gymnastics team faced off against Utah in Stegeman Coliseum on Saturday, March 16 and won by a final score of 197.525-197.450 in the final home meet of the season for the GymDogs. After upsetting the No. 6 Utes, the GymDogs will travel to New Orleans, Louisiana for the 2019 SEC Gymnastics Championship. 
"They're all awesome," Snead said. "And I love them all very much."