After the Georgia women's basketball team's Feb. 18 home game against Ole Miss, redshirt junior point guard Taja Cole sported a white wrist tape on her left wrist, which was long enough for plays to be written on them.
BEST OF: Taja Cole's 2018-19 Season
Also written on it was "Dog Mindset." Cole says it's her mindset going into every game. She jokingly called her white tape as the "Jake Fromm." She had 10 assists during that game, and just eight days before, she had a season-high 12 assists at home against Florida.
As point guard of the team, Cole's main job is to set up opportunities for her teammates and be the leader who calms things down when things are getting hectic.
"Anytime I'm on the court, I just try to help my team the best way I can," Cole said.
Cole leads the SEC in assists with 186 which averages out to 6.9 per game. It is no surprise because Cole is at the heart of every Georgia attack on offense, and is the catalyst for its defense.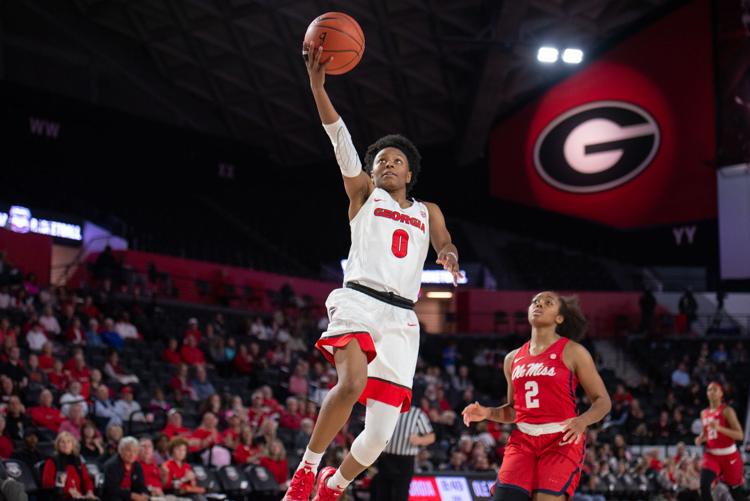 Cole is relentless when playing defense. She constantly shuffles her feet and has her hands up and ready for a steal or block. She ranks eighth in the conference in steals at 50. For Cole, doing the dirty work is fine with her because she is focused on helping the team win.
Georgia is 5-3 in conference play when Cole hits or goes above her average assist mark. In the one conference game she missed against Alabama, due to breaking a team rule, the offense struggled to have any flow in the offense.
"That's my job as a point guard is to distribute," Cole said. "My job is to put my teammates on the best possible position to score, and I just try to that every night."
She also improved her entire offensive game.
Compared to last year, Cole's field-goal percentage went from 38.3 percent to currently sitting at 41 percent. Her shooting was on full display during a Jan. 13 home game against Tennessee where she hit three timely 3-point shots for a 66-62 comeback victory.
Head coach Joni Taylor said the improvement comes from Cole playing in year two of the system. Taylor said she understands when to shoot the ball, and when to pass it up to a teammate.
"Just really knowing [the playbook] like the back of my hand and also just knowing my teammates," Cole said. "I know where they like to shoot on the floor, what positions to put them in to be successful to score, so just makes my job easier."
Without thinking about the plays, Cole is able to play more freely. She is able to make the no-look passes to senior Caliya Robinson in the paint or make a quick pass out on the wing without hesitation.
Even when she can't get the ball to her teammates, she's been capable of getting a fast-break layup or spotting up from beyond the arc.
"Taja sets the tone for what we do on both ends of the floor," Taylor said. "She is a great defender, and she comes down and able to push temp in transition. She's got great floor vision."