Toes dangle off a flimsy springboard with nowhere to look but the diving pool below at 16 feet deep. In seconds, a diver will thrust themselves off the board, spinning and hurtling before coming face-to-face with the water.
This is the world of diving, where competitors are asked to jump off high platforms, do complex stunts and create as little of a splash as possible. All the while, a panel of judges eye and score their every move.
While races go on at a typical swim meet in Gabrielsen Natatorium, the Georgia diving team is calm and focused as they prepare to showcase their dives.
"When I am on the board, I personally do not like to think," junior Zach Allen said. "I'm just in my zone and try to block everything out."
With body positions, changing shape, angular momentum and minimizing splash, there are many elements that go into a perfect dive. Some of these are derived from skills developed in gymnastics. While diving can rely on gymnastics, it is not a required part of becoming a diver.
"Some people will take mechanics from gymnastics, and it could help their diving, but there are things we do differently that could mess up your diving," sophomore diver Kelliann Howell said. "For example, you do an even number of twists like a full or a double [in gymnastics], but in diving we do half twists."
Howell and senior diver McKensi Austin started gymnastics at a young age and transitioned to diving early.
"It's a pretty common pathway because if you're comfortable flipping on land, then you'll be comfortable flipping in water," Austin said. "A lot of people on our team were level 10 gymnasts, but it is not a requirement. You can start from scratch and are able to pick up dives quickly. Anyone could do it."
Unlike Howell and Austin, sophomore Ellie Crump did not start with gymnastics. Instead, Crump started diving when she was six years old.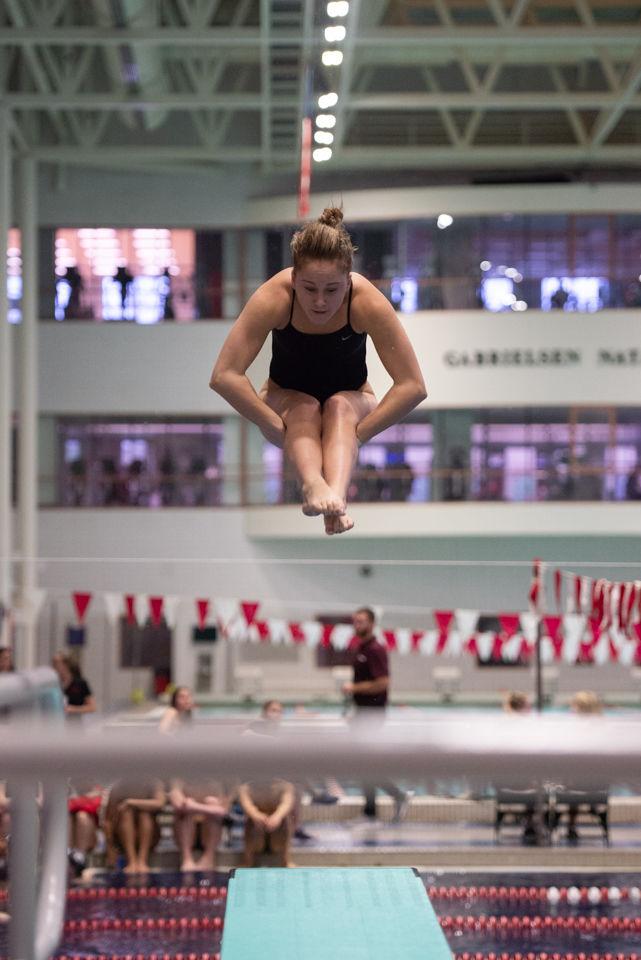 "There are a lot of skills you learn in gymnastics that help you in diving, but also it causes a lot of habits you have to break," Crump said. "I would definitely say that gymnastics does help with your diving."
Divers must have the ability to perform difficult dives with consistency for success off the boards. Difficulty is determined by five factors — approach, takeoff, elevation, execution and entry.
To achieve this, the diving team splits its time between dry land and the pool.
"We work a lot on mostly hurdles on the dry boards. On the trampolines, we work on connections into dives and positions in the air," Crump said.
The success of a dive is dependent on the actions of the diver before they leave the takeoff surface.
The trajectory and angular momentum are established during takeoff and can't be altered during the remainder of the dive. It is why perfecting hurdles is a crucial aspect of practice.
"[Diving coach Chris Colwill] always tells me that if the hurdle is there, the dive will be there, so that is what I mainly focus on," Crump said.
The key is to dive into the water with almost no splash. What seems impossible — a diver launching themselves and disappeaing into water with no splash — is only a matter of physics. It's called the rip entry.
To achieve a rip entry, the diver's arms must be in line with their ears, their elbows must be locked and their stomach and back must be tight. These give the audience the effect that the diver is being sucked into the water.
"Even in practice, there is never a perfect dive," Crump said. "There is always something you can work on to get better."
A dive is not just a jump. It's a display of physics, gymnastics and choreographed stunts.
"Ever since I started diving, I was into the whole flipping and adrenaline aspect," Austin said. "Knowing that it is less of an impact on your body and more of a unique sport, I was confident in my decision to keep going."