SUWANEE — In a line of red jerseys dotting the Lambert High School sideline on April 26, one number was missing.
Georgia's club lacrosse team gathered at the football stadium in Suwanee for its matchup with South Carolina in the first round of the Southeastern Lacrosse Conference playoffs. But something much bigger was on the team's mind.
Four days earlier on April 22, the team was rocked by the news that junior defender Tate Prezzano was shot in an armed robbery at a bus stop on South Milledge Avenue. Prezzano was discharged from the hospital on April 28 and is expected to make a full recovery. But at the time of the game, he was still in the hospital recovering from his injuries.
Head coach Billy O'Haire and the rest of the coaching staff made their way to the hospital as soon as they heard what happened. Despite the incident, O'Haire decided it would be best to hold practice as scheduled that day.
"It was just us, there was nobody around. It was a closed practice, so we were able to actually address the team, see what the guys were thinking, see where their minds were, see if they needed anything from us," O'Haire said. "Obviously, at the end of the day, they're kids, so it's really traumatic for them."
Senior captain Tristan Otto was one of the first teammates to hear about the shooting and alerted the rest of the group.
"Something I didn't think was going to happen was sending a GroupMe message at 11 a.m. being like, 'Hey guys, Tate got shot this morning,'" Otto said. "I think [having practice] allowed the sense of normalcy to return to a schedule of some sort."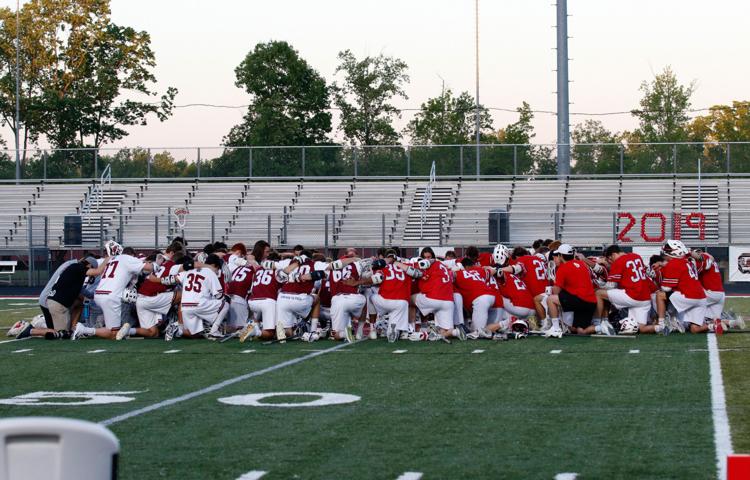 Amid everything, the Bulldogs still had a game to play on April 26. Prezzano wasn't physically there, but reminders of him were everywhere as the Georgia lacrosse community gathered at Lambert High School.
Outside the stadium, parents of players raised money for Prezzano's hospital bills by organizing a raffle, which raised about $1,400, according to the game's PA announcer. Fans in the stands wore red ribbons in honor of Prezzano.
At midfield before the game, the focus turned away from lacrosse as both teams knelt in a circle and the stadium fell quiet for a moment of silence for Prezzano.
And while Prezzano's No. 35 jersey wasn't visible, in a way, he was there on the sideline. Throughout the game, assistant coach Chris Davis held up a cellphone with Prezzano on FaceTime. On the sideline, in the team huddles and in the line of handshakes after the game, Prezzano was there on FaceTime to see everything.
Georgia lost to South Carolina 19-5 and was eliminated from the SELC playoffs. But in many ways, the week's events were a reminder to the team that some things are much more significant than lacrosse.
"You get in this groove of, all right, I have school and lacrosse, school and lacrosse, school and lacrosse, for three and half, four months, just in the spring alone," Otto said. "I think it kind of humbled everyone to the point where they were like, all right, there's a lot of stuff that's way bigger than [the game] we're going to play."
The coaches didn't want the team to be under any added pressure to perform in the playoff game. They'd been through a lot already, and many were ready to just get back to Athens and see their teammate.
"Our general consensus was, we don't want to put any more pressure on these kids than we normally have," O'Haire said. "So we're going to play for Tate. We're not going to win for Tate. We don't want that kind of pressure on Tate. We don't want that kind of pressure on these kids, thinking that if for some reason we don't win, they get let down."
O'Haire described Prezzano as "one of the best teammates you could ask for." He began his college career at Georgia Southern before transferring to the University of Georgia last year.
O'Haire had one encounter with him after the incident that he said encapsulated the kind of athlete Prezzano is. O'Haire was holding his hand in the hospital and telling him how much he loved him and how he would be there for him no matter what. Prezzano's response was simple.
"Just win it," he said.
"That kind of just sums up who he is," Davis said. "He just grabs the bull by the horn and goes after it. Always very determined, and very focused."
The shooting garnered widespread support for Prezzano from the lacrosse community and beyond. Lacrosse teams across the country tweeted in support of him, using the hashtag #TateTough. Prezzano's former lacrosse team at Cambridge High School wore shirts with his name on them before a game on April 25.
But by Otto's guess, Prezzano would never ask for any of the attention he's received.
"He cares, and he shows his way of caring, not in an outspoken, hype you up kind of way, but just, 'Hey, I'm going to be there for you if you need anything,'" Otto said. "I'm sure he hates all the attention that he's getting, because he's just a very low-key kind of guy."