There is no "I" in team, but there is in injury. Georgia gymnastics has learned that the hard way.
Less than three months into the 2020 season, Georgia's 15-member gymnastics roster lost two regular competitors for the rest of the season to Achilles tendon injuries.
All-around gymnast Rachel Dickson tore her Achilles tendon in practice leading up to the GymDogs' first meet on Jan. 3, sidelining her for the entirety of her senior season.
After competing in six meets, freshman vault, bars and floor regular Amanda Cashman ruptured her Achilles tendon while attempting an extra floor pass in practice on Feb. 13.
Head coach Courtney Kupets Carter was not expecting Cashman to try more than one pass during her mock routine one day before Georgia's home tri-meet with Ball State and Eastern Michigan. Cashman's confidence in her performance led her to attempt another pass, but it ultimately resulted in her season-ending injury.
"The nature of the injury is very difficult to track and to know," Kupets Carter said. "You never really know, so you put it into how [they are] feeling, what's going on, how much can they take. When an athlete's feeling good, to have this happen, it's heartbreaking."
Cashman and Dickson now watch from the sidelines sporting casts, crutches and knee scooters, cheering on their teammates.
"It was definitely tough for [Cashman] to come to the realization that she was hurt, but she has been nothing but supportive to all of us the entire time," freshman bars and beam competitor Haley De Jong said. "I'm just really proud of her for being so strong."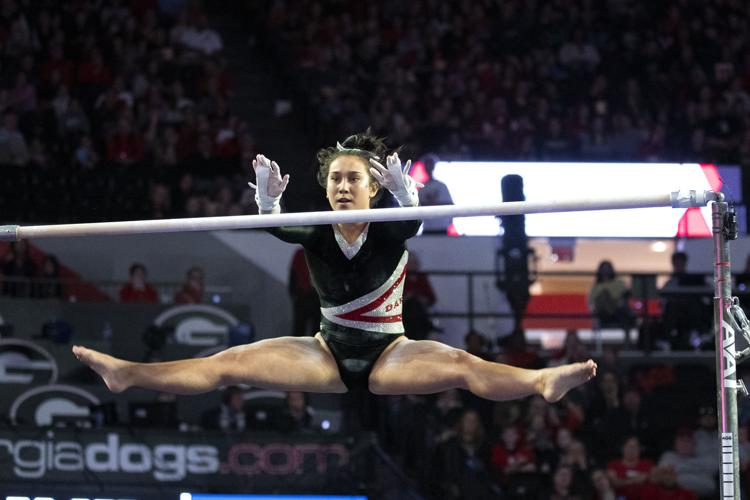 While their injuries have a large impact on the GymDogs' lineup, Dickson and Cashman are pieces of a larger problem affecting NCAA gymnastics.
Three months into the 2020 season, 20 gymnasts across the NCAA are out for the year with ruptured Achilles tendons, as reported by Mary Emma Burton, senior editor at College Gym News. Georgia is the only team in the NCAA to suffer more than one Achilles tendon rupture this year.
An Achilles tendon rupture is the result of an action called eccentric loading, a process in which the Achilles tendon lengthens while calf muscles contract. Most commonly, this is the motion occuring when walking backwards, pushing off for a sprint or making a forceful plantar flexion of the heel.
Dr. Mason Florence, a foot and ankle orthopedic surgeon at Athens Orthopedic Clinic, sees Achilles tendon sports injuries predominantly in basketball, where jumping and landing are constant.
"As the forefoot hits the ground, in order [for] the heel to just not slap on the ground there, the Achilles actually contracts as the ankle comes up," Florence said. "That's probably the most common [injury causing action] now."
In gymnastics, this movement occurs while taking off for a tumbling pass, sprinting toward the vault or landing on a weight-bearing foot at the wrong angle.
Florence also attributes the injury's risk to lack of diversity in the muscles being used. Multi-sport athletes will find variation in the muscles and movements they use in each sport, giving certain areas of the body relief as the athlete cross-trains. Gymnasts tend to stick to the same muscle groups throughout their tumbling, increasing the risk of overuse.
As gymnasts are performing in the highly competitive Junior Olympic arenas before they come to the NCAA, their body's degenerative process is unnaturally sped up. In theory, a 20-year-old gymnast could have similar muscle and joint wear and tear as a non-athletic middle-aged adult.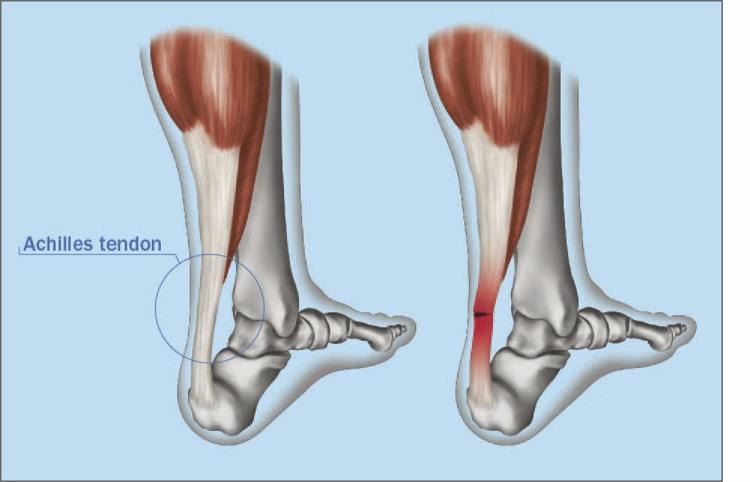 "As you just continue to use and overuse [the tendon] ... I think that does predispose and increase the incidence of it," Florence said. "It's not a true degeneration, but it may be all in the sense of it just [because] it's seeing a lot of use."
This overuse is amplified by the extreme force applied while tumbling in gymnastics. Completing skills hundreds of times per week in practice with such power takes its toll on the body, and the gymnasts are not taking their tumbling lightly.
"The sport is changing and evolving, and you do bigger skills when you're younger," Kupets Carter said. "It's a continual pound on your body, and when you come to college and you compete every weekend, you try to stay as physically fit as you can."
Without the proper mental conviction and aggressive attitude, the tumbling and skills performed in gymnastics would not be possible. In a meet, there is no promise of a safety net or a soft cushion to break a fall.
"You have to be aggressive," Kupets Carter said. "You have to do it properly, and moving forward there's that mentality that it's scary. It's just the nature of the sport."
While each event requires the same assertive mentality, floor is where some of the most complicated and intensive tumbling takes place. Of the Achilles ruptures Kupets Carter has seen, she said most occur during tumbling passes of floor routines.
Kupets Carter herself suffered two Achilles tendon ruptures throughout her career.
The first was during a training session for the 2003 World Championships, and the second was during a meet against Arkansas in her junior season while attempting a front double Arabian pass in 2008.
As every gymnast knows, tears, surgeries and broken bones come with the territory. They can't receive perfect 10s without facing the risk of a season-ending injury.
"Gymnastics is just a tough sport," Kupets Carter said. "Gymnasts are physically fit, [there's] a mental strain [and] it's one of the sports that combines a lot of different attributes that make it very difficult yet very amazing to do — but there is a risk."