Sean Bailey grew breathless as he found himself near the bottom of a dogpile in Tuscaloosa, Alabama, on Sept. 23, 2007. 
A senior wide receiver who led with 74 yards on five receptions against the Crimson Tide, Bailey was one of the first to jump on fellow Georgia wideout Mikey Henderson after Henderson caught a game-winning 25-yard touchdown pass from quarterback Matthew Stafford in overtime. At least 50 Bulldogs, including Stafford, followed Bailey's lead by celebrating in front of Bryant-Denny Stadium's crowd of 92,138 people. 
 "It's a good memory, but it was kind of a scary moment at the time," Bailey said 13 years later. "I was relieved when everybody got up because I was having a mini panic attack at the bottom of that pile." 
No. 22 Georgia carried a 2-1 record against an undefeated 16th-ranked Alabama under first-year head coach Nick Saban. The Bulldogs, led by head coach Mark Richt in his seventh season, escaped a back-and-forth contest with a 26-23 win and one of Richt's favorite celebration memories. 
"It catapulted us into believing we could do anything," Richt said. "And the dogpile was magnificent." 
Georgia's 2007 nailbiter was its most recent victory over Alabama as well as the last time SEC foes played in Tuscaloosa. Before the Bulldogs head back to Alabama for their 2020 matchup with the Crimson Tide, The Red & Black relives the 2007 classic that pushed Georgia to finish the year at 11-2 with a Sugar Bowl win over 12-0 Hawaii on Jan. 1, 2008.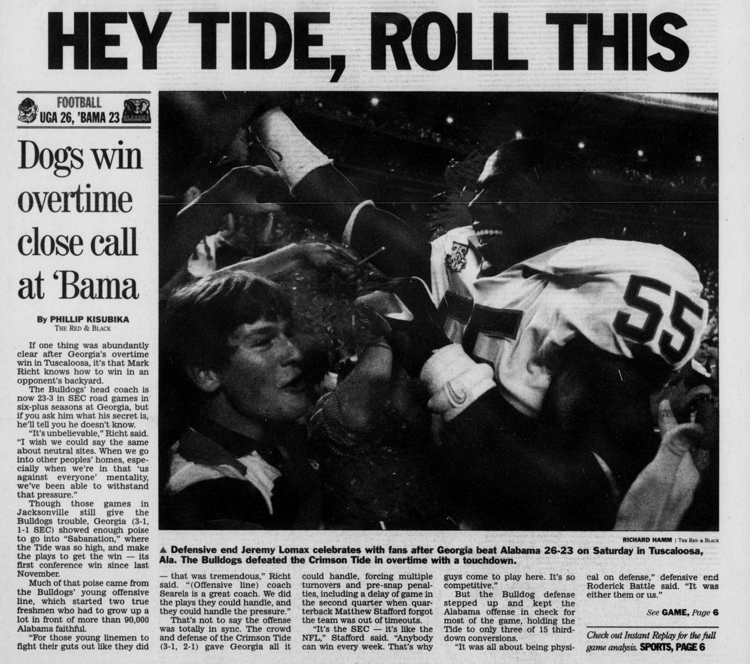 'Everybody realized the magnitude' 
Though 2007 was punter Drew Butler's redshirt year in Athens, the pressure of the Alabama game was evident. The Bulldogs already lost 16-12 to SEC rival South Carolina in Week 2, and Butler felt earning the win against Saban on the road was the Bulldogs' chance to put a stamp down in its push toward a good season. 
"Everybody realized the magnitude of the game and those conference wins," Butler said. "You've already got one loss in the loss column. It's absolutely massive. You have to capitalize on those opportunities."  
Georgia was familiar with Saban, having played against his LSU teams in 2003 and 2004. Bailey knew Saban had built a disciplined, prepared program at Alabama and said he remembered the primetime matchup as a "big game." 
Richt, however, prepared for business as usual. He'd been at Georgia since 2001 and coached plenty of high-profile games in that time span, including three SEC Championship Games in 2002, 2003 and 2005. 
Bailey said there was plenty of focus and attention to detail in the week leading up to the game. Richt kept his mind on the day-to-day ritual of heading to the office, studying film and going to practice. 
"It sounds boring, and it kind of is, but as a coach … You don't always see or feel what's going on around you," Richt said. "There are so many big games we play, and that was just one of them, really." 
Back-and-forth, man-to-man
Bailey hadn't been to Bryant-Denny before 2007 and remembers the awesome atmosphere with the venue's history in his mind. 
"Playing in a hostile environment like Alabama is always fun," Bailey said. "The stage was set for a big SEC battle." 
Richt said he rewatched a condensed version of the 2007 Georgia-Alabama game on YouTube before reflecting on it 13 years later and told his wife about how the atmosphere stuck out to him upon revisit. 
"We played in so many games like that, you kind of took it for granted," Richt said. "Watching it like that, looking back, and seeing the passionate fan base … It was pretty cool that we were able to experience so many of those types of games. That was one of them." 
The game itself was a back-and-forth struggle that saw Georgia take two 10-point leads, first in the middle of the second quarter and then at the start of the fourth. 
Throughout regulation, it became evident to Georgia's offense that Alabama was playing man-to-man coverage. Current Georgia head coach Kirby Smart, who was in his first year on the Crimson Tide's staff in 2007, said he felt good about Alabama's defensive performance against future first-round NFL draft picks Stafford and running back Knowshon Moreno when asked about it 13 years later.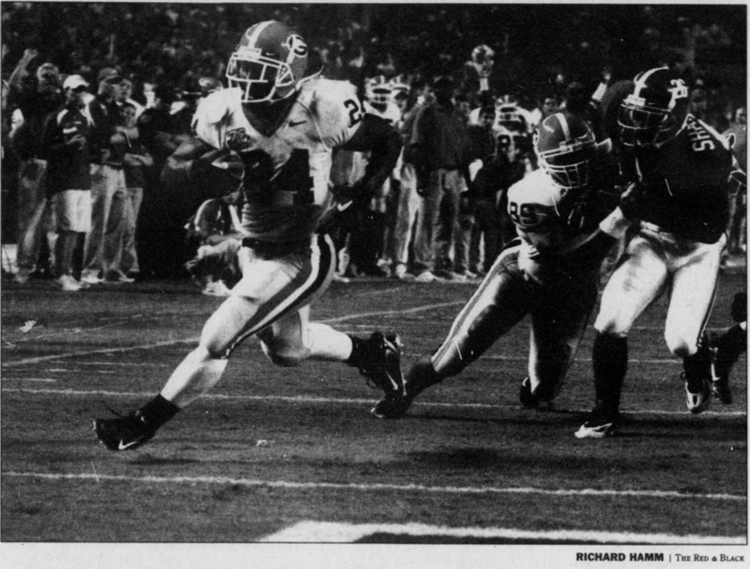 "I thought [Alabama] played a pretty good game defensively," Smart said in a virtual press conference on Oct. 12. "I don't remember a lot about it. It was not really high-scoring for you to have some of the weapons [Georgia] had at the time." 
Alabama mounted its comeback late and tied the game at 20-20 off a late touchdown drive led by Crimson Tide quarterback John Parker Wilson. In return, Georgia drove down to the Alabama 30-yard line with three seconds left in regulation before kicker Brandon Coutou missed a 47-yard field goal attempt.
"[It] was well within Coutou's range," Richt said. "He just missed it, unfortunately, which sent us into overtime." 
A defining moment
Richt said winning the coin toss in overtime was huge as the Bulldogs played defense first and held Alabama to a field goal on its possession. 
Stafford, now starting quarterback for the Detroit Lions, said in a statement provided to The Red & Black he remembers how his excitement for the defensive stop helped boost Georgia's offense in its possession. 
Richt said Georgia's offensive coordinator Mike Bobo called the game-winning play on first-and-10 against Alabama's man coverage, knowing it was a good matchup for the Bulldogs with Henderson, one of the Bulldogs' quickest receivers.
"Coach Bobo wanted to take a shot, and I was 100% behind it," Richt said.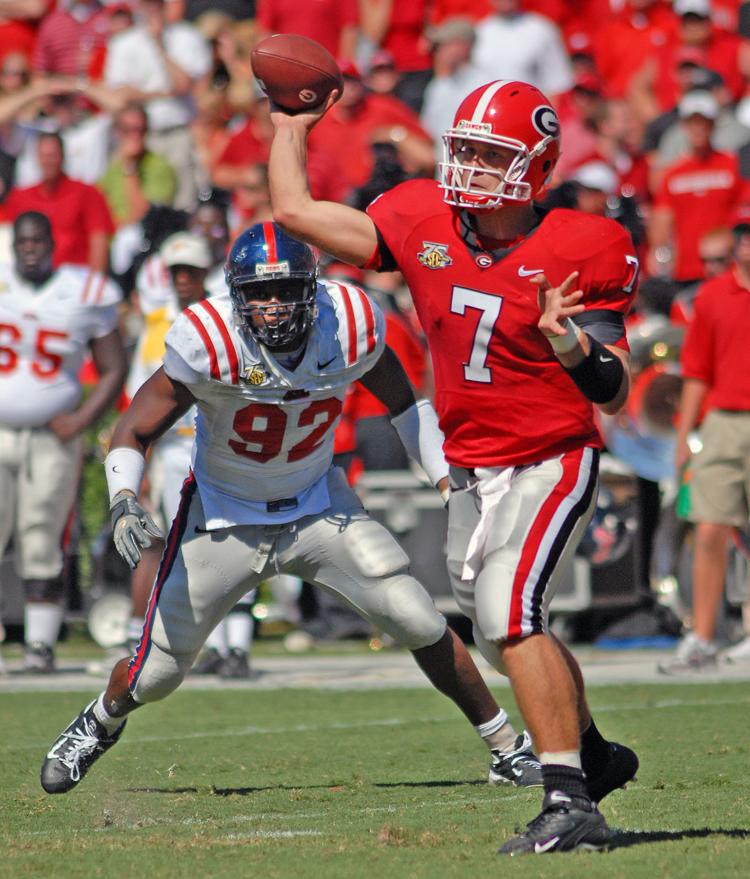 Bailey remembered watching Henderson get away from a jam caused by Alabama's aggressive press coverage on the play. Stafford threw into the left corner of the end zone, and Henderson came up with the touchdown. 
After the play, Stafford ran down the sideline into the iconic dogpile on Henderson. 
"I remember it was a great catch by [Henderson]," Stafford said. "I remember celebrating like crazy after that one. It's fun to look back on that stuff, especially being in the NFL now wth a bunch of other SEC school guys." 
Reflecting 13 years later, Richt credited the 2007 Alabama win as a boost of momentum for the program. 
"There are a lot of defining moments in your career, [and] there are certain times when a victory can certainly create more faith in your program," Richt said. "It was certainly one of them." 
Wins and wagers 
Since 2007, Georgia's track record against Saban's Alabama has been one for the Bulldogs to forget. It's why this year's return to Tuscaloosa may just mean a bit more for Georgia. 
The Crimson Tide came back with a vengeance when they visited Athens in 2008, bouncing back to defeat the Bulldogs 41-30. Alabama's subsequent victory kicked off the 5-0 streak it boasts against Georgia leading up to this year's matchup, which includes three key wins in the 2012 and 2018 SEC Championships and in the 2018 College Football Playoff National Championship.
The Georgia-Alabama rivalry still carries weight outside of the Southeast, as Stafford and fellow Georgia alums Isaac Nauta and D'Andre Swift watch closely from Detroit. Stafford said every time there's a prominent SEC matchup in the Lions' locker room, players are talking and may even make a small wager on their alma maters. 
"This week, we've got a bunch of 'Bama guys on our team now, so I'm sure we'll have something going for the game," Stafford said. 
Since coming to Georgia in 2016, Smart is 0-2 against Saban, though none of Saban's former assistants have ever beaten his Alabama team. Smart and this year's Bulldogs said they aren't focused on the history, but Butler sees the 2020 game as the final hurdle for Smart's Georgia to jump. 
"You really got one thing left to do, and that's beat Alabama," Butler said. "The players want to beat Alabama for Kirby just as much as they want to beat Alabama to continue an undefeated season. When everybody's hand is in the pile, and you understand how much it means, I think you can make something special happen."