In the southwest corner of Georgia, Bainbridge rises out of miles of farmland. When a Walmart and McDonald's appear alongside the road, it's an unusual sight. Instead of skyscrapers, there are oak trees blanketed with Spanish moss.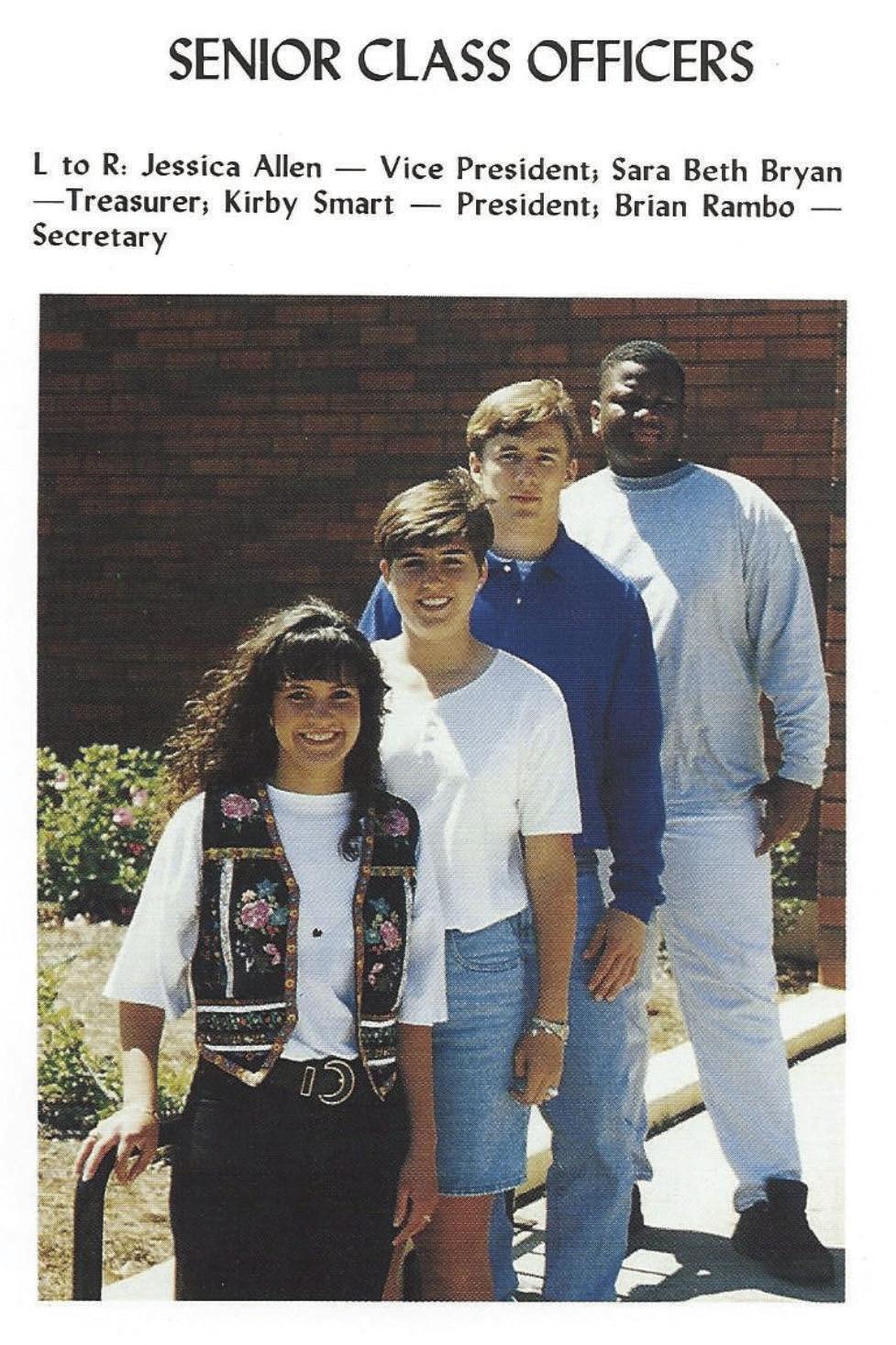 On a rainy August afternoon, the town lies quiet. A rusted-through 1950s Chevrolet pickup truck sits immobile near the downtown square. Down here, everybody knows everybody else's business. There's a heightened sense of connectivity, especially toward Bainbridge's favorite son — Kirby Smart.
"We saw him on the little league fields and the midget football fields," Bainbridge High School principal Tommie Howell said. "We watched him grow up. He's one of our children."
Teachers, coaches, teammates — everybody's proud that they interacted with Smart at one point or another. Even Stan Killough's wife, an Auburn graduate, rooted for Alabama because Smart coached there.
Twenty-two years ago, Smart was a boy from Bainbridge headed off to play college football at Georgia. His dream was to one day be a high school head coach. Now, he's nine days away from coaching his first game as the head coach at the University of Georgia.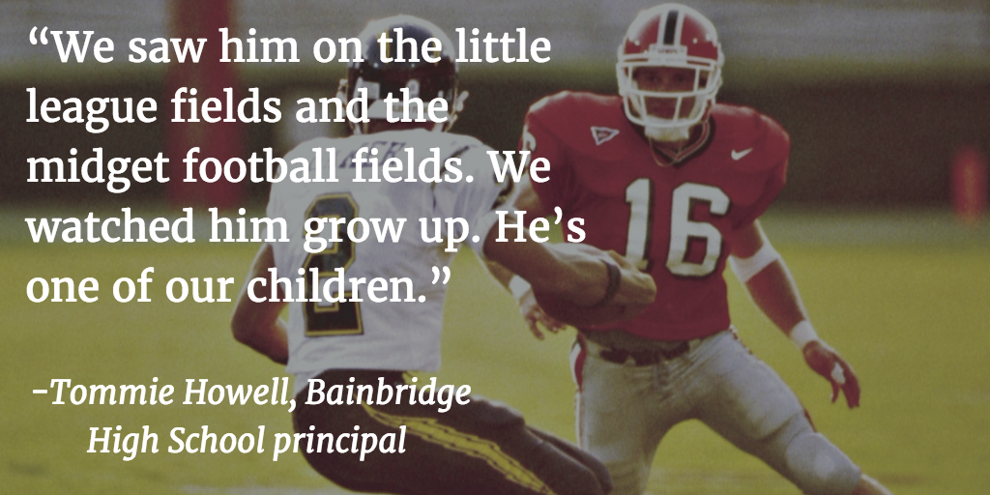 Everybody knows Smart's name these days, but they knew him first in Bainbridge. And early on they recognized there was something special about him. The competitiveness, the drive, the focus, the intensity. Those characteristics defined him and have carried him to where he is today.
"We always knew he was going to be successful," said Killough, the athletic director at Bainbridge. "Did we always know he was going to be the head coach at the University of Georgia? No. We didn't know that, but we knew he was going to be successful."
'Intense in Competition'
In a section of the 1994 Bainbridge High School yearbook devoted to "Outstanding Seniors" there's a picture of salutatorian, senior class president, math league MVP and AP student Kirby Smart.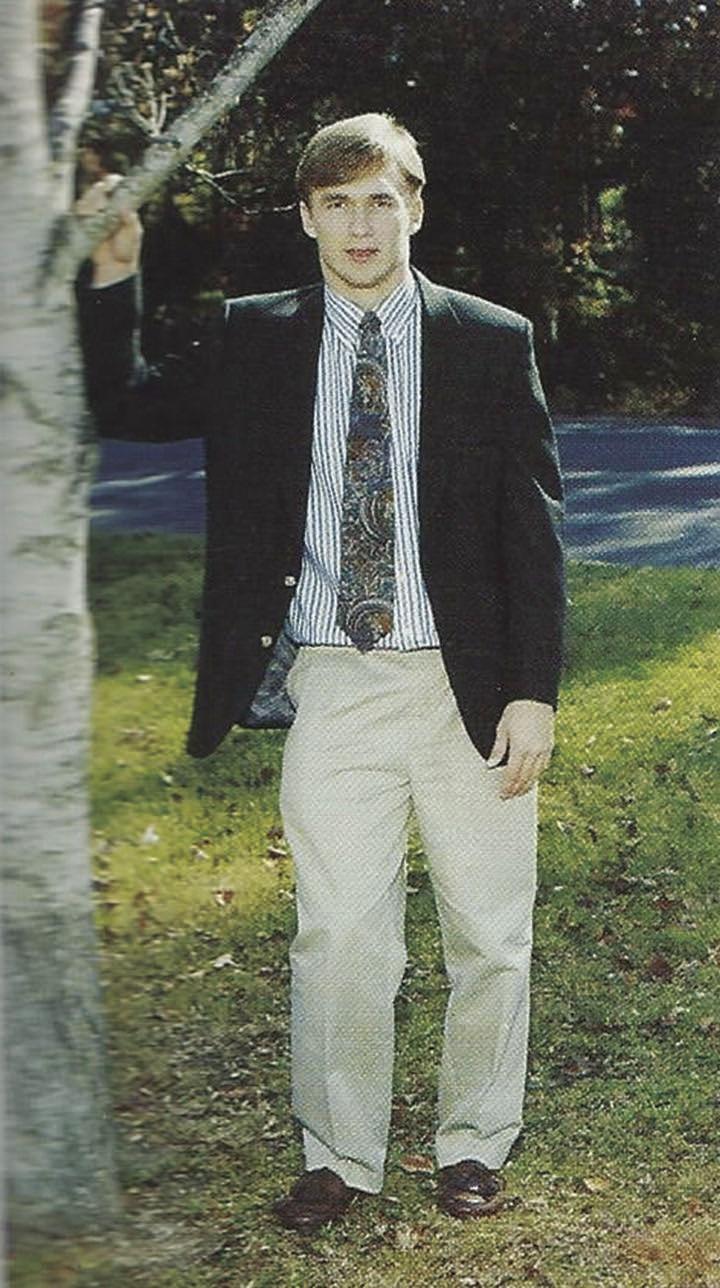 He stands in a classic yearbook pose: right arm holding a tree branch, eyes transfixed on the camera, mouth slightly open. His haircut hasn't changed in 20 years. Frankly, he looks pretty much the same.
"A little thicker," Howell quips. "But it's the same face."
Next to Smart's picture is a passage he wrote about himself:
Likes: sports, winning. Dislikes: putting up with ignorance; waking up for school. Plans After Graduation: Attend U.G.A. for football, major in business and find a wonderful wife. Remembered For: being intense in competition.
Sure enough, Smart would go on to play safety at Georgia, major in finance at the Terry College of Business and marry Mary Beth Lycett, a former Georgia basketball player. Although everything in the previous sentence is true, the last line is the one that defines Smart the most.
"He's a fiery competitor, there's no question about it," said Chris Hatcher, who hired Smart for his first job at Valdosta State. "He's like the energizer bunny. He's always on the go."
When Smart played at Georgia, former defensive backs coach and current Coastal Carolina defensive coordinator Mickey Matthews remembered having to calm down two players on a daily basis: Smart and future-NFL Hall of Famer Champ Bailey. As Matthews puts it, Smart would get "hot under the collar."
"Kirby, we're not playing Tennessee," Matthews, who thought Smart would have been better suited to play cornerback, recalled saying. "We're practicing against Georgia. We're having a good practice. You need to calm down."
Smart's competitiveness was noticed at a young age in Bainbridge. People saw it on the baseball diamond, on the basketball court, at the Bainbridge Barracudas' swim meets and, obviously, on the football field.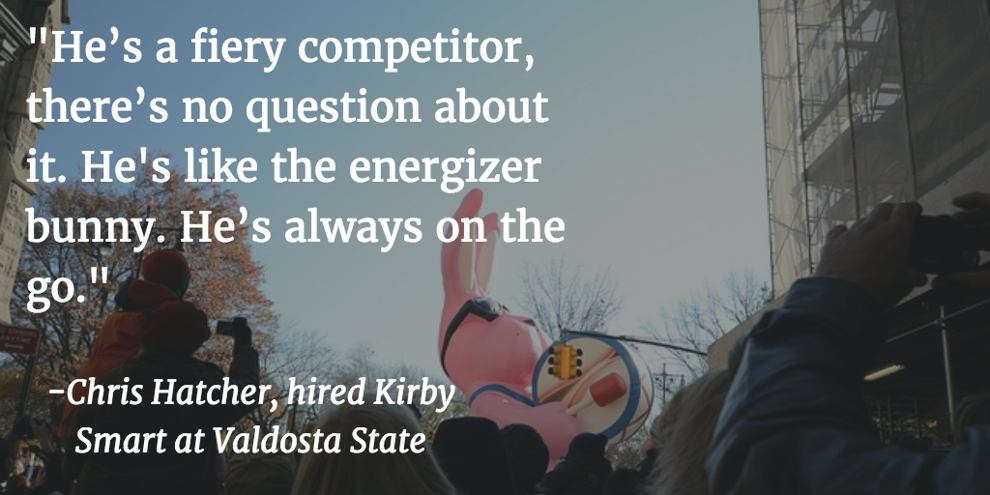 "That's what made him so successful in this business is that he wants to win in everything he does and that's a great trait," Colorado State head coach Mike Bobo said. "He's going to leave no stone unturned to accomplish what he wants."
'He was just lucky'
Bobo doesn't recall when he first met Smart. The two lived 45 minutes from each other — Bobo in Thomasville and Smart in Bainbridge. Bobo served as a groomsman in Smart's wedding, but growing up he was only aware of Smart.
Despite both being high school stars who went on to play at Georgia, they didn't play against each other on the field. Rather, they faced off on the basketball court.
"Coach Smart was a designated fouler," Bobo said. "He was a defensive guy who came out there and fouled. I was actually on the floor and played. He would sit over there and try to heckle me from the bench, which is where he was most of the time."
Based on Bobo's account of these games, Smart's lucky he didn't have dreams of basketball grandeur. Instead, he made a name for himself as an All-State safety and signed with Georgia.
At 5-foot-11, 180 pounds, Smart was undersized for a collegiate safety. What he lacked in stature, Smart made up for in his work ethic and keen awareness for which play the offense was likely to call.
"He was always around the ball," Bobo said. "If it was a fumble, it would always seem to bounce right up into his hands. We'd always say he was just lucky, but he had an instinct and a knack for making plays."
In his first game, Smart sacked South Carolina quarterback Steve Taneyhill three times. Against New Mexico State in 1995, he became the second Bulldog in school history to score on a field goal block. Hatcher coached quarterbacks at Kentucky during Smart's playing days, and recalls him intercepting future No. 1 NFL Draft pick Tim Couch a combined three times in two games.
"I knew who No. 16 was for the red and black," Hatcher said.
As a senior, Smart was voted first-team All-SEC and led the conference with five interceptions. He had 13 career interceptions, which is fifth on Georgia's all-time list.
"I've got some kind of knack for the ball I guess," Smart said in 1997.
'It was in his blood'
Joe Kines preferred to arrive at his office in Butts-Mehre Heritage Hall 15 minutes before meetings began. The former Georgia defensive coordinator liked to organize his desk and take a few minutes to prepare himself for the day.
One day in 1998, Kines arrived early as usual. However, he wasn't the first person to begin his work day.
"I'm walking down the hall and I hear somebody just eating one of them corners out," Kines said. "I thought, 'Well, Coach got a head start.'"
Only, Kines didn't overhear head coach Jim Donnan or Matthews.
"I walked by and Kirby had all the DBs in there," Kines said. "We'd had a real bad practice the day before, and he wasn't waiting for us to get there."
Kines joked that Smart was already a coach when he arrived as a freshman at Georgia, but he didn't have to joke. Smart learned the subtleties of coaching when he was young.
Smart's father, Sonny, was a high school football coach at Bainbridge and Rabun County. In 1982, Sonny, who declined to comment for this story, was hired as the defensive coordinator at Bainbridge. He was promoted to head coach by 1988. In his six years as the head coach there, the Bearcats' record was 44-30-1, including a Final Four appearance in the state tournament in 1993.
Killough said the foundation of Kirby's coaching career was laid at a young age by watching his father. By the time Smart was in high school in 1990, Killough said Smart's knowledge of the game essentially made him another coach on the field. It was the same way at Georgia.
"He got us lined up correctly, the entire defense," Matthews said. "During games he was aware of what people were doing against us in terms of offensive schemes ... I thought it was in his blood."
It might have been somewhat biological, but Smart spent countless hours of his spare time as a student-athlete and as a graduate assistant watching game film.
"I think the thing that made the difference for [Smart] was he was a coach's son," Kines said. "He knew what it meant to get ahead and find an edge. He always tried to do that."
'It's Good to be Home'
Back in Bainbridge — a city Smart once called his "heart and soul" — Killough reclines in a leather chair, fiddling with his crimson and silver Alabama letterman's ring. Killough played baseball at Alabama in the 1970s and relishes the fact that Smart helped coach the Crimson Tide to four national championships as defensive coordinator.
"I had mixed feelings when he left Alabama," Killough said. "But every Alabama fan knew he was going to leave sooner or later."
---
"I was happy Coach Richt landed on his feet at Miami, and then I'm extremely happy that Kirby got the head job there after Coach Richt left."
-Mike Bobo, Colorado State head coach
---
On Nov. 30, 2015 — one day after Georgia beat Georgia Tech, 13-7 — news broke that Mark Richt was out at Georgia. A week later, Smart's hire was announced.
Bobo said the coaching change was "bittersweet." After all, his coaching mentor was being replaced by one of his closest friends.
"I was happy Coach Richt landed on his feet at Miami, and then I'm extremely happy that Kirby got the head job there after Coach Richt left," Bobo said.
Smart was born in Montgomery, Alabama, and coached his name to national recognition in Tuscaloosa. Still, Howell considers Smart a Bainbridge native.
At G-Day in April, moments before "Baba O'Riley" by The Who began to play, the Sanford Stadium video board was black. Smart's voice rang out over the loudspeakers, "Ladies and gentlemen, please rise." Then, his face appeared on the screen, smiling.
"It's good to be home."