After every Georgia football game, The Red & Black will examine a key play from Saturday's game. This week, we take a look at George Pickens' 43-yard reception during Georgia's 63-17 victory over Murray State.
The score
Georgia led Murray State 28-7 with seven minutes left to go in the first half. The Bulldogs had just taken over at their own 20-yard-line following a punt from the Racers.
The situation
Despite seeing some playing time in his first game as a Bulldog last week, George Pickens failed to record a reception against Vanderbilt in Week 1. The freshman made sure that didn't happen again in his first game at home. He didn't see much action in the first quarter against the Racers, but the former five-star prospect got his number called toward the end of the first half.
The play
The Bulldogs were in the shotgun with a two-back set on first and 10. Running back James Cook motioned right as the ball was snapped, leaving Pickens alone on the short side of the field. Pickens ran a simple streak route straight up the sideline and glided past Murray State corner Cortez Roberts. Had Fromm's pass caught him in stride, Pickens would have strolled into the end zone. Instead, Fromm threw the ball just a bit too far, and Pickens laid out at full stretch to make a diving grab. Two plays later, Pickens caught a 15-yard touchdown pass.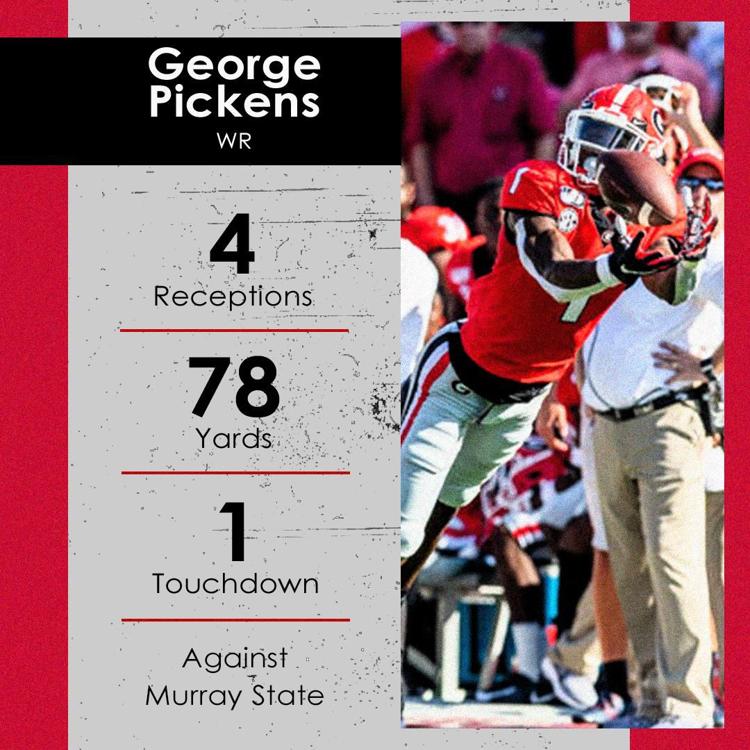 The quote
"George [Pickens] has been a great receiver for us," Georgia safety J.R. Reed said. "He's going to be a mismatch for some teams."