History started with a hurdle.
Blane Williams wasn't sure if his two young track runners could handle jumping over a hurdle, but he had them try anyway. Any sign of timidness might be a bad sign, but they had to add the hurdles for any shot at becoming multi-event athletes.
Devon, Blane's eldest son, was 11 at the time, and Kendell, the younger daughter, was 9. Both passed the test.
"The first thing my dad says whenever he's teaching someone how to hurdle is, 'Jump over it however you want'," Kendell said. "With Devon and I, we never had that initial fear. We just went and jumped over the hurdle."
That day proved to be one small leap of many for the Williams siblings. More than a decade later, the Williams completed a first-ever NCAA track and field "sibling sweep" on March 11. Kendell secured her fourth-straight pentathlon title, while Devon earned his first title in the heptathlon.
"It sounds like a movie ending," Kendell said. "It means so much because we made history."
Different paces
Not everything was a simple sprint, though. Two weeks after Blane taught Devon how to hurdle, the coach tried his son out in the event at a meet.
"He fell on the last hurdle and crawled across the finish line," Blane said.
Devon bounced back to win the national championship in the junior pentathlon that year at 11 years old. "A little-known factoid," Blane said.
At Kell High School, Devon won two individual state titles and led the Longhorns to a state championship. He signed with Georgia and its energetic multi-events assistant coach, Petros Kyprianou.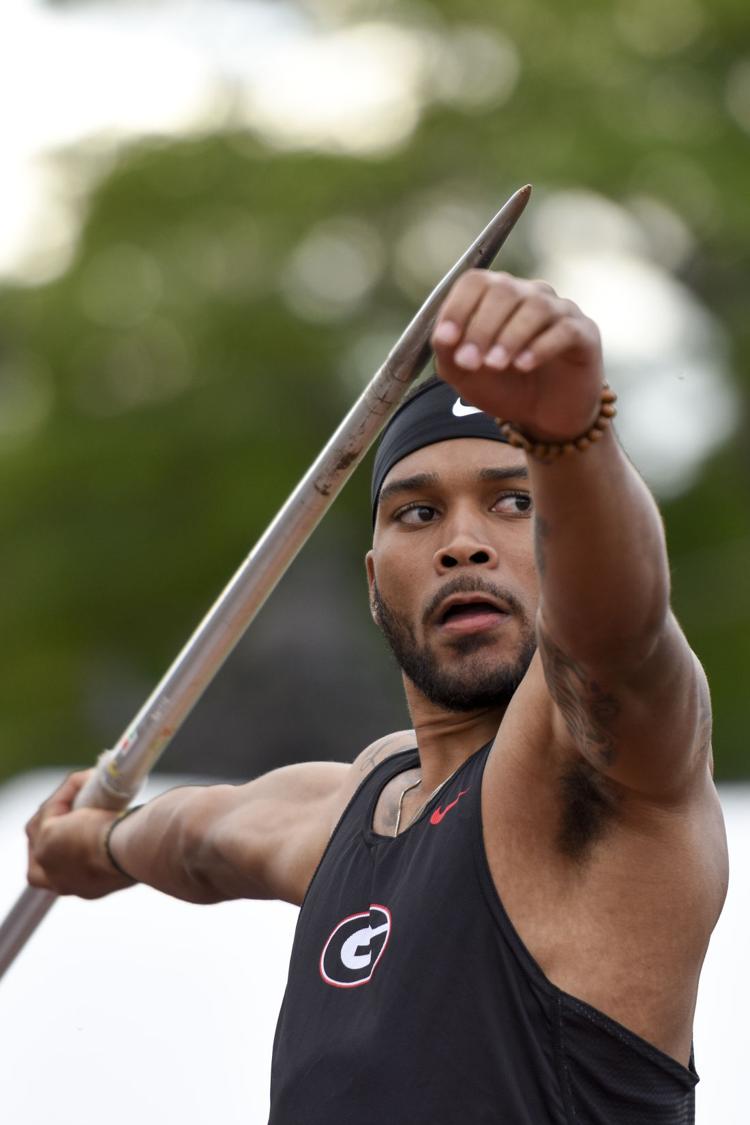 "Petros was really the coach that I needed coming out of high school," Devon said. "I had a pretty strong foundation from my dad and my high school coaches, but Petros is a real technical coach, and that's one thing I needed to sharpen up on: my technique."
As Devon made his way toward college in 2012, Kendell burst onto the scene with the U.S. Juniors team. First, she set a new U.S. girls junior record in the heptathlon and earned Athlete of the Meet with a fourth place finish at the 2012 World Junior Championships.
She was named the 2013 Gatorade National Track Athlete of the Year. Devon said he knew he needed his younger sister with him in Athens.
"Being here a year before her, I was able to experience how Petros works, how his practices go and my own progression," Devon said. "So I knew if I could progress in a year as much as I did, she would also."
Kendell joined Devon at Georgia in 2013 after his freshman campaign, in which he placed third in the decathlon at SEC outdoors. But when the Williams traveled to the Junior Pan American Games in August of that year, Devon fractured his hip while Kendell earned a silver medal.
Devon re-aggravated the injury at the second meet of 2014, just as Kendell set the new American junior record in the pentathlon. Devon opted to redshirt that year. Kendell surged to the 2014 NCAA Indoor and Outdoor titles as a freshman.
"It was hard because the whole reason why I came here was for us to have the success together," Kendell said. "That part wasn't fun for me because I wanted to see him excelling on the track as well."
By the beginning of the 2016 season, Kendell had three national titles to her name. Devon was finally healthy and looking for his first.
Then, the redshirt junior tripped on the first hurdle at SEC indoors, forcing him to retire and barring him from nationals qualifying.
"It was devastating," Blane said. "I don't think he's fallen over a hurdle like that since he was 11."
The race was the epitome of the first four years of Devon's collegiate career, but he never surrendered to doubt.
"I'm actually really more impressed as a father with him being able to go through all that adversity that he went through, the injuries and the bad luck," Blane said. "A lot of kids would give up."
Jumping into history
The Williams siblings returned with plans for a tour de force in their final collegiate seasons. They were just getting warmed up with a sweep of the SEC Indoor Championships on February 25.
The two entered the NCAA Indoor Championships on March 10-11 with almost opposite mindsets. Kendell looked to guard herself from complacency in the pursuit of a fourth-straight indoors title, while Devon desperately needed to rewrite his story from the year before.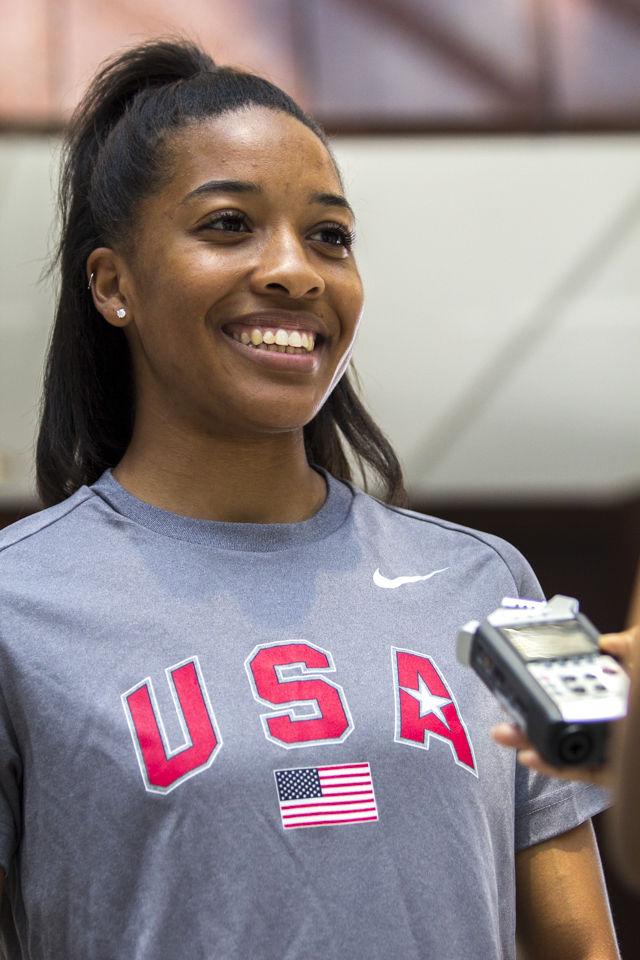 Kendell rocketed out to a fast start first with a personal best time of 8.03 seconds in the 60 meter hurdles. The next event, however, put her potentially historic win in jeopardy.
She scratched on a 5 foot, 11.25 inch jump that was well within her range, settling for a 5 foot, 10 inch mark. She walked over to Kyprianou in disbelief.
"She's never said 'I screwed up' to me ever, but she said, 'I screwed up,'" Kyprianou said. "You don't see these kids take responsibility like that. In my 25 years of being around sports, I've never seen anybody at that caliber come and say that."
Kyprianou then told Kendell to become "best friends" with the shot put, and that's exactly what she did. On her first attempt, she launched a shot more than 42.5 feet to secure a win in the event, then placed top three in the next two events to complete her four-year sweep of the national title.
"At no point was I worried she would pull it off," Kyprianou said.
Meanwhile, Devon began the final event, the 1,000 meters, down 224 points to Kentucky's Tim Duckworth. Kyprianou walked over to Devon with a game plan: times to shoot for, scores to win. The senior captain stopped his coach.
"Don't put numbers in my head," Devon told Petros. "I'm just gonna go run."
Devon finished with a time of 2 minutes, 41 seconds while Duckworth came in later at 3 minutes and 4 seconds. With such a wide margin entering the race, the title was all but a foregone conclusion for Devon's SEC foe.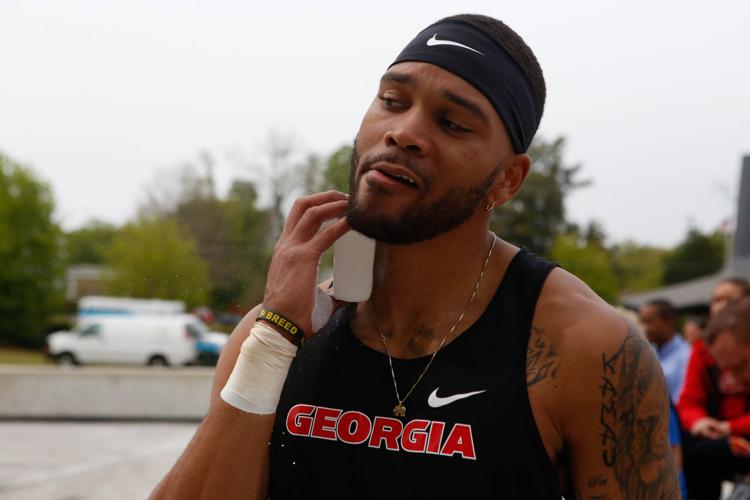 "I remember crossing the line and the announcer even said as [Duckworth] finished, 'Here comes the new 2017 NCAA champion.' I don't think the announcer knew that I even had the chance to win," Devon said.
Fate had a different idea. Devon's fifth place finish in the 1,000 meters at nearly 23 seconds faster than Duckworth gave Devon 6,177 total points.
In the 1,000 meters, each second counts as 12 points.
Duckworth finished with 6,165. Thus, Devon won his first NCAA title by one second.
"Not being at that meet last year made me hungrier," Devon said. "I just ran for as long as I could, as hard as I could. I didn't have anything at the end."
With the win, Devon secured the sibling sweep for him and his sister—the first event sweep by siblings ever recorded in NCAA track and field history as the Georgia women placed second and the men fourth.
"Sibling sweep rolls off the tongue nicely," Devon said. "And I like that because that's not really a comparison between us. That's more of an uplift of both of us."
One last hurdle
With the i's dotted on a historic 2017 indoors season for both the Williams and the Georgia track and field teams, Kendell and Devon have now set their sights on their final leg of the collegiate race: outdoors season.
"Staying healthy is a big part," Devon said. "Also, a lot of guys that aren't good indoors are good outdoors because they're better throwers … But we're better at outdoors also so we're looking forward to the challenge."
The Williams siblings open up outdoors season when Georgia hosts the Bulldog Heptathlon/Decathlon April 8-9, the first meet including multi-events in this year's campaign.
The final lap for collegiate championships starts in May with the SEC Outdoor Championships. The NCAA East Preliminaries begin two weeks later in Lexington, Kentucky.
Red & Black track & field beat reporter Kevin Mobley takes you through Devon and Kendell Williams' historic journey to the NCAA's firs…
If they qualify, the Williams will then make the trip to Eugene, Oregon, for their final meet: NCAA Outdoors on June 7-10.
"Ultimately, if I do my best in each event, the points and the place will take care of itself, and then for Devon same thing," Kendell said.
Both plan to pursue professional careers with USA Track and Field after graduation and will set their sights on the World Championships in London.
The ultimate goal is for Kendell to return in 2020 to the Tokyo Olympics with Devon alongside her. Kendell believes another sibling sweep at the highest level of competition might not be out of reach.
"I think it's possible because we'll both be young and in our prime," Kendell said. "Our first goal is just both us getting there, and then I think our next goal will be, 'OK, let's both take the gold.'"