Georgia's two-headed running back monster is back.
Nick Chubb and Sony Michel are both finally healthy and have reclaimed their spots as Georgia's primary running tandem.
"It's comforting to have both guys," head coach Kirby Smart said. "They make your job as coaches easier."
Sept. 12, 2015 was the last time both Nick Chubb and Sony Michel each had at least 12 carriers. On Oct. 9, against South Carolina, Chubb turned in 121 yards and two touchdowns on 16 carries, while Michel rushed for 133 yards on 21 carries. This was the first time in their careers both Chubb and Michel rushed for 100 yards in the same game.
"Whatever he do, I want to do," Michel said of his backfield mate. "You know he is going to go in there and do some great things and it makes me want to go out there and do some good things too."
For these two, the bond goes beyond just the football field. It makes its way into the living quarters as well. Chubb and Michel are roommates, which in Michel's words make them like "brothers." Like most brothers, though, there is often an argument as to who left the last dirty dish on the counter.
"I am a neat freak," Michel said. "Nick is an it-is-what-it-is guy."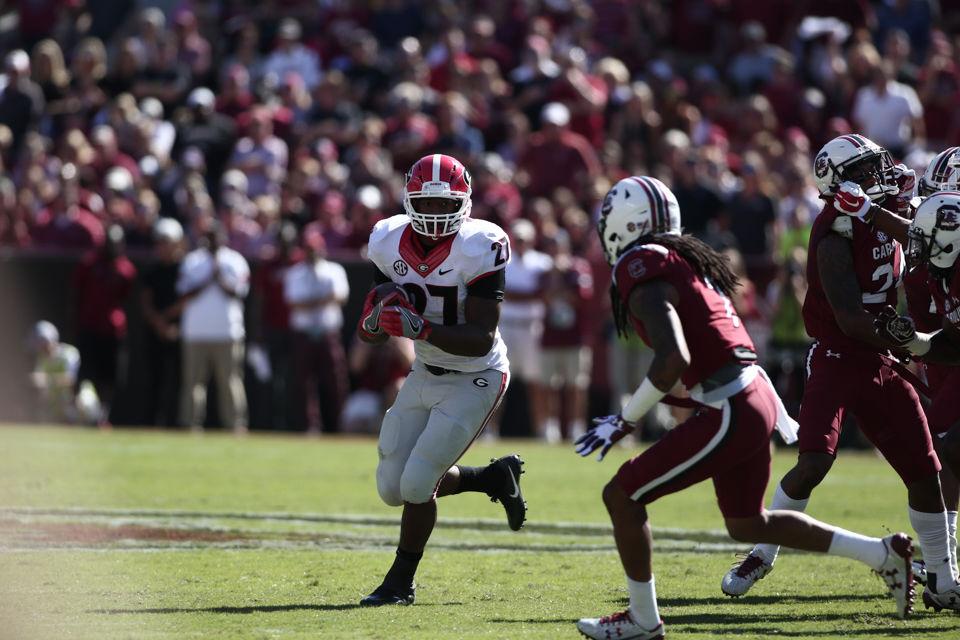 For most of last year and the beginning of this year, Georgia dealt with trying to find a running back duo that had the same kind of success as Chubb and Michel.
Through the first four games of the 2015 season, Chubb and Michel averaged 205.5 rushing yards per game and accumulated 10 rushing touchdowns between them. By comparison, the last great Georgia running back tandem — Todd Gurley and Keith Marshall — only averaged 166.75 yards per game and had five touchdowns through the first four games of the 2013 season.
Everything changed on the first play against Tennessee in 2015 though, when Chubb injured his knee. Michel took over the primary running back spot after that and averaged 110.6 rushing yards per game.
Then, Michel experienced his own injury when he broke his forearm in an ATV accident in July.
It was horrible timing too, because Chubb was getting healthier and healthier.
So the 2016 season began as the 2015 season ended, with one of the twosome on the bench. And just as it looked like the two were hitting their stride as a running back pair, Chubb left the Ole Miss game with an ankle injury.
The injuries have healed and Chubb and Michel are poised to show why Georgia fans were so excited to see these two a year ago.
Now six games into the season, the tenacious tandem is full go. Against the Gamecocks, Chubb and Michel were on a running cycle. Chubb would be in for three plays, then give way to Michel and after three plays Chubb would reenter, just like they did before Chubb's knee injury.
"When you see a guy run through an arm tackle, you see a guy with really good toughness, it inspires the offensive line to block harder. It inspires the receivers to block harder," Smart said. "The guys sitting over there on defense, resting, they play with more energy and passion when they see their backs churning for extra yards."
Georgia's players will say they love having two running backs that can help them win football games. They will also say they love feeding off the exceptional runs these two somehow manage to pull-off. And those types of jaw-dropping runs were on display Sunday.
Early in the second quarter Michel stopped on a dime in the backfield and sent two South Carolina defenders diving past him as he bounced the ball outside for an 11-yard pickup. Georgia scored 3 players later.
"Sony made one of the best moves I have ever seen on a run," Smart said.
Then Chubb tried to 1-up his fellow back in the third quarter when he broke a 40-yard run by breaking six tackles, dragging a South Carolina defender for 15 yards, and eventually being brought down by three defenders.
"That made me want to go out there and block for him if I could," linebacker Chuks Amaechi said.