ESPN's "College GameDay" is back in Athens for the first time since 2013. Here are some quick answers to some common questions about "College GameDay."
What is it?
ESPN's "College GameDay" is a three hour pregame show for all of college football. The show is hosted by Rece Davis, and he's joined by analysts Kirk Herbstreit, Desmond Howard, Lee Corso and Georgia alumni David Pollock and Maria Taylor. At the end of every show, Corso makes his famous headgear selection to pick the outcome of the game. The show launched in 1987 but didn't start visiting college campuses until Nov. 13, 1993, when it paid a visit to South Bend, Indiana, for the matchup between No. 1 Florida State and No. 2 Notre Dame. The Fighting Irish won that game 31-24.
Where is it?
You can catch "GameDay" on Saturday from 9 a.m. to noon on Myers Quad. Fans won't be permitted into Myers Quad until 7 a.m. Make sure to get there early enough to catch a good view of the studio show because the spots will be taken up fast. Admission is free.
Georgia's record when 'College GameDay' visits Athens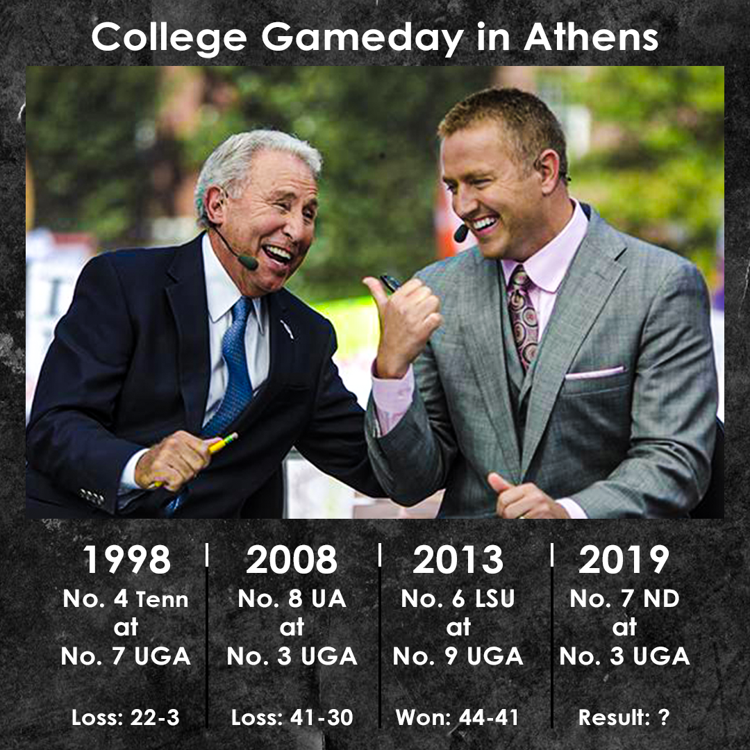 When hosting "College GameDay," Georgia holds a 1-2 record. The only win came in 2013 when Georgia defeated No. 6 LSU 44-41. That matchup featured many current NFL players, such as Odell Beckham Jr., Jarvis Landry, Todd Gurley and many more. The first time the show came to Athens, the Bulldogs hosted No. 4 Tennessee in 1998. Georgia fell to the eventual national champions 22-3. The show was broadcast from the roof of Tate Student Center. Georgia hosted Alabama 10 years later in the famous "blackout" game. The Crimson Tide took an early lead and defeated the Bulldogs 41-30.