Over their combined careers as Bulldogs, Karin Lichey and Mike Usry accumulated 11 All-America honors, two national championships and an athlete of the year award. But it wasn't exactly an even split of accolades between the duo, now married with two kids in Athens.
"Once it was time for coaches to go on visitations to look at kids practicing in their own gyms, there would be coach after coach after coach looking at my daughter," Lichey's mother Sharon said. "That's when I really knew she was capable of one of the top schools."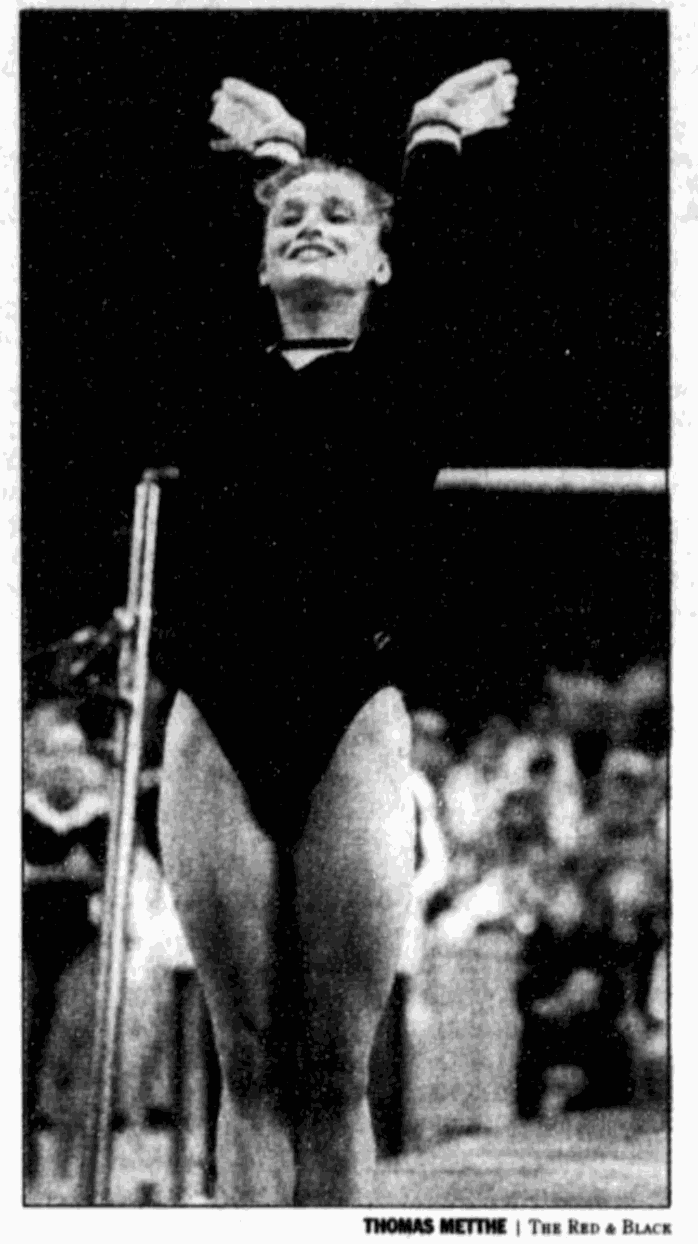 In the end, Lichey would account for all of the collegiate honors belonging to the Usry household. While Mike Usry played second fiddle at the quarterback spot from 1997-98 behind Mike Bobo and then Quincy Carter, his future wife was making history in Stegeman Coliseum.
Two titles and a touchdown 
In 1996, the freshman Lichey became the first and only collegiate gymnast to score a perfect 40 at a dual meet. During an otherwise unremarkable matchup against Kentucky, Lichey was battling exhaustion and followed then-assistant coach Doug McAvinn's advice to take the meet one event at a time.
She did just that, notching 10s on bars, beam and vault with only her floor routine remaining.  
"Right before I went to floor, I went into the bathroom and looked at myself in the mirror," Lichey said. "I was like 'You've accomplished something not many people have … So let's just go out there and enjoy this last routine and lay it all out there.' And that's what I did. I ended up getting a 40, which was a ginormous shock."
Lichey's mother received a phone call from her husband with the news. She'd missed the meet, preferring to attend a more exciting competition later in the season, and dismissed the call as a practical joke.
It wasn't until then-head coach Suzanne Yoculan rang her that Sharon, a former collegiate gymnast herself, believed the news.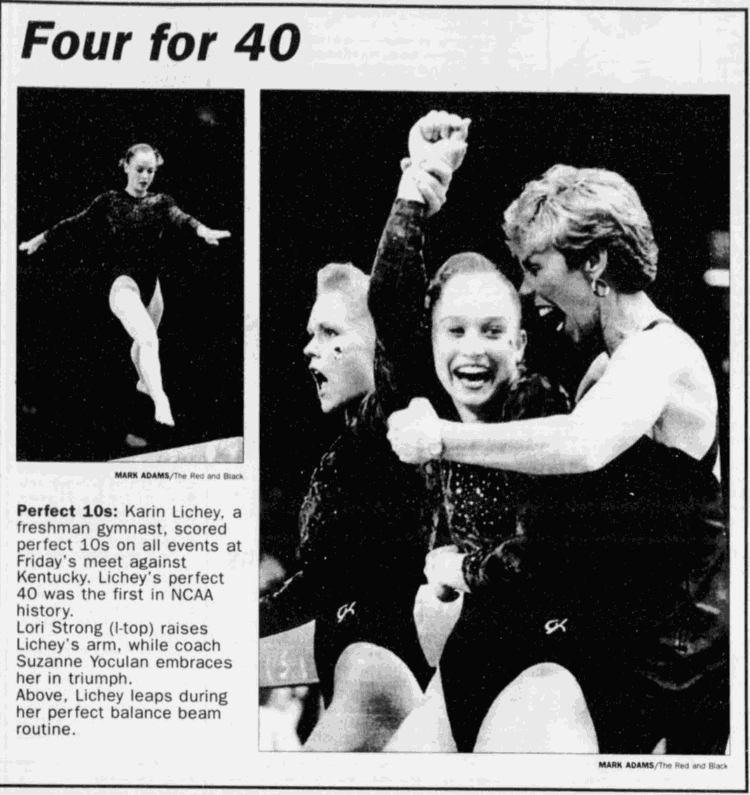 "And darn it, I wish I was there," Sharon said. "But I've watched it so many times that I feel like I was … [Karin] said she was in the zone."
Athletically, 1997 passed uneventfully for both Lichey and Usry. With a 30-3-1 record identical to their 1996 mark, the GymDogs grabbed a second consecutive third-place finish at the NCAA championships. Lichey struggled with injury, but fulfilled her Freshman of the Year expectations with an All-SEC selection.
Meanwhile, Usry was feeling underappreciated. Hard-wired for football and dedicated to the Bulldogs, Usry said he was the first one in the weight room every morning and was undaunted by the spectacle of SEC football when he stepped on the field. Yet he never got his shot.
Usry threw seven passes in five appearances in 1997. It was difficult for an athlete at the peak of his career to put in the work only to catch glimpses of the spotlight. 
"It's a struggle. It really is," Usry said. "Unfortunately, your identity is wrapped up in your sport … You struggle with that when it's over."
Still, his lone touchdown pass as a junior was a memorable moment. He changed the direction of the play accidentally in the huddle and was almost sacked on a naked bootleg. But he managed to get the ball to fullback Patrick Pass —  a future eight-year NFL back — who took it 40 yards for the score. Georgia finished 10-2 in 1997 ranked tenth in the nation.
The following year would go similarly for Usry, who saw action in two games. Lichey, however, was just hitting her stride.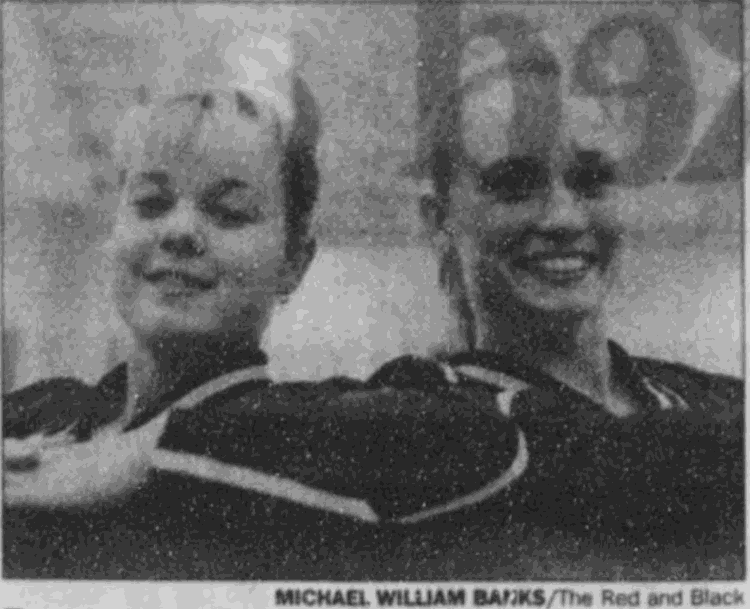 "I vowed after [1997] that I would focus my last two years [and] keep my body as healthy as possible," Lichey said. "[I'd] do whatever I possibly could as an athlete to make that happen."
Lichey's updated mindset made the difference. With her younger sister Kristi by her side, Lichey and the Gym Dogs went undefeated over the next two seasons, taking back-to-back national championships. 
The only member of the perfect-40 club tied for first in the floor routine at the 1998 NCAAs and placed No. 2 in the all-around category in 1998 and 1999. She was a first team All-American in five events, including all-around, both years. Kristi found similar success, although she acquired one less All-America honor than her elder sister.
"There wasn't a meet that the girls didn't stay back as everyone left and sat and signed autographs," Sharon said.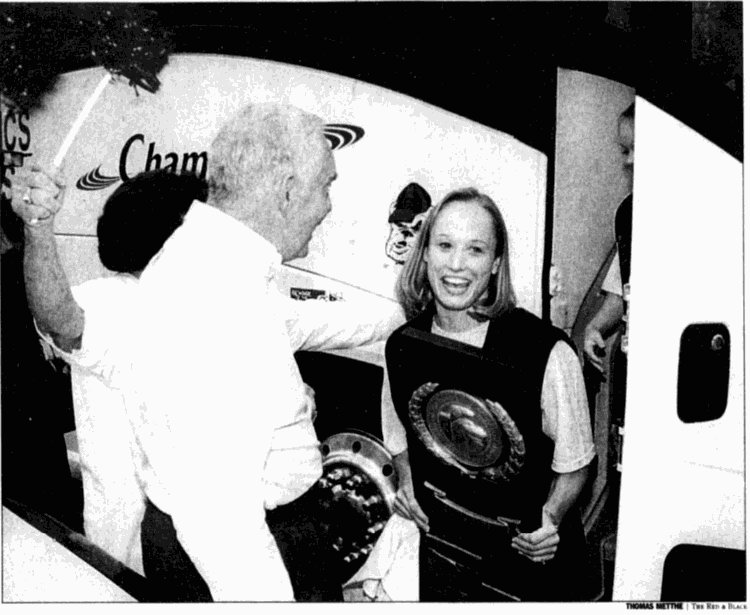 Coming home
Coming off a disappointing sophomore season, Karin Lichey met Mike Usry in winter 1997. Lichey said they were set up by friends and hit it off on a bowling date before the holiday break. Both were part of the Fellowship of Christian Athletes, which Lichey's mother identified as a good omen early on. 
Ahead of the break, a smitten but shy Lichey asked Usry for his mailing address to stay in touch. Asking for his phone number was nerve-racking for the gymnast, who would become a two-time NCAA champion by the time they married two years later.
"I tracked down his phone number [through a mutual friend] and gave him a call," Lichey said. "[It was] not very southern of me, but I'm not from the south, so."
The rest is history. After they married, Lichey moved down to Florida where Usry was earning a graduate degree in business. In time, the call back to Athens was too strong to resist.
While Usry coached in Tampa, Lichey scouted real estate for the young couple. Usry never saw the new house until they moved back to the Classic City.
"This was home," Usry said. "We always knew this was home."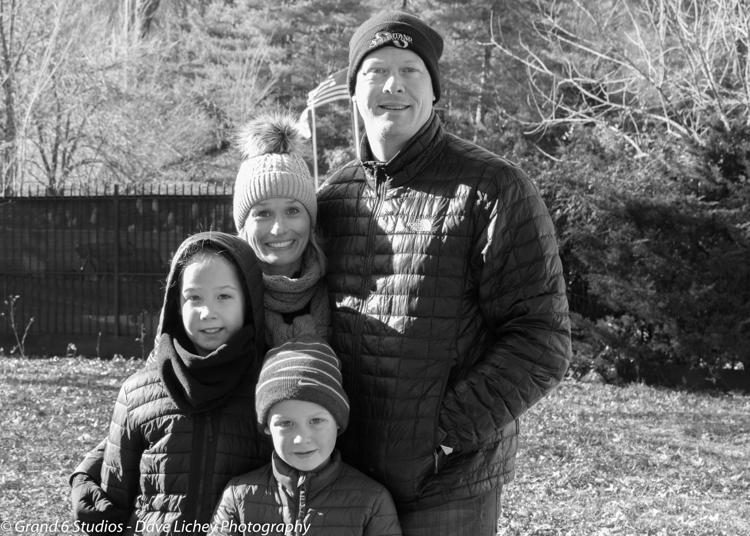 Since then, Usry has worked at Southland Organics, a soil enrichment company in Bogart. Lichey was the volunteer coach for the Gym Dogs in 2008, and still works with the UGA Foundation. The Usrys have two children, nine-year-old Ayn Parker and seven-year-old Brandt. 
Lichey's mother lives down the road. She sees her grandkids often and was their usual after-school pick up person before COVID-19 shut things down. School, sports, activities around the home farm and movie nights  —  full of popcorn and root beer with their grandma —  keep them as busy as their parents were when competing collegiately. 
"It's great, because my kids didn't have their grandparents around," Sharon Lichey said. "I love to watch their faith in God grow, and I see it everyday."
Even though their blood still runs red and black, the Usrys haven't pushed their children to take up their sports mantle. But athletic careers aren't out of the question. It's in their DNA.