If Georgia soccer is on the field, so are the same three defenders. Cecily Stoute, Caroline Chipman and Kayla Bruster have started all but one game together in the past two years and have established themselves as a steadfast last line of defense for the Bulldogs. 
Excluding Stoute's appearance on Trinidad and Tobago's roster for the CONCACAF World Cup qualifier in the middle of the 2018 season, the trio has started every game together for the past two years. Bruster and Chipman are juniors and Stoute is a sophomore, but they have racked up 8,329 total minutes together since the first time they were put on the back line as a unit.  
Georgia soccer plays a 3-5-2 formation, which relies on a strong defensive line to be able to push offensive teammates forward. Most teams take a four-man defensive approach, but Stoute, Chipman and Bruster have proven they can take the heat in tough matches with only three of them. 
Even as the trio takes the field together each game, their modesty is apparent, showing how no starting position is taken for granted. 
"We're not very [arrogant]. We're not thinking 'Oh we're starting next game,'" Stoute said. "We're all very humble people and we treat each other like a unit."
Head coach Billy Lesesne remains impressed with their consistency every time he includes the three in the starting lineup. Nine other defenders appear on the Bulldogs' roster, and three of them are freshmen looking to make their mark on the team. 
"I think we've got some talented players that are pushing in those positions," Lesesne said. "But just because [Bruster's, Stoute's and Chipman's] understanding is so strong, I think it's made them a good, formidable combination."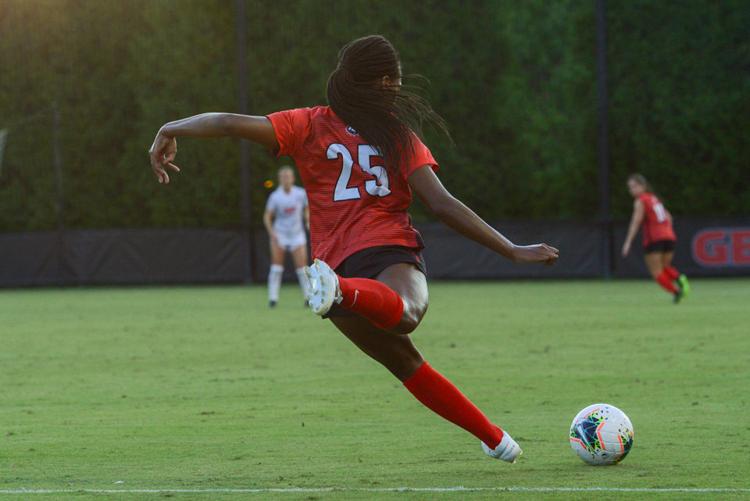 Lesesne signed Stoute, Chipman and Bruster as freshmen and smiles when he thinks about how they've grown together. He sees their dynamic evolve every minute they play together. 
"I think they communicate well," Lesesne said. "They try to cover for each other. They've got a good understanding for relating to other players on the team. It's just a matter of them playing so many minutes together, and they're able to read each others' moves."
The trio has grown attuned to what makes each teammate tick on the field. Who wants the ball passed to their feet, what certain words mean in the middle of a chaotic scramble and how they instinctively follow each others' movement are just cogs in a well-oiled defensive machine. 
"Whenever I'm talking to Kayla, I'll just say one word, like 'Coming,' and she'll know someone is coming up behind her back shoulder, and it's just that easy. We [kind of] just get it at that point," said Chipman, who is commonly referred to as "Chip" by her teammates and coaches.  
As the only sophomore out of the defensive trio, Stoute knew she was coming into a program she would fit into well as a freshman in 2018. She played alongside Bruster in high school on their club team and would see Bruster and Chipman's dynamic when she came on visits to Georgia. 
"It's not hard to adjust to because we're always talking and always knowing what we're gonna do," Stoute said. "We're all close enough to where criticism doesn't affect us, and all we're trying to do is win and be better and be the best."   
Bruster and Chipman can attest to how close they are and how it connects them on and off the field. As roommates and what Chipman calls "besties," the two understand that a strong foundation between the players on the back line is what keeps a team together, even in difficult situations.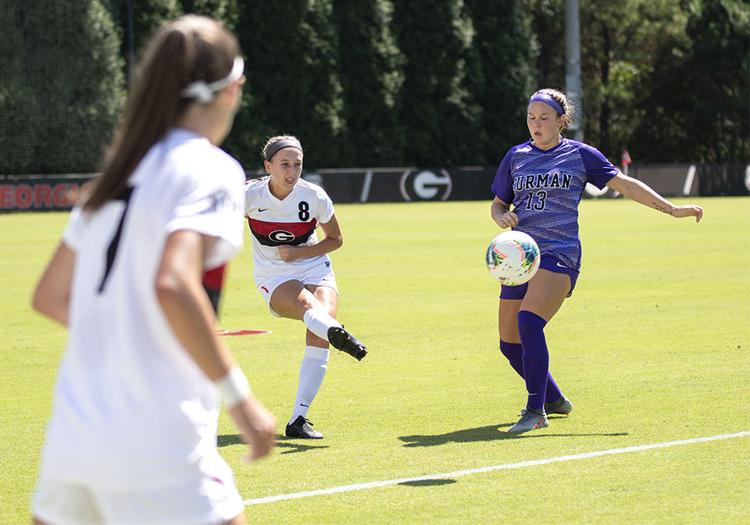 "I think it helps a lot that we're really close," Chipman said. "It helps on the field. It helps to communicate and talk things out, even if there's a disagreement ever."
Forwards score the goals, and goalkeepers make incredible saves each game, but the backbone of any successful soccer team is the defensive line. Georgia's success comes in the form of a 3-3-3 SEC record with one game left in the regular season, which is considerably improved from its 1-6-3 record in the conference in 2018. 
With the possibility of a Georgia appearance at the SEC Tournament this year, Bruster knows how important the trio's contribution is to the success of the team. 
"Defense wins championships," Bruster said. "You don't really expect any accolades for it, but you know it's important, and it's [going to] win the game."