Before the Georgia softball team's 1-0 win over Ole Miss on Friday night, the team honored its two seniors, Alyssa DiCarlo and Kylie Bass on senior night.
"It's incredible [to play for Georgia]," Bass said. "I mean, a lot of people told me I would never be tall enough to play in the SEC."
At only five feet tall, Bass is the shortest member of Georgia's roster by four inches.
"It kind of put a chip on my shoulder," Bass said. "I kind of liked it."
During Friday night's game against Ole Miss, Bass used that competitive spirit to hold the Rebels scoreless. She pitched the entire seven-inning game and gave up only three hits and two walks. She also had two strikeouts.
"[I was] just trying to stay within myself and do what I do," Bass said.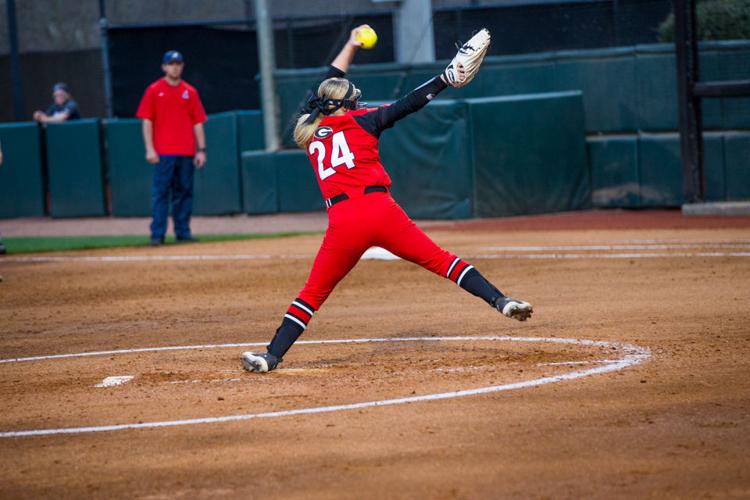 Fellow senior DiCarlo had a strong defensive performance as well. She had five put outs and five assists with no errors. These outs included catching two line drives and two pop flies. DiCarlo only had one hit in three at bats tonight, but her hit was a triple down the right field line that brought all of Jack Turner Stadium to its feet.
"They said… that it helped the mometum, so I guess it did," DiCarlo said.
Head coach Lu Harris-Champer said that DiCarlo's defensive performance was just as important as her offensive performance today.
"She can do it all," Harris-Champer said.
DiCarlo has left her mark on the Georgia softball program. She started all 124 games of her freshman and sophomore years at third base and then moved to short stop to start all 61 games of her junior year there. She has received numerous awards. Most recently, she was named a top-26 finalist for USA Softbal Collegiate Player of the Year.
"It means the world to me to be a part of this program," DiCarlo said. "I'm leaving a better player, but definitely a better person."
Harris-Champer said that the senior duo means a lot to the team. She said that they have been "nothing but sensational" over the last four years, and she has really seen them grow into their leadership roles this year.
"[They are] constant, disciplined in the face of adversity and in the face of joy," Harris-Champer said. "And just coming out and bringing their love for the game each and every day."