Aside from the hunt for a quarterback, Todd Monken's effect as offensive coordinator and an Alabama game scheduled 60 days from today, the biggest consideration ahead of the 2020 football season is whether it will happen at all.
In a July 16 statement, NCAA president Mark Emmert expressed his pessimism regarding the recent spikes in COVID-19 cases around the country.
"Today, sadly, the data point in the wrong direction," Emmert said. "If there is to be college sports in the fall, we need to get a much better handle on the pandemic."
Depending on an announcement from the SEC, which plans to clear up 2020 scheduling and logistical uncertainties later this month, head coach Kirby Smart and his athletes are scheduled to suit up against Virginia in the Chick-fil-A Kickoff Game on Sept. 7. 
While uncertainty still reigns over the fall, The Red & Black has compiled a guide as to what we know, and what we don't know ahead of the season opener.
What we know
Georgia football returned to Athens for voluntary, on-campus workouts on June 8. According to NCAA guidelines released on June 17, head coach Kirby Smart and his staff were cleared to begin in-person team meetings and mandatory workouts on July 13 and can begin full-team practices in the first week of August.  
Smart said on May 28 that he was excited about his experienced defense, but that he had concerns about high offensive turnover compounded by the lack of spring practice.
While a majority of last year's defensive talent will return this fall, the loss of three offensive linemen, two tight ends, wideout Lawrence Cager, quarterback Jake Fromm and tailback D'Andre Swift makes new offensive coordinator Todd Monken's offense less predictable and more liable to suffer from early-season kinks. 
What we don't know
Due to NCAA rules that prevent coaches from learning the details of players' voluntary workouts, the team has kept its summer progress under wraps. The athletic association has also refrained from disclosing the number of positive COVID-19 tests among returned athletes despite reports of dozens of positive cases among other SEC programs. 
On July 17, the SEC announced fall semester athletes will have the opportunity to opt out of their 2020 seasons and maintain their scholarships. A big question ahead of September is which Bulldogs, if any, will decide not to play. The conference's decision could shake up competition if any impact players stay on the sidelines. 
The most pressing 2020 roster gap up for grabs this season is at quarterback. Before Southern California transfer J.T. Daniels received an NCAA eligibility waiver on July 13 to compete in 2020, graduate transfer Jamie Newman appeared to be the top candidate to replace Jake Fromm.
August practices will be even more important as not only the first opportunity for quarterbacks to get full-speed reps with receivers but also the arena from which Fromm's replacement will emerge.
While the SEC has not decided if or how it will limit member schools' fall schedules, options range from the usual slate of conference and non-conference games, to a conference-only look similar to the Big Ten and the PAC-12 to the cancellation of fall seasons in line with smaller conferences including the Ivy League and the America East. 
Gary Stokan, the CEO of kickoff game organizer Peach Bowl, Inc., said on July 20 that he has lobbied athletic directors for a hybrid approach. 
In order to make his three scheduled kickoff games viable, he said he'd like to see undecided conferences settle on a "conference-plus-one" format, which would allow a single non-conference contest. To protect his games as well as anticipated rivalries such as Georgia-Georgia Tech or Florida-Florida State, Stokan suggested a conference-plus-two look.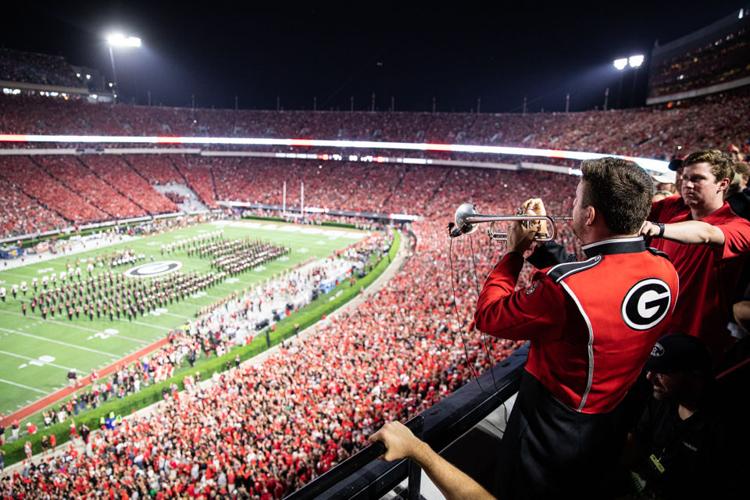 Similarly, UGA floated three potential models for filling up Sanford Stadium this fall in its June 9 "Plan for a Phased Return to Full Operations."
As with schedules, the most optimistic attendance scenario is business as usual — more than 90,000 fans will safely take their seats. Between that and the financially-troubling but health-maximizing option of games without fans, is a socially-distanced version featuring six-feet of separation between spectators.
The university has not announced how many fans could enter the stadium under the compromise model nor the exact details of how it would ensure distancing at gathering points such as restrooms and concession stands beyond blocking certain toilets and adding signage and other in-stadium reminders.
Until the SEC releases its decision for the fall, most details surrounding the football season will remain unclear. For now, however, Georgia and its novice offense plan to meet the Virginia Cavaliers in Atlanta's Mercedes-Benz Stadium in 48 days.