When Jenna Staiti entered high school, graduating with a scholarship to the Maryland women's basketball team never crossed her mind. She wasn't even a basketball player; she was a swimmer. 
The 6-foot-6-inch center, who currently ranks fourth in the SEC in shot blocking, didn't start playing basketball until she was already in high school. 
She had been a nationally ranked swimmer, winning a state and sectional championship in backstroke. 
---
"My swim coach told me, 'You'll be back, I'll give you three weeks, but you'll be back.' I never came back."
— Jenna Staiti, Georgia center
---
But Staiti left swimming behind to play basketball, despite doubts from those
closest to her. 
"My parents were devastated, they were really upset with me," Staiti said. "My swim coach told me, 'You'll be back, I'll give you three weeks, but you'll be back.' I never came back."
The decision has paid off for Staiti. In high school, she steadily improved and
became a top player for West Forsyth High School. 
Staiti scored 2,623 points in her high school career, including 51 in a single game. As a senior, she was recognized as the Gatorade State Player of the Year for Georgia, averaging 26.2 points, 13.7 rebounds and 4.2 blocks. 
"My high school coach, my AAU coaches, they really helped make the transition
easier for me," Staiti said.
Those accomplishments, as well as her time playing on AAU teams, transformed the state backstroke champion into one of the most coveted college basketball prospects in the country. 
Staiti committed to Maryland prior to her sophomore year in high school as a member of the No. 1 recruiting class in the nation. 
Staiti seemed to be the one that got away from Georgia. 
Staiti appeared in 25 games as a freshman for Maryland, averaging three points per game and playing less than six minutes on average. Her time there didn't go as she'd anticipated. Maryland didn't meet her expectations, so she decided to look for a new team. Georgia ended up being a
better fit for Staiti.
"[Georgia's] coaches aren't going to feed me the things I want to hear," Staiti said. "If you're not doing well in practice or doing things right in the game, they're going to tell you to your face. They're not going to sugarcoat it."
Staiti believes she is now in a better environment to further her basketball career. She is also adamant that she's found a true home at Georgia. 
"It's the family dynamic here," Staiti said. "If you need [the coaches] to act like a parent or someone close to you, they will. Just having that dynamic here, it makes things a lot easier on the basketball court." 
Despite being forced to sit out a year as a transfer, Staiti didn't waste any time. As soon as she got to campus, she started prepping for a moment over a year away: her Georgia debut.
"We had the expectation that if Jenna could get herself into shape and maintain playing consistently, she could play a lot of minutes and contribute," head coach Joni Taylor said. "That's all on her, giver her the credit for all of that."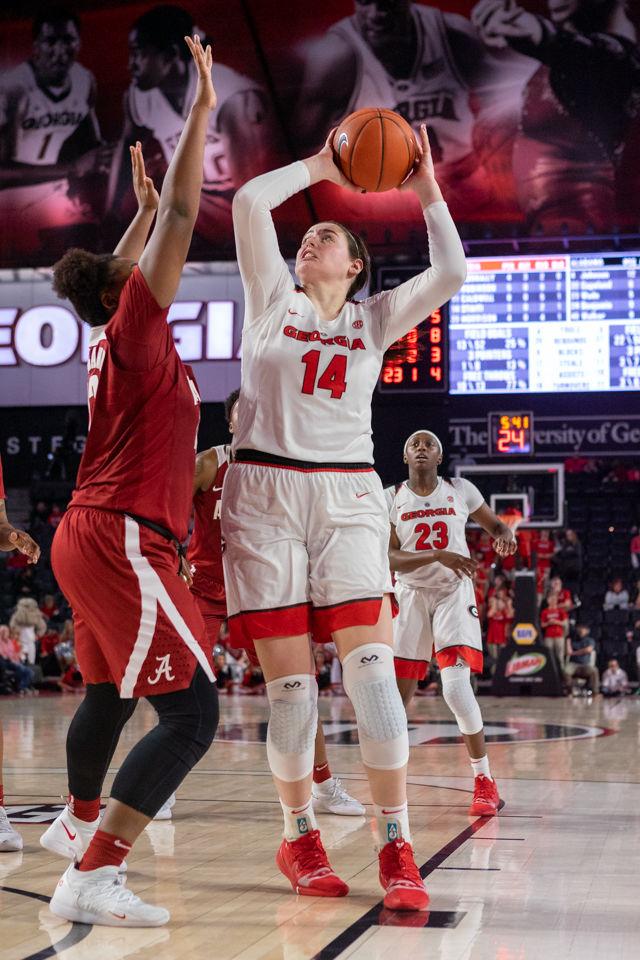 Almost a year and a half after her transfer was announced, Staiti finally got the chance to bring things full circle and suit up for Georgia in this season's opener against St. Bonaventure. In only 11 minutes, she scored nine points on 4-4 shooting and grabbed three rebounds. 
Staiti scored her first basket as a Bulldog on a 3-pointer from the top of the key. Soon after, she finished on a fast break and St. Bonaventure called a timeout, allowing the entire Georgia team to rush the court to greet her. If she was trying to hide her smile, she failed miserably.
"I knew my teammates were going to run out and get me," Staiti said. "Even Coach Joni came out. It went through my head that this is why I'm at Georgia. They care so much about you and just seeing all my teammates express their love for me, they're like my sisters."
Staiti has gelled this season in that family atmosphere. She didn't miss a shot from the field until the fourth game of the season. She scored in double digits twice in her first six games and blocked six shots in a loss to Georgia Tech. All of this led into the Bulldogs' Nov. 24 matchup with Maryland, Staiti's former team, in San Juan, Puerto Rico. 
Staiti didn't perform particularly well, scoring two points in seven minutes, but no one on either team played anything close to their best game. Maryland outlasted Georgia in a defensive battle 58-51, but for Staiti, playing in that game meant a lot, regardless of the final score. 
"It reassured me in my head that I made the right choice for myself," Staiti said. "When I was in Puerto Rico, I just thought back about how my freshman year and the year I had off last year went and it's a big change. It changed me as a person and a player as well. I'm grateful for it."
Since then, duo Staiti and senior star Caliya Robinson has developed into a weapon for Georgia. With both post players on the court at the same time, the Bulldogs have often been able to take away the paint defensively and own it on the offensive end. 
"That's a tough matchup, when both of them are on the floor," Taylor said. "They're continuing to play even better when they're on the floor at the same time. They both can stretch you, they both can post you. I love watching them play together."
When Mackenzie Engram graduated last year, Robinson lost her frontcourt partner. She's convinced that she's found a new one in Staiti. 
 "Jen is like my Mac," Robinson said after a win over LSU on Jan. 3. "Big man to big man, we work a lot together. The chemistry we have, on the court, you can definitely see it." 
Staiti scored 13 in that game and grabbed nine rebounds. The duo was a big reason Georgia won three out of four to start conference play, the only loss coming on the road against top-10 Mississippi State. 
"[Hearing that] gave me a lot of confidence," Staiti said. "To know that a player as good and with the skill set of Caliya, to have her say that, it gave me a lot of confidence. She makes my job a lot easier too, having her in the game just makes it flow better."
As Georgia is set to push down the stretch this season, it is clear Staiti has a big role to play. More importantly, she looks poised to be a big part of the future. Robinson is in the last season of her illustrious Georgia career, leaving behind a hole in the frontcourt that Staiti seems positioned to fill. 
When Georgia missed out on the best prospect in the state in 2016, no one envisioned Staiti starting for the team three years later. 
Staiti considers herself fortunate to have found her way to the Georgia program, but in the long run, the program might just be the one that benefits the most.