In Georgia women's basketball player Stephanie Paul's room lies the Haitian flag hanging on by the window. The flag represents her heritage and is kept there to remind herself of where her family came from.
The flag carries the dream her father had when he came to the United States in 1982. That dream was to have his children live a successful life while holding true to their past.  
"I couldn't imagine my dad had to come here," Paul said. "Him and my mom had to come here with I think five kids, and that's pretty tough because you're just leaving Haiti, a third world country, to come to America and start from scratch which is pretty tough and they managed to do it."
Paul, who is sophomore forward for the Georgia women's basketball team, carries her Haitian culture with her anywhere she goes.
The baby Paul
In Bayshore Drive in Naples, Florida, lies the Naples New Haitian Church of the Nazarene. The church is owned by Paul's dad, Renauld. This is where she spent a good portion of her childhood.
Paul would learn how to sing gospel songs, which she still sings to this day. Just as she was able to express herself inside her church, she also had the love and support of her family.
It is in Naples where she grew up as the youngest of nine siblings. Her siblings are Lo, John, Jean, Matt, Josie, Nephtalie, Da-anna, Eunice and Dann. There is a 25-year age gap from Paul's oldest sibling, Lo, to her.
All of her siblings participated in sports either at the collegiate or the high school level. They all played basketball and Paul was able to learn from them. Despite such a large discrepancy in ages between the children, the love for each other was always there.
While trying to recruit Paul to Georgia, head coach Joni Taylor saw firsthand how close the entire family was.
"Her father is a pastor," Taylor said. "They're all very spiritual, and when we get around the table to pray, they all pray in their native language. You feel humbled that they invite you into that atmosphere."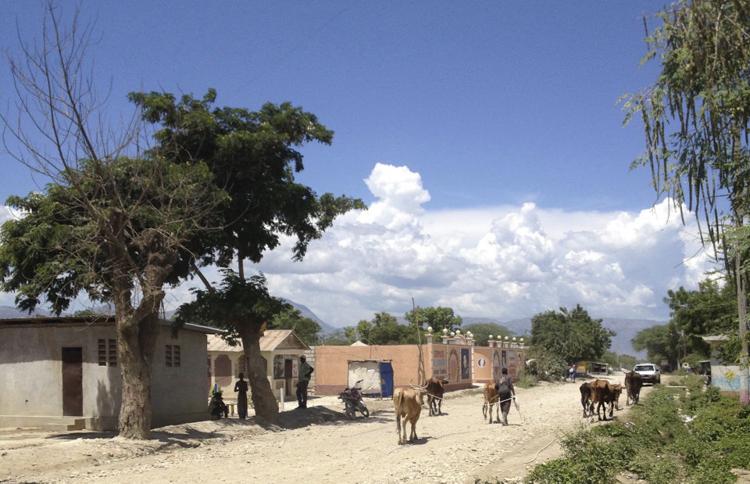 John Paul, the second oldest sibling, credits his father and uncle for teaching everyone to love each other. Stephanie Paul enjoys being the youngest child because she listens to the stories her elder brothers tell her.  
"I'm the baby, the last Paul," she said. "It's really a blessing, everything my older siblings have done, have taught me a lesson and I can learn something new from each of them."
Since the Paul family is so close, they share stories just like any other family would. One story that Paul remembers is about how her four older siblings had trouble acquiring their Visa cards.
As John Paul remembers, it was Feb. 1993, his senior year of high school. His basketball team was about to start its district portion of the schedule. At that point, John, Jean, Matt and Josie had all come to the United States with visitor Visas.
"We had an appointment [with the embassy]  some point in early February," John Paul said. 
"I told the coach, 'Coach, we got to go to Haiti for a couple of days, and we'll be back soon.' We had the appointment, and we must of had some missing paperwork or something like that. The embassy sent us away to go bring whatever paperwork that was needed to finish up whatever they needed."
But instead the four of them were stuck in Haiti for three months.
 "We missed the end of our basketball season, missed the playoffs," John Paul said. "I missed three months of senior year of work. I had to make up a lot of school work to be able to graduate."
 But the missed time did not hinder his athletic career, as he went on to play football at Marietta College in Marietta, Ohio.
Through the rubble
Croix-des-Bouquets is located eight miles northeast from Port-au-Prince, which is the capital of Haiti. Many people in Croix-des-Bouquets grow up to live on farms or end up raising cattle. Kids can be seen riding mopeds, and wild animals such as donkeys and goats can be seen scurrying through the streets.
With all the noise surrounding the city, a small village located in Croix-des-Bouquets has a sense of calm and reason to it.  It is the home of Renauld and Marie Paul, who live in close proximity to their other relatives.
"My dad still has a house [in Croix-des-Bouquets] and my uncle lives like right behind them and my aunt lives [there too]. They all live kind of close," Paul said. "It's like all the family lives in one little spot"
She has visited Haiti three times in her life, the most recent in 2014. Her dad started Bayshore Education, a charity designed to help people in Haiti. The word Bayshore came because their church is located on Bayshore drive in Naples, Florida.
One of the relief efforts of Bayshore Education is it sponsors 30 kids in Haiti, and provides them with clothes, school supplies and other resources they need to succeed in school.
"It's basically for empowering the Haitian community, and finding ways to give them help in whatever areas they need," she said.
The last time Paul went to Haiti, the areas she visited were still suffering from the earthquake in 2010. She remembers seeing kids with no shoes or clothes and people living in tents. Paul also visited the National Palace in Port-au-Prince, which was completely demolished from the earthquake.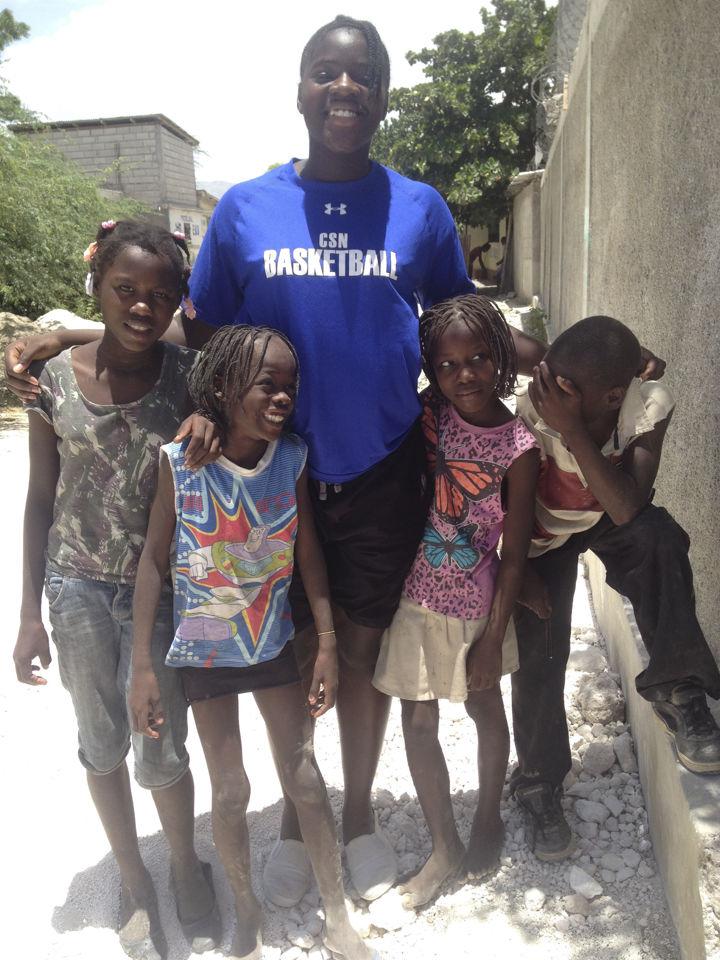 "I saw a lot of rubble," Paul said. "Some people had to live in clay houses, It was pretty rough to see how some people were living."
Another part of Bayshore Education is to help in the relief efforts, and she believes giving people the resources to get better will help them more than giving stuff away. They provide medical care and are working on building a small farm, so families will have a sustainable food source.
"[Haitian people have] been struggling for so long," Paul said. "So, giving handouts is not going to help. It's going to be the things that you do to help them make business decisions and stuff like that [that will help the most]."
The organization also provides an entrepreneur camp for the kids.  
"We've recently been doing [the entrepreneur camp] for the past couple of years," Paul said. We'll like teach kids how to make their own product and try to find ways to sell it and make profits and stuff like that."
'Haitian Sensation'
"Haitian Sensation" is one of the many nicknames Paul has, but this one was given to her from Georgia women's basketball assistant coach Robert Mosley. The nickname embodies all the qualities that Paul carries with her because she always represents Haiti, and she always carries a smile on her face.
Her spirit partly comes from her family always loving each other, but it also comes from how happy the people in Haiti are even though they are struggling.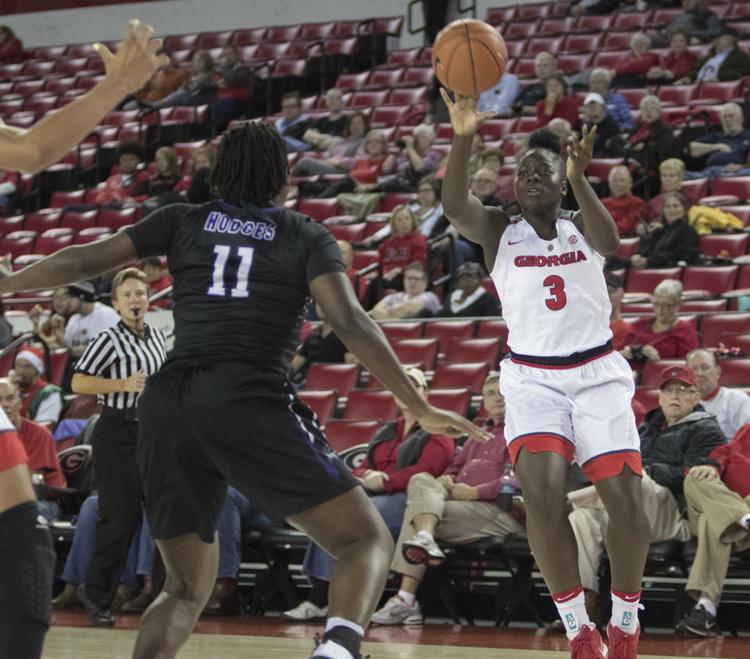 "The people in Haiti are so happy, even though they don't have a lot of stuff," Paul said. "Sometimes we take that for granted, so that was good lesson for me to learn."
Paul always embraces her Haitian heritage. She sometimes speaks in Creole in front of her teammates and plays Haitian music from time-to-time.
"She takes a lot of pride in her culture, which I look up to," Georgia freshman Maya Caldwell said. "I'm African American, I was born and raised in Charlotte. I never moved anywhere. To see her carry her culture wherever she goes is really empowering, and I really look up to that."
As a sophomore, Paul continues to be a key player for the No. 18 Georgia women's basketball team,and she scored a career-high 18 points in an 81-52 win over Vanderbilt on Jan. 4. 
The Haitian flag that sits in Paul's room represents the sacrifices her parents and older siblings made. She continues their legacy every time she steps on the court for Georgia.
 "I get to embrace it even more than I do, and let people know about how much pride I take in being a Haitian. It's really cool to put Haiti on the map in this platform that I have playing basketball for Georgia."