Efforts to increase and retain a diverse student population never stop at the University of Georgia, but looking around predominately white classrooms, it's hard to see tangible improvement.
"Are we where we want to be?" UGA President Jere Morehead said about diversity to his audience at the 2019 State of University address on Jan. 30. "No, not yet, but I believe we are making steady progress. This progress must continue if we want to realize our full potential as a public land-grant university."
This progress has manifested in a 13 percentage point increase in minority student representation out of the total acceptance pool between 2008-2018. About a third of the 12,724 students accepted in 2018 were minorities, according to data from the UGA Undergraduate Admissions.
But these numbers do not reflect actual minority student enrollment, considering not all students who are accepted choose to attend.
Only a quarter of the undergraduate students in fall 2018 were minorities, according to the University System of Georgia, which was about a 7 percentage point growth since 2008.
UGA administration focuses some programs, such as Georgia Daze and Movimiento Latino, on decreasing this difference between accepted and enrolled minority students, looking at why students who were accepted into the university choose not to enroll and attend. But the divide between minority and white students starts earlier in the admissions process.
On average in past 10 years, there have been about 7,500 fewer minority students than white students who apply to UGA, according to undergraduate admissions data.
"I'm honestly happier that I didn't get into UGA in high school and that I went to Georgia State because I really think that it burst the bubble that I lived in," said Michael Bernardini, a white UGA junior transfer student from GSU, who appreciated being at a college with high diversity. "I think that the bubble would have remained intact had I stayed at UGA the whole time."
---
A slow climb toward diversity
In 2000, UGA dropped its race-based admissions formula and moved toward a race-neutral admissions policy, which became permanent in 2006. By this standard, UGA does not have any quota systems in place to ensure diversity, meaning it cannot necessarily ensure diversity grows each year.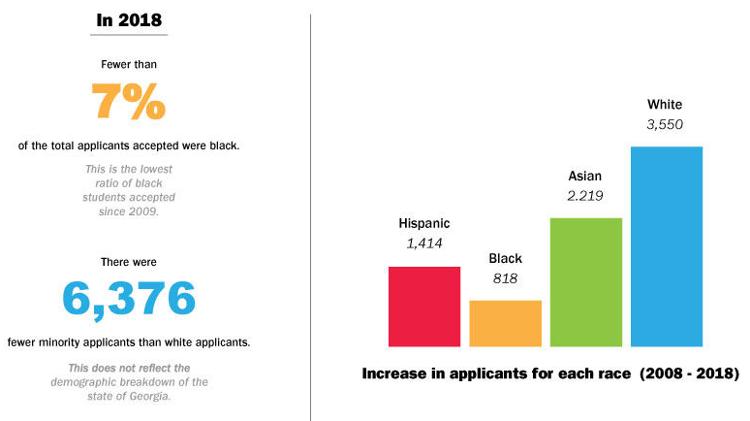 Even without this insurance, minority applicants have been on the rise over the past 10 years, moving from about 25 percent of the total applicant pool in 2008 to almost 40 percent in 2018.
Despite a more even ratio of white and minority applicants, the actual number of white students applying is still thousands more that of minorities.
These demographics of UGA's applicant pool do not reflect that of the state. Georgia's demographics are split around 50 percent between non-Hispanic white individuals and all minorities, according to data from the United States Census Bureau.
This discrepancy might be in part because of an increase in early action popularity.
Applicants for early action are increasing, hitting 17,000 in 2018, up 2,000 from last year. In the past four years, around 7,500 to 8,000 students are admitted through early action. This program is primarily focused on grades, SAT and ACT test scores, which are historically known for being racially biased, according to the National Education Association.
This uneven divide in minority and white applicants results in a domino effect on diversity at UGA.
The number of white students accepted to UGA is about double the number of minority students accepted for the past five years. Before 2013, the divide was even larger. Fall enrollment shows an even larger discrepancy, according to USG data. In the same five-year period, white students about tripled the number of minority students on campus.
---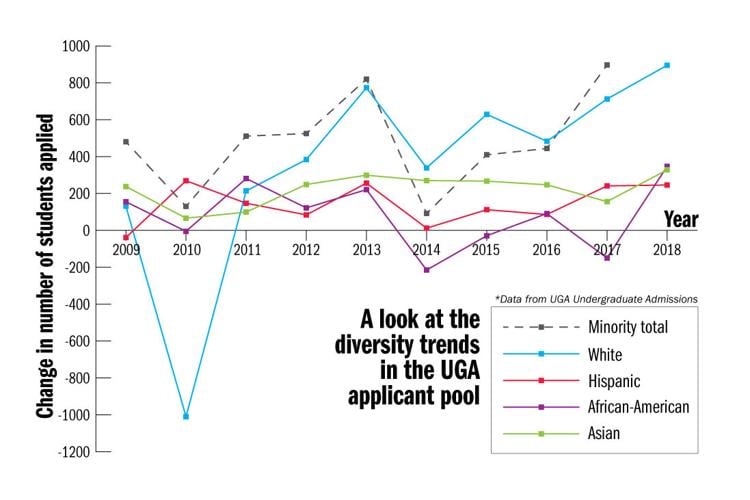 Ten years, little change
Data from undergraduate admissions shows that the number of black students applying to UGA has increased by 818 from 2008-2018, but this rise has not been consistent.
While every other race shows a steady increase, save for an occasional outlier year, black applicants dipped in 2010, 2014, 2015 and 2017, the most out of any other race. Students identifying as Native American and Pacific Islander were not included in this calculation because of the low number of applicants, which totalled less than 50 for most years.
Though 2018 did see an increase in black applicants, fewer than 7 percent of the total number of accepted students were black, the lowest ratio it has been since 2009.
"There's this stigma of UGA that it is literally just a predominantly white institution," said Alexis Boss, vice president of UGA's National Council of Negro Women. "Nobody outside UGA thinks that anybody besides white people go here."
Because of this stigma, Boss said black students may choose to apply to Georgia State University instead, which has the highest enrollment rate for black students in the state.
Georgia State has the highest graduation rate of black students out of all nonprofit U.S. colleges, according to the Hechinger Report, an independent newsroom that covers inequality in education.
The Hechinger Report was published in 2016, and the following year, Georgia State was named one of the Top Performing Institutions for Black Students in the U.S by The Education Trust. That same year, UGA's black application pool decreased by 150 people.
Other races show more steady trends.
Hundreds more Asian students have been applying to UGA each year since 2008. Similarly, more Hispanics have been applying since 2009.
This could potentially be due to the increase in Hispanic and Asian populations in Georgia, particularly in the metro Atlanta area. According to a 2011 Atlanta Journal-Constitution article, the Hispanic population grew by 96 percent while the Asian population grew by 81 percent.
The percent of Asian and Hispanics students accepted out of the total amount of students has generally increased across this 10-year period, according to the undergraduate admissions data.
The percentage of Asian students accepted is consistently the highest out of any single minority group. In 2018, Asian students made up about 14 percent of all students.
---
"Nobody outside UGA thinks that anybody besides white people go here."
-Alexis Boss, vice president of UGA's National Council of Negro Women
---
Excluding Native American and Pacific Islander, which total fewer than 50 students accepted each year, Hispanic students are consistently the lowest percentage of total students accepted.
Overall, though, these numbers show drastic improvement. Minority students were about 6 percent of the UGA student population in fall 1988, which listed students as "American Negro" and "Oriental American," according to the UGA Fact Book. Minority students only increased to 10 percent of the population 10 years later in fall 1998.
Diversity initiatives on the rise
Morehead's newest initiative to increase diversity is the New Approaches to Promote Diversity and Inclusion grant program, which started in fall 2017 and is now launching into its second phase, he announced at the 2019 State of the University.
The first phase of the program included 21 projects and a funding of $300,000, provided privately, to help with the "recruitment, retention and success of underrepresented and underserved current and prospective students at UGA," according to the program's proposals request.
The highest increase in all minority applicants over the past 10 years was seen in 2018, up more than 1,000 students from the year before, though it is unclear how this program may have directly affected the applicant pool.
Each of the programs focused on different aspects of recruitment and retention of minority students in high school, undergraduate and graduate levels of education and expanded across various colleges and subjects. Programs also provided workshops, educated prospective students on the application process and mentorship programs.
Though it is unknown how much will be spent on the second phase of the program, part of the money will fund some of the existing and successful projects from the program, while the other part will be dedicated toward new projects, Morehead said.
Problems in diversity span all categories of admissions — applicants, acceptance and enrollment. To curb UGA's predominately white demographics, administrators are looking at all aspects of the admissions process.