For Jazmine Avery, a senior psychology major from Marietta, the fact that she is a minority is something she is reminded of on a daily basis when she goes to class.
"Often times I'm one or one of a few people of color in a classroom in most of the classes that I go to," she said.
In an effort to acknowledge the issues facing biracial students, Avery, who is half-black and half-Asian, created her own student organization in 2013, the Multiracial Student Organization.
"I started [the organization] my freshman year in order to start a space for multiracial and multicultural students," she said.
'Racism and homophobia'
In order to address issues of campus inclusiveness from the perspective of the administration, the University of Georgia looked to give a voice to students, faculty and staff by conducting the Count Me In Survey in the fall of 2015.
"The survey was really an attempt on the part of the University of Georgia to hear the voices and to learn more about the experiences of faculty, staff and students here at the University of Georgia," said Michelle Cook, associate provost for Institutional Diversity, who chaired the 11-member committee that oversaw the survey.
The results were released in July, with an overall response rate of 23 percent, or just more than 10,000 people, according to the executive summary. This was below the target goal of 30 percent, which Cook said was needed for the survey results to be generalized for the entire university population.
According to the results, 81 percent of respondents were "comfortable" or "very comfortable" with the campus climate at UGA. However, the results also revealed discriminatory themes across the campus.
"Two themes emerged from narratives provided in this data: discrimination and hostile work environment. Students described discrimination in the form of racism and homophobia," according to the executive summary.
In the survey results, 16 percent of respondents said they experienced "exclusionary, intimidating, offensive, and/or hostile conduct." The results also found that these experiences varied based on the group of constituents. Twenty-six percent of respondents felt the behavior they experienced was based on gender or gender identity, another 23 percent felt it was based on ethnicity, and 19 percent felt it was based on racial identity.
The scale of this graph is in percentages. 
Avery agrees there is discrimination on campus, but rarely is it overt.
"It's not like anyone's coming up to all of the black students or all of the Hispanic students and being like 'You're not welcome here.' It's more just a lot of those subtle undercurrent type things," she said. "The best way I can put it is 'This is not not for you, but it's just for somebody else.'"
Felix Linzan, a senior from Hinesville studying business management, first encountered discrimination when he was a freshman.
"I was at Park Hall and was on the phone. I'm Latino, and I was speaking Spanish to my grandmother because she only speaks Spanish," Linzan said. "There was a group of girls who were in a sorority and they proceeded to mumble something within their group, something about 'This is America, you don't need to be speaking Spanish around here. Speak English.'"
Those in the lesbian, gay, bisexual and transgender community at the university also reported feeling prejudice. Avery, who said she is "not straight," mentioned times when she has felt oppressed.
"I've had professors talk to female students [about] 'Your boyfriend when you get older,' but for me personally, my immediate thought was 'I get the point you're trying to make, but it would have been nice if you'd just said spouse or partner or something where you don't have to single out anybody,'" she said. "It's just learning how to make the body more inclusive, appealing and open to everybody."
To combat prejudice against the LGBT community, specifically against transgender students, a new statewide program is attempting to bring attention to the issue.
The Georgia Transgender Student Rights Watch, launched by five LGBT advocacy groups, plans to monitor discrimination against transgender and gender non-conforming groups students from elementary school to college. The organization allows students and parents to report their experiences with discrimination to a website.
"From the use of declared names and pronouns, to restrooms, locker rooms, sports, uniforms, and extracurricular activities, school districts should respect the gender identity of all students, including transgender students. No student should ever have to go through the experience of feeling unwelcome at school or on a college campus," according to a press release from the organization. 
Despite both being present on campus, discrimination based on racial identity and sexual identity are often mutually exclusive. Avery said some students who identify as LGBT still experience racial discrimination from their peers within the LGBT community.
"A lot of times when it comes to LGBT stuff, even LGBT people of color experience discrimination from gay white guys," she said. 
Push for a solution
Going forward, Pamela Whitten, the senior vice president for Academic Affairs and Provost, plans to lead a series of student, faculty and staff working groups representing Human Resources, the Division of Student Affairs, the Office of Institutional Diversity and the Office of Faculty Affairs in response to the results of the survey.
"International Student Life, Multicultural Services and Programs and the LGBT Resource Center all have really good initiatives to help push forward what the administration is doing," Linzan said.
---
"A lot of times when it comes to LGBT stuff, even LGBT people of color experience discrimination from gay white guys."
-Jazmine Avery, student
---
Linzan said a mandatory course in diversity would be a good starting point for the administration.
"There is the online alcohol course for all incoming students, which is a mandatory thing," he said. "Something like that for a social justice course, just so everyone knows that everyone is different, and to be respectful of different perspectives, I feel like that'd be a good push toward what the administration should go to."
Nia Hammer, a sophomore math major from McDonough and the treasurer of the Multiracial Student Organization, said she would like to see the university promote more multicultural programs.
"The people that are interested in it right now are going to be the ones who are willing to go to the different multi-cultural functions, but those aren't the people who are prejudiced," she said.
Avery said organizations like the MSO are "helping to combat part of the problem."
"We've had people come up to us and be like 'Wow, we really like what you guys are doing and I want to have other people that I can relate to,'" she said. "We do have a lot of people that come up to us and say "I really needed this" or 'This is something I felt like was missing from my campus experience.'"
As a fourth year, Linzan said he has witnessed the involvement of administration in addressing issues of campus inclusiveness. He was specifically impressed with the outreach done by Arthur Tripp Jr, the assistant to President Jere Morehead.
"Arthur Tripp did a great job last year going out with different organizations, and getting himself out there," he said. "I was a Resident Assistant last year, and we went around to housing with President Morehead just to see what's going on and get our feedback on what they can do to help us and any concerns within our jobs or within the campus itself. I think that was really good on their part."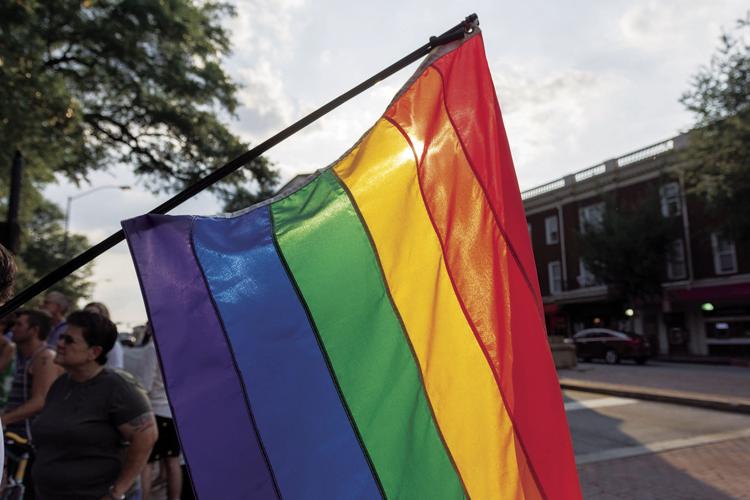 Cook said the university is looking to not only maintain the services it currently offers, but to improve them.
"We want to make sure that we continue to offer those services and supports for the community that people are using and finding very effective," she said. "We definitely want to build on those strengths as we look to see where there might be gaps." 
At the same time, Avery said a lot of change in the community is going to rely on the students.
"I think we're helping with part of the problem, but it won't really take just one organization or group to do that kind of thing," she said. "I think it's definitely way more about our collective experience and using all of our power as students to use what we learn and apply that to our lives."