In fall 2019, 21% of the University of Georgia's freshman class came from 20 out of the 469 high schools in Georgia that sent students to UGA, according to the university's 2019 Fact Book.
With 13 of these schools within 10 miles from one another, the incoming class was highly concentrated from Forsyth, Fulton, Cobb and Gwinnett counties. In contrast, Athens' Clarke Central and Cedar Shoals High Schools have sustained a sharp decline in students attending UGA.
Students from this centralized area of school districts post higher test scores and demonstrate a lower need for financial assistance compared with other Georgia high schools. Half of these schools are majority minority or close to it.
Lambert High School, which sent the most freshmen in fall 2019, has sent more than 100 students every year since 2016, with schools such as South Forsyth High School close behind.
For some of these students, attending UGA was a chance to transition out of high school. For others, such as Anusha Jain from Chattahoochee High School, entering college with the same peers was an obstacle to branching out.
"I never really escaped Alpharetta, but I did branch out a little here," Jain said.
'Culture shock'
Now in her third year as a communication sciences and disorders major, Lucy Rivera said the transition to UGA was a "culture shock" for her.
"It was a little uncomfortable to be in a classroom being the only Latina," Rivera said. "We're not really represented in actual higher education."
Rivera attended Peachtree Ridge High School, one of the majority minority schools. Peachtree Ridge has one of the highest percentages in racial diversity among the 20 high schools. The Hispanic population is the highest of the 20 schools at about 20.83%, and only 18.81% of the student body is white. In contrast, UGA's undergraduate Hispanic population is just 6.6%.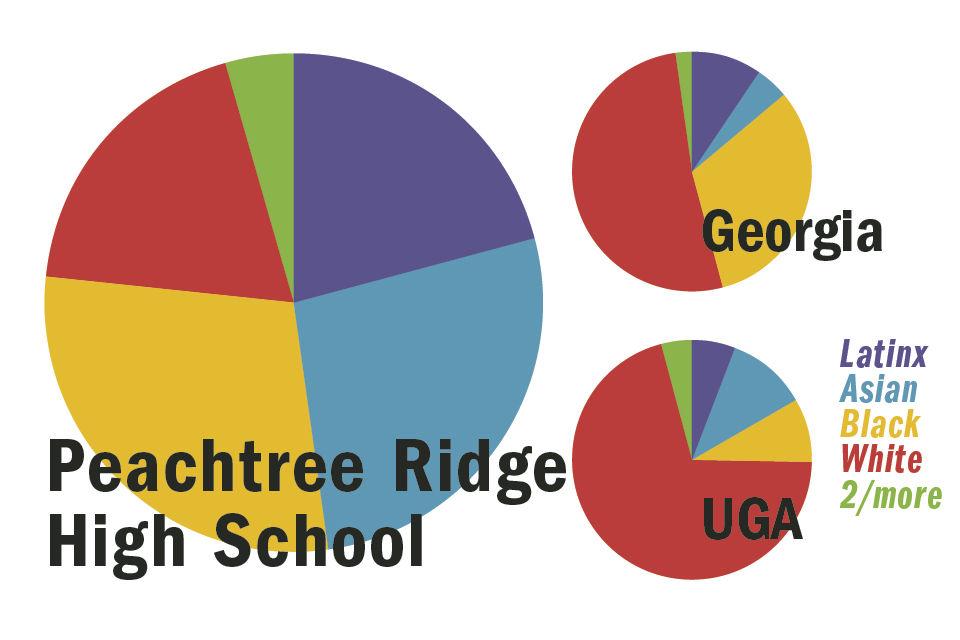 As a first-generation college student, Rivera said a lot of her college peers do not have to deal with the same financial challenge of funding their own college expenses — tuition, groceries and rent.
Peachtree Ridge's 8.9% direct-certification rate is more than double the average of 4.32% among these 20 schools. The direct certification percentage, according to the Governor's Office of Student Achievement, denotes the percentage of students who qualify for government assistance or have unstable living conditions — the lower the percentage, the more economically secure a school's students are.
In 2019, the direct-certification percentage for these schools ranged from 1% with Lambert to 9.4% with Lakeside High School in Evans, Georgia. In comparison, the statewide school average was 35.85% — nearly eight times higher than the list's average.
Some students from these schools said they attended UGA partly because of the Zell Miller and HOPE scholarships that pay for some amount of in-state students' tuition if they meet certain academic standards. Eighteen of these 20 high schools had over 60% of their student body eligible for the HOPE scholarship — the state average is approximately 44%.
"Zell Miller is the main reason why I can afford UGA," Rivera said.
Charles Bullock, a political science professor at UGA, said the introduction of the HOPE and Zell Miller scholarships in 1993 and in 2011, respectively, facilitated the enrollment of more academically competitive students at in-state universities — particularly with students from metro-Atlanta schools with more Advanced Placement courses and competition in the classroom.
"That's probably driven out, or made it harder, for some students who come from small, rural high schools, which don't have the range of courses being offered," Bullock said. "Therefore, they maybe don't score as well or maybe feel intimidated … so that they may not even try to get into UGA."
High standards, high hopes
As one of the 90 UGA freshmen from South Forsyth in fall 2018, sophomore Neha Kattoju said UGA was considered a "safety backup" school among many of her peers — the gold standard being Emory University, Georgia Institute of Technology and Ivy League schools.
Kattoju said her peers saw UGA as less stressful in comparison. The competition in high school made her wary of a similar environment in college, which led her to choose UGA over other more academically prestigious schools.
"I wanted to finally be in an environment where not everyone's attacking each other over academics," Kattoju said.
Chandler Sherry experienced a similar academic environment at Walton High School.
"There's a way to get a good education and create competition, but Walton took it to a whole new level," Sherry said. "A lot of my friends and people I knew and even myself suffered with anxiety and depression. I was too hard on myself."
Sherry said Walton faculty facilitated a competitive environment, going so far as creating a "4.0 Club" for students with 4.0 GPAs to sit with each other at lunch.
"My counselor in high school told me I wouldn't get into UGA," Sherry said. "I felt like [Walton] didn't 100% believe in me."
'Town-and-gown' relations
Two schools from Oconee County — North Oconee and Oconee County High Schools — were some of the high schools with the 20 largest incoming classes at UGA.
Kaitlyn Ballard, a junior from North Oconee, lives 20 minutes away from campus with her parents. North Oconee was academically challenging, and while not everyone attended UGA, many people dual enrolled throughout high school, Ballard said.
"UGA's still a big part of North Oconee," Ballard said.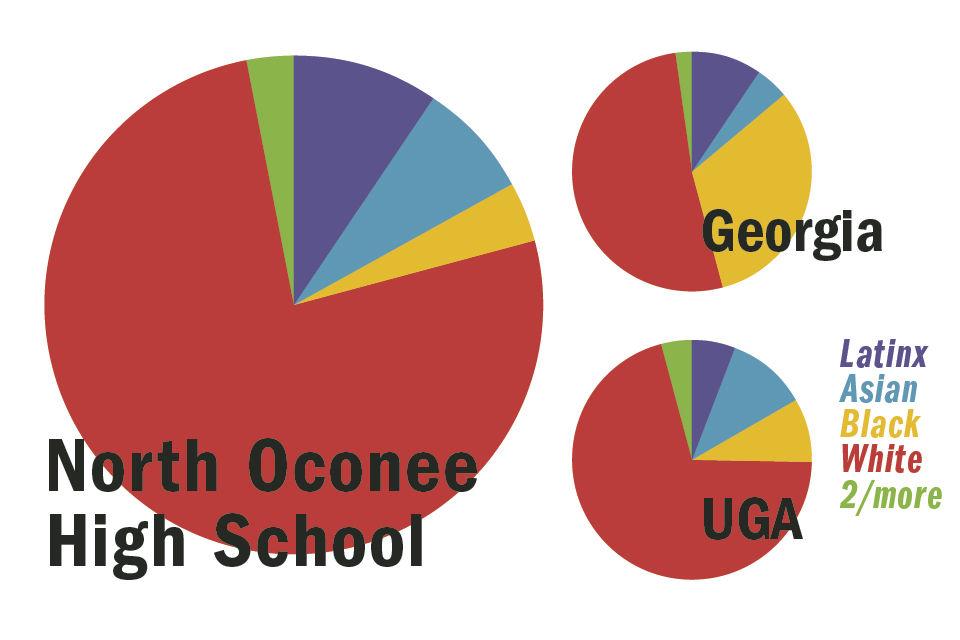 In fall 1969, Clarke Central, then Athens High School, sent 104 students to UGA — the most out of the listed high schools. Fifty years later, in fall 2019, Clarke Central sent only 14 students. Cedar Shoals first entered the UGA Fact Book in fall 1973, sending 61 students. In fall 2019 it sent fewer than 11 students, which is below the threshold to be listed in the Fact Book.
John Knox, a Clarke County Board of Education member and UGA geography professor, said the decline cannot be attributed to one cause, such as race, class or other historical factors. However, Knox said the decrease in Clarke County student enrollment at UGA coincides with the rise of UGA's selectivity and national reputation.
While Knox said the Board of Education has briefly discussed this topic in the past, he said sending students to UGA is not as much of a priority as preparing students for their future — which may not include college for some.
"It's not our job to create students who necessarily go to UGA," Knox said. "We're trying to create students who are ready for the next step, whatever it is."
However, as a UGA professor and Athens resident, Knox said he has a personal interest in the "town-gown relationship" — the "town" referring to Athens and graduation "gown" referring to UGA.
"Given what I've seen both as a citizen and as a school board member, we should be looking at how all Athenians benefit from the University of Georgia," Knox said. "Even in an era of increasing exclusivity, to make sure that the town doesn't feel like the gates are closed to them."
---
This article is an installment of The Red & Black's series, "Planting new roots." If you want to be featured in the series, send us a news tip, or tweet us @redandblack.