The Hindu holiday Diwali is a staple time for the celebration of Indian culture, the gathering of friends and family and a multitude of traditional activities, food, fireworks and rituals of worship. Students at the University of Georgia and local Athens residents are able to celebrate light, prosperity and the defeat of darkness and evil. 
Diwali began on Saturday, Nov. 14 this year. It is celebrated over the course of five days, with each day representing a different spiritual meaning.
Praying to the Hindu gods and bringing them items for good fortune and future blessings is a traditional celebratory act during Diwali. Sacrificing food to the Hindu gods before eating to pay respect is also a common occurrence during Diwali.
Due to the COVID-19 pandemic, the typical holiday celebrations are difficult to partake in, halting plans of mass gatherings and leading to a different atmosphere for Diwali this year. However, some students were able to return home to their families and continue the traditions they started. 
"Diwali is a time for family and friends to come together and celebrate a time of light and positivity amidst a world that can be loud and deafening at times," said junior double-major in finance and management information systems Shree Kamath. This year, Kamath was able to return to her hometown of Alpharetta to light fireworks with her family and drop off faral, which is a collection of traditional Indian snacks enjoyed during Diwali celebrations, to friends and family. 
"It felt good to align myself with my culture and be around my family and get to see close family friends I hadn't seen in months due to the pandemic," Kamath said. 
Every year, the Indian Student Association at UGA hosts an inclusive Diwali celebration that is heavily attended and requires weeks of planning. Due to COVID-19, they were unable to hold the event in order to ensure the safety of everyone on campus. 
President of ISA Ameya Sawadkar said the committee was disappointed they did not get to have a large celebration this year. Usually, the organization partners with the UGA Indian Cultural Exchange to provide event-goers with Indian dishes such as aloo tikki chole chaat and chili paneer. The guests are also greeted with games, singing, dancing and skits that tell the religious story behind Diwali. 
Instead, ISA organized a photography competition on Instagram for participants to portray what Diwali means to them and their stories from the holiday. The winner will receive a prize. 
Abhay Chilakamarri, a sophomore management information systems major, said that Diwali was completely different this year. 
"We weren't able to have too much of the social aspect...our celebration was much smaller and instead of going to parties, I just celebrated and ate with my family and we did some fireworks in our neighborhood," Chilakamarri said. "But it's still a stress relief, and it's a way to get away from school and just enjoy our traditions and celebrate our values."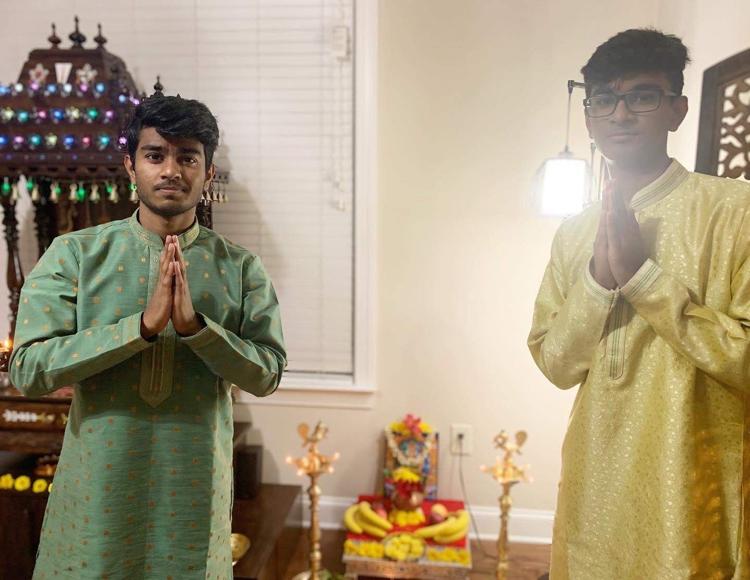 Richa Bajaj, ISA secretary and Ph.D. student, said Diwali was the one time of the year when she was able to return home to her family. Originally from Kanpur, India, Bajaj moved to the U.S. in 2016. 
"When I was In India I studied in Pune, which was away from my hometown, so I used to go back to Kanpur to celebrate Diwali with my family and friends," Bajaj said. "For me, Diwali meant home."
Now that Bajaj lives in Athens, she finds it difficult to return home. Because COVID-19 has led to additional obstacles with the safety concerns surrounding flying, she decided to safely video chat with her family this year. 
UGA professor Puneet Dwivedi also reminisced on past Diwalis he spent in his hometown of Lucknow, India. 
"It's an amazing experience. Everything is shining and everyone is so happy. Every house has oil lamps outside and every street is so full of light. The city comes alive," Dwivedi said. "You have all the sweets in the world. You get new clothes. When I was at kid growing up in India the best part was eating all of the sweets and watching the fireworks. I miss those times."
Tilak Patel, a sophomore biology major, is passionate about annakut and visiting the temple near his home in Lilburn. 
Annakut is a traditional festivity of preparing large amounts of food to offer to the Gods.  
"Usually, we would go to the temple and offer food to the God...but since there was no celebration or assembly at the temple, we did everything at home," Patel said. "So we have this shrine at home in which we had a smaller version annakut and decorated it with many Indian dishes, and only did this with close loved ones."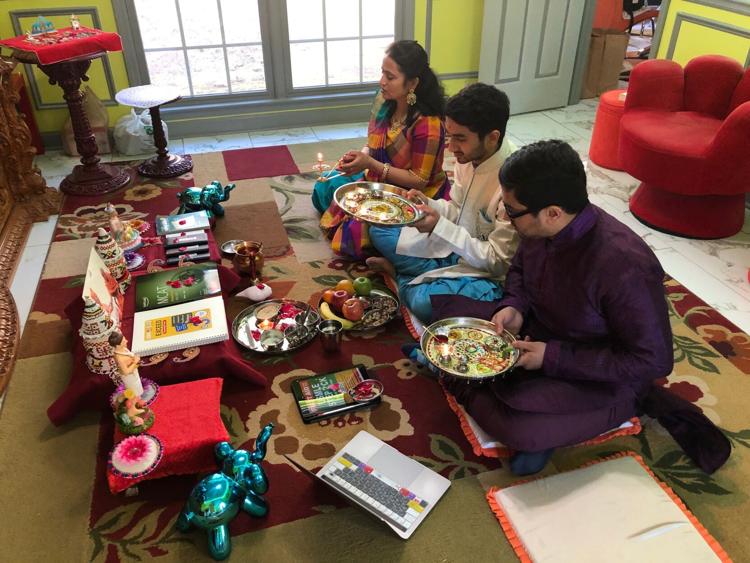 The UGA community was still able to successfully celebrate Diwali this year through reminiscing on memories and spending quality time with family.