The University of Georgia's campus saw a different group of anti-abortion activists protest at Tate Plaza on Nov. 11. The Center for Bio-Ethical Reform set up a large display at the Plaza featuring graphic imagery and references to topics such as Nazism, genocide and rape.
According to its website, CBR works "to establish prenatal justice and the right to life for the preborn, the disabled, the infirm, the aged and all vulnerable peoples through education." CBR is unaffiliated with Created Equal, the anti-abortion organization that protested on campus on Nov. 7 and 8.
CBR also drove a truck around campus featuring similar graphic imagery.
According to Lincoln Brandenburg, CBR's Georgia project director, the group has permits to protest on campus until Wednesday, Nov. 13.
Crowds of students gathered around the display to debate with the CBR protesters.
"You don't know who is walking by, you don't know what type of triggers they have," said Adiyah Warner, a sophomore student. "Yes, you're entitled to your opinion, but I don't think this is the way to go about it."
Warner noted that CBR's display was "much bigger" than the Created Equal demonstration on Nov. 7 and 8.
"If you're protecting free speech you should be protecting both sides, especially your student body," said Claire Torak, a third-year student. "To me personally, it feels as if the University is saying we don't care about our students of color, our female students, or our non-binary students or trans women."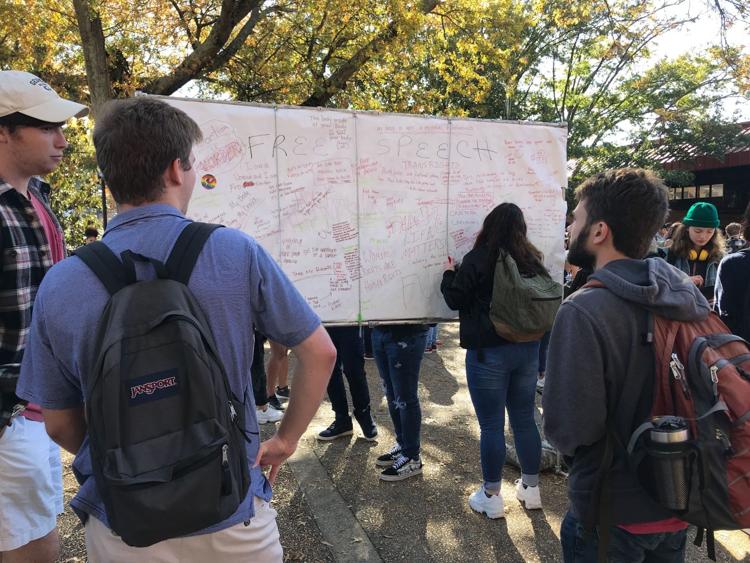 UGA's Student Government Association released a statement on Nov. 11 regarding the protests.
"While the University of Georgia has a constitutional duty to uphold the free speech rights of all students, faculty, staff, and visitors, regardless of the content or viewpoint of their speech, SGA also recognizes and supports all students and their lived experiences," the statement reads. The contact information of the Office of Student Care and Outreach was listed at the end of the statement.