Tuesday's Athens Earth Strike event at the Miller Learning Center was one of several held simultaneously around the world as environmental activists and University of Georgia faculty spoke about the need to address climate change.
Athens activists and UGA faculty spoke to an audience of about 70 UGA students and Athens residents at the Athens Earth Strike First Day of Action event on Jan. 15.
Members of the Athens Young Democratic Socialists of America work in the Athens Earth Strike chapter as a branch of the YDSA to promote environmental activism in the Athens community.
"This event is more geared toward the specific Clarke County community… and demonstrating to people that they have a voice, they have power," said Athens Earth Strike member and Athens YDSA treasurer Valerie King.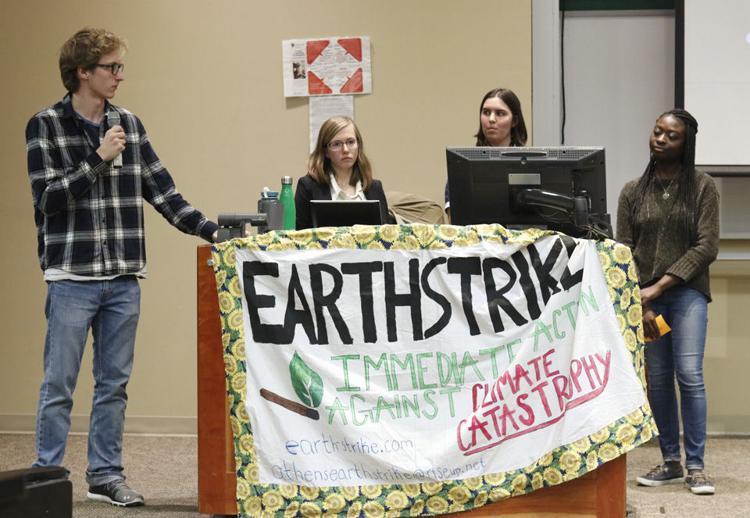 King said the environmental group seeks to "hold our legislative body accountable" for the Earth's changing climate. The activists announced their legislative demands to the audience.
Earth Strike names demands of UGA, Athens
Athens Earth Strike said UGA should not allow Chick-fil-A restaurants on campus, claiming the restaurant chain's non-compostable packaging leads to much of the university's food waste. The Athens Earth Strike speakers also said Chick-fil-A does not sustainably source poultry, which contributes to climate change via greenhouse gas emissions.
The group said the State of Georgia should end subsidies for cotton and peanut farms due to the nitrous oxide and carbon emissions these crops produce, as well as fertilizer runoff, which hurts water quality such as that of the Oconee River in Athens.
In the broader sense, Athens Earth Strike advocates corporate, national and world leaders to transition to renewable energy sources.
Warnell Professor presents data
"We have to think about equity… when you're thinking about climate policies," said Jesse Abrams, a professor of natural resource policy and sustainability in the Warnell School of Forestry and Natural Resources.
Abrams spoke about the data on climate change while displaying a slideshow that depicted charts of greenhouse gas emissions by country and economic relationships between GDP per capita and carbon emissions.
Abrams said environmental policies can benefit the global climate, but policies such as energy taxes can hurt poorer people. He said society must acknowledge social implications when discussing environmental policy.
Athens citizens promote environmental action
Nnenne Onyioha-Clayton and Cary Ritzler represented 100% Athens, a local environmental activist group. They spoke about their group's efforts to promote a transition to "clean, renewable energy" in Athens by 2035.
"We are a grassroots effort... that came together around this [issue] since the United States pulled out of the Paris Climate Accord," Ritzler said.
Clayton and Ritzler said the Athens transition to renewable energy would be funded by SPLOST. They said Athens could follow cities such as Atlanta and Clarkston, an Atlanta suburb, in their efforts to transition to solely renewable energy by 2035. Solar power would operate as the primary energy source for the community.
National group promotes federal legislation
Kodiak Sauer, a representative of Citizens' Climate Lobby, said bipartisan support is the only way to pass national legislation concerning climate change.
Sauer discussed the CCL's legislative initiative, the "Energy Innovation and Carbon Dividend Act," in which a "carbon fee" assessed on companies would lead to an increase in fuel prices, therefore driving down demand for fossil fuels and increasing demand for renewable fuel sources.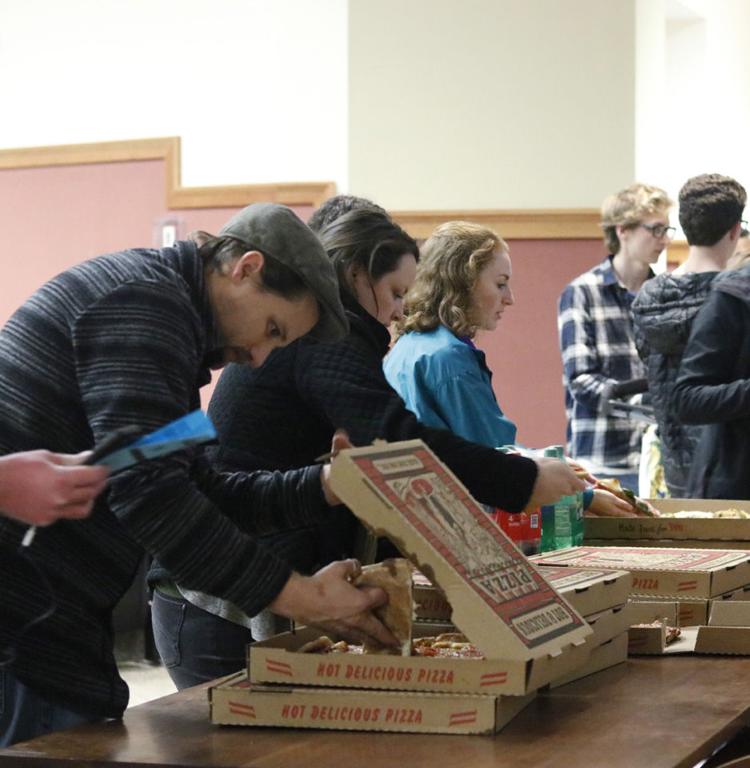 Audience reacts
Katherine Akins, a junior psychology major from Cumming, said she attended the Earth Strike event because she chose to pursue a sustainability certificate last fall.
"I just want to get more informed… because I do think I want to do something in the sustainability field as a career," Akins said.
Akins said she supported the CCL's carbon fee because it would provide motivation with people to switch to renewable forms of energy without losing money.
Earth Strike plans future events 
Athens Earth Strike has planned a protest to build ties with local unions on April 27 at the Arch on UGA's North Campus. This follow-up event as well as another protest on Aug. 1 will proceed the "general strike" on Sept. 27, when organizers said supporters will attend a march in Atlanta rather than going to work.