Forty-one men, two trucks.
That's all that is left behind on the Beta Xi chapter of the Phi Kappa Tau fraternity's Instagram account, left to the barren wasteland of inactivity since October 24, 2016. Since then, no more posts, no more stories — dead.
The inactivity is a bleak trend among other Interfraternity Council chapters at the University of Georgia. Out of 25 active IFC fraternities at the university, only 10 have Instagram pages, eight of which have posted once within the past two years. By comparison, all 19 of the active Panhellenic sororities at the university maintain active Instagram accounts, all of which have posted regularly in the past year.
For organizations as public-facing as fraternities and sororities, maintaining an active presence on social media is a way to establish a channel of communication between active members and alumni, parents and members of the community interested in the organization and to entice any inquisitive potential new members.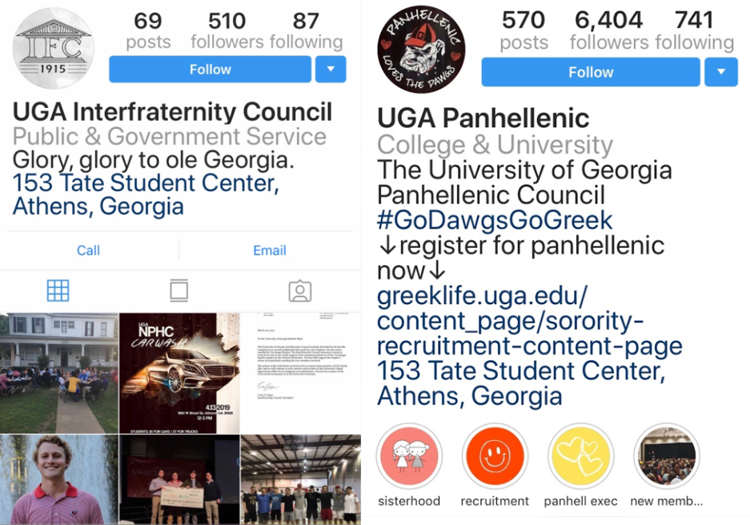 But if the same advantages of upkeeping a positive image in the public eye are reaped by both sororities and fraternities, what accounts for the stark differences in activity and content between the Panhellenic and IFC chapters?
Why are sorority chapter Instagrams saturated with filtered and pastel-tinted images of members traveling or clustered together at football games and pumpkin patches, while fraternity Instagrams settle on images of dimly-lit group photos in front of their houses or pixelated images of Billy Payne?
Recruitment differences
Differences in the Panhellenic and IFC recruitment processes may be the root cause of the contrasting content.
The highly strategic rush process for sororities, who have strict rules governing when and where you can speak to potential new members, presents a unique opportunity to use social media as a recruitment tool.
"Since we can't invite girls to come hang out during the summer and come to casual get-togethers like fraternities can, you can use social media to give them a way to know you before they even meet you," said Ellie Knight, a freshman intended-public relations major and sorority member.
Due to the fact that the rush process is a "very in-person thing" for fraternities, where potential new members partake in casual parties or other events to get an impression of current members, social media engagement for rush purposes isn't as prevalent as using it to show their national organization what the chapter is up to, said Nick Shimalla, sophomore finance and accounting major and fraternity member.
The digital recruiting proved to be effective for Knight. Before Knight and Mackenzie Tanner, a freshman intended-journalism major and sorority member, began their individual recruitment processes, they found themselves studying the Instagram accounts of each Panhellenic sorority to get an understanding of the chapters' personalities. Shimalla didn't think twice about checking prospective fraternities' social media.
Sara Goodwin, the social and digital media specialist for the national Sigma Kappa sorority, views Instagram as an important recruitment tool, given how social media has grown in the past decade.
"Social media showcases what our chapters are doing year-round as well as captures the love and friendship our members have toward one another," Goodwin said in an email. "I think it may make it helpful for potential new members in determining which chapter will be the best fit for them."
Despite Shimalla's indifference for using social media for recruitment, Beth Headrick, the director of communications for the national Phi Kappa Psi fraternity, finds that social media can be an effective tool for fraternities to share rush events with followers and invite potential new members to events where they can learn about becoming a brother.
"With today's students being extremely tech-savvy, fraternities, including Phi Kappa Psi, must look for innovative ways to recruit strong men to carry on our tradition of service and brotherhood," Headrick said in an email.
Chapter knows best
IFC and Panhellenic chapters also mandate separate social media standards, which accounts for some of the differences in content. Social media etiquette is set at the chapter level, where each individual fraternity and sorority is "governed by their national office on those policies," Stan Jackson, the director of student affairs communications and marketing initiatives said in an email.
For example, all nationally-affiliated Phi Kappa Psi chapters are required to maintain at least two active social media accounts to meet the fraternity's accreditation standards, Headrick said.
Tanner's organization requires every member to sign a social media contract to ensure they will not post any indecent images that would reflect poorly on the organization, and Knight's chapter, among others, has a PR chair that monitors members' social pages and contacts them if they need to take anything down.
"If you're a member of something as big as a Greek life organization, I feel like you should try to represent yourself well on all platforms," Knight said. "Social media is a great way to express yourself creatively, but also represent any organizations that you might be a part of in a positive light."
Battle of the sexes
Another large factor that explains the discrepancy is the basic gender divide between fraternities and sororities, Knight said.
"Throughout history, women have definitely cared more about how they look and whether they're expressing themselves through fashion or art that they created," Knight said. "Now that has translated into modern times into what your Instagram page looks like."
Statistics show minor differences in social media activity and engagement for both sexes. As of 2018, 39% of adult women actively use Instagram, compared to 30% of men, according to a Pew Research Center study examining social media use by gender. In a broader context, Pew also found that 73% of adult women use at least one social media site, as compared to 65% of men.
The data is consistent with the engagement observable on the Panhellenic Instagrams versus the IFC Instagrams. Out of the eight active IFC Instagram accounts, the UGA Beta Upsilon Chi fraternity has the highest follower count, clocking in at 953 followers with an average of 150 likes per image.
For UGA's Panhellenic organizations, all but one of its chapters' accounts has over 2,000 followers, with Kappa Delta topping the list with 8,538 followers as of May 5 and an average of 700-1,000 likes per image.
"Girls will typically spend more time on Instagram making it look more pleasing, and a lot of guys' Instagrams are just kind of there," Shimalla said.
On the bright side
Although fraternities have a lessened emphasis on digital engagement, Shimalla thinks of social media as a good way to keep people informed about the work an organization does for the community or achievements of individual members.
Fraternities Alpha Tau Omega uses its Instagram page to highlight individual members' achievements for their "Brother of the Month" series, Delta Tau Delta spotlights the fraternity's sweethearts and Chi Psi showcases the philanthropic work they've done with Girls on the Run and the American Cancer Society.
"It's not easy to have an article written about a fraternity in a newspaper, or to do so in a manner that you know exactly what the result will be," Shimalla said, "But by using Instagram, you kind of have the ability to project a positive image of the fraternity."
Knight, who is looking into social media management after graduating, finds that Instagram, in particular, can be used as a way to give someone an impression of you before they meet you, and uses her Instagram to post brightly-colored images that are "encouraging and inspiring for other people to look at" because it reflects who she is as a person.
"For the first time in history, we have the opportunity to develop a brand of ourselves rather than just companies having brands," Knight said. "Everyone is developing their own brand with every action that they make and how their social media presence appears, and that is so innovative moving into the future."