Last semester, Dr. Scott Nesbit, a professor of public history and technology, created a class project to research the history of the enslaved black men and women at the University of Georgia.
The class obtained much of its information through the University Archives within the Hargrett Rare Books and Manuscript Library and will publish findings on a website this spring.
Nesbit's students found enslaved peoples had a pivotal role in building and maintaining UGA.
Slaves participated in chores like stoking fires, carrying water, ringing the chapel bell at events and constructing university buildings. The only time enslaved persons were allowed on campus was if they were there to perform a prescribed job, according to Nesbit's findings.
Black history at UGA typically focuses on the period after the integration of Hamilton Holmes and Charlayne Hunter. However, African American influence at UGA dates back before "cultural, ethnic, gender and racial diversity" was a component of the university's mission statement.
Traces of the Confederacy are present around campus — the monument across from the Arch honors Athenians who served in the Confederate Army and the plaque at the entrance to North Campus is an ode to the Confederacy as well.
It states, "During the War for Southern Independence, most of the students entered the Confederate Army. The University closed its doors in 1864 and did not open again until January 1866. After the war many Confederate veterans became students."
Several buildings on campus bear the names of men who had Confederate ties and white supremacist ideologies.
For example, the Grady School of Journalism is named after Henry W. Grady, the managing editor for the Atlanta Constitution and an advocate for the New South, apost-civil war economy built on industrial growth and northern investment.
Grady was a white supremacist who ensured that with this New South "negroes lowly status would remain unchanged," according to the book "Henry Grady Or Tom Watson?: The Rhetorical Struggle for the New South, 1880-1890" by Ferald Joseph Bryan.
In regard to Grady's namesake, John Soloski, professor in the Grady College of Journalism and Mass Communications, described UGA's racial history as complex.
"The legacies here are like a tree with lots of roots going in different directions," Soloski said.
The Hoke Smith Annex on campus houses the College of Agricultural and Environmental Sciences Cooperative Extension Service, named for his contribution to Georgia agriculture.
However, in an election for governor in 1906 he based his platform on a movement to disenfranchise blacks so whites could maintain social order, later imposing several grandfather clauses.
Mell Hall gets its namesake from Patrick Hues Mell, university chancellor from 1878 to 1888. He is known for his treatise entitled "Slavery: Neither a Moral, political, nor Social Evil."
Jodie Chickvara, a junior psychology major, said she accepts the history tied to the buildings.
"All these buildings are named after people that were really horrible segregationist and it's part of the culture here," Chickvara said.
While the references to the Confederacy are prevalent on campus, Dr. Joshua Inwood, professor of cultural geography and critical race theory at the University of Tennessee and UGA graduate, argues slavery is hardly discussed as a part of UGA's history.
Inwood worked with Deborah Martin from Clark University's department of Geography to author a paper discussing white privilege and the racialized landscapes.
"We argue that privileged, white landscapes operate through a kind of whitewashing of history, which seeks to deploy race," Inwood said.
George Cooke depicted antebellum Athens in his 1845 painting, "View of Athens from Carrs Hill." The original version of this painting illustrates slaves bailing hay at the bottom of the canvas.
Inwood said this painting was the header on UGA's webpage under the History and Traditions tab when he attended graduate school in 2003. Today, the webpage is similar, but designers have cropped out the images of slaves.
---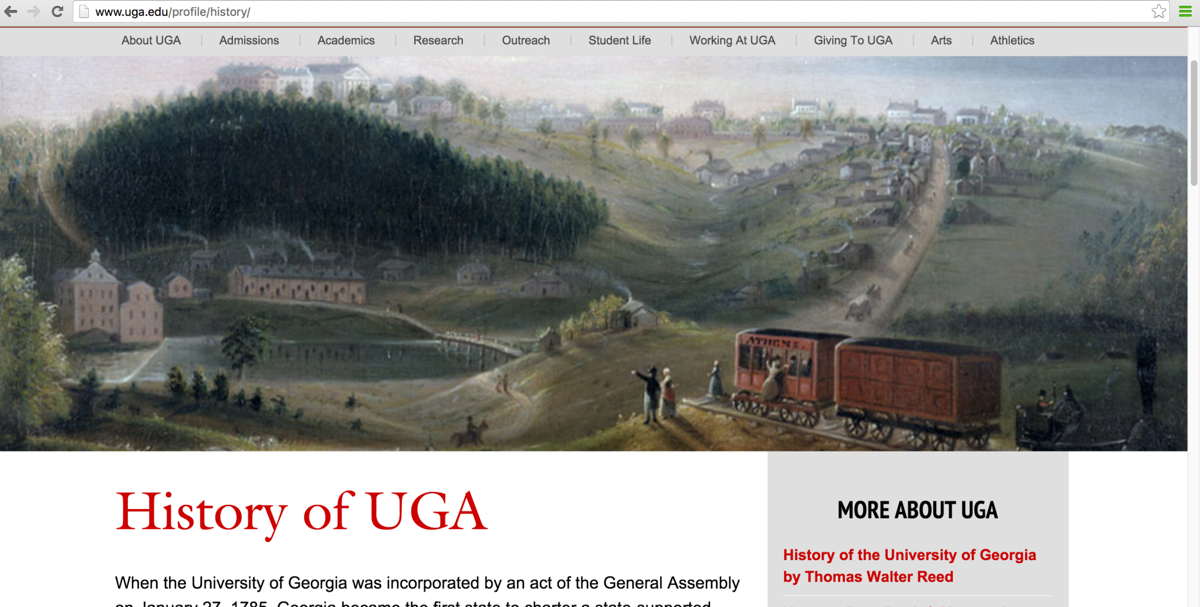 Screenshot of History of UGA from the University of Georgia website
---
"This shows that the history was there, but has not been brought to light," Inwood said.
Inwood said the wealth of Georgia, and thus the university, in the 19th century was largely due to slave labor on plantations.
The Board of Trustees financial committee reported the amount spent on slave hires between 1835 and 1871 was over $5,000, or around $98,000 in today's money, the website from Nesbit's class said.
In faculty minutes from Board of Trustee meetings there are various accounts of students getting into trouble for interacting with slaves, by doing things like purchasing their food and goods.
Nesbit said discussing UGA's true past is vital.
"In not recognizing [slave's] labor means that UGA has a landscape that is not as truthful as it should be," Nesbit said.