More than two years after human remains of former slaves were discovered beneath Baldwin Hall on the University of Georgia campus, community members and UGA faculty have started to plan a memorial to honor them.
The memorial will give tribute to the 105 unmarked human grave sites found underneath the building, which were transferred to Oconee Hill Cemetery in March 2017.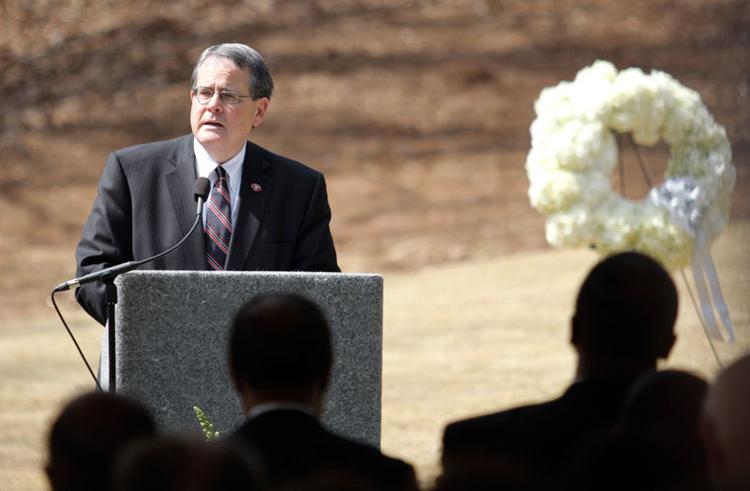 Though a specific date has not yet been determined, UGA's Executive Director for Media Communications Greg Trevor said in a press release the memorial is expected to be dedicated within the upcoming fall semester.
"I look forward to hearing the ideas and thoughts of my fellow members on the advisory board," Student Government Association President Ammishaddai Grand-Jean said. "I am hopeful that the result will be something that UGA, Athens and the state of Georgia can be proud of."
An "advisory task force" has been organized to plan the memorial's location and design. The members were chosen by UGA President Jere Morehead and include 18 individuals from a variety of backgrounds.
Dr. Michelle Garfield Cook, UGA's chief diversity officer, is leading the group. Generations ago, her ancestors were born into slavery and lived in Athens their whole lives.
"A memorial to commemorate the lives of the individuals buried at the Baldwin Hall site provides an opportunity for the entire community to reflect on our shared history," Cook said.
Barbara McCaskill, an English professor at UGA, believes erecting a memorial for the remains is a proper way to honor the struggles of black people and their history with the university.
"This should be one of many ongoing steps UGA plans to take to tell a full story of slavery, the Civil War, and their aftermath, and to respond specifically to community members' desires to learn more about their ancestry," McCaskill said.
Learning about past lives
As it was constructed in 1938, Baldwin Hall sits less than half a mile away from Jackson Street Cemetery, formerly known as Old Athens Cemetery — the official cemetery for Athens residents during the majority of the 19th century.
Soon after the bodies were found, UGA commissioned a study led by anthopologist Dr. Laurie Rietsma to learn more about who the individuals were.
---
"There still is a blatant disregard for the black existence in this community."
 - Alvin Sheats, Clarke County NAACP president
---
Rietsma's research found a majority of the bodies to be of African descent. Considering the time period, these individuals are thought to have been slaves or former slaves.
More than a year later, UGA's Office of Research commissioned a mapping study led by professors Marguerite Madden and Sergio Bernardes that resulted in the creation of a historical database called Athens: Layers of Time, that exhibits the history of the UGA campus and the city of Athens.
"We may not be able to identify the people, but we can reconstruct the physical environment that they lived and worked in, and understand better who these people were," Madden said.
Suspended development
A plaque inside Baldwin Hall acknowledges the story of the remains and a ceremony was held after the remains were transferred. A granite marker stands at the new grave site but some community members think these structures are not enough to tell the whole story.
"There still is a blatant disregard for the black existence in this community," said Clarke County NAACP President Alvin Sheats in a previous article for The Red & Black.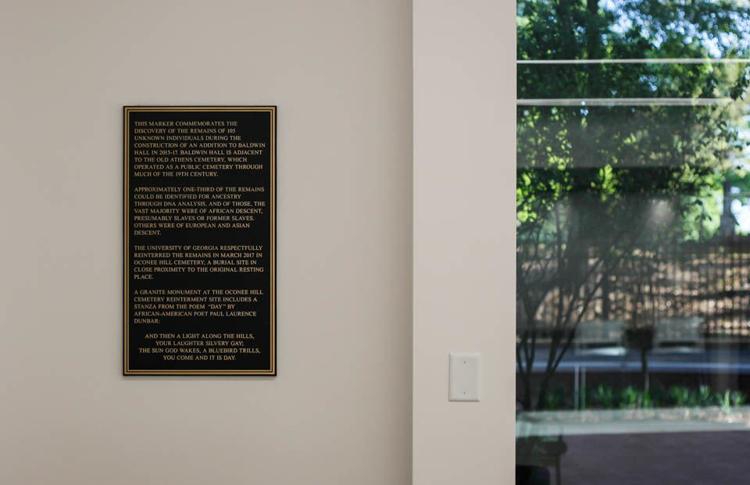 In regards to the idea of a new memorial, Clarke County school board member Linda Davis said she is happy to see there is "progress being made."
"God is in control of all of this, and He knows how desperately we need to recognize our ancestry and take care of our children," Davis said. "We've got to create a thing that allows them to see themselves in this community not just as visitors but as contributors."
Despite the optimism for future plans, McCaskill worries the time period to be having this discussion could lead to problems down the road.
"To be effective and inclusive, I think the advisory committee should wait until the campus returns full swing, to enlist feedback about memorial ideas from faculty and student governing bodies and community members before finalizing this," McCaskill said.
The details for what the memorial will look like, which Trevor said has not yet been discussed, will be decided by the 18-member committee made up of UGA faculty and community members.