After $44.5 million in renovations, Russell Hall's new Market at Russell opened on Aug. 5, providing students an option for late night food until 2 a.m. The Red & Black looked at the prices of a few items across the University of Georgia's campus and compared them with those of the nation's largest retailer: Walmart.
Prices for food items at the various markets on UGA's campus are comparatively more expensive than Walmart prices. Prices from one market to another on campus also vary. 
The markets on campus include the Market at Tate, the Market at Russell, the Market at East Campus and The UGA Creamery. The UGA Bookstore also sells food items.
A few common items are found at most, if not all, of the markets on campus. Three such items are packages of two Nature Valley Oats 'N Honey Crunchy granola bars, 2.75 ounce bags of Lay's potato chips and 20-ounce Dasani water bottles. 
On Walmart.com, a box of 12 Nature Valley Oats 'N Honey Crunchy granola bars is $2.98 or slightly under 25 cents for an individual package containing two granola bars. In The UGA Creamery and the Market at East Campus, a package with two bars is $1.59. In the Market at Tate, it's $1.49 whereas at the UGA Bookstore, the price is 79 cents.
A bag of chips shows the same trend. Walmart.com lists Lay's 2.75 ounces bags of potato chips at $1.48. The Creamery and the East Campus Market prices are the same at $1.79. The Markets at Tate and Russell and the market in the UGA Bookstore all price the same sized bag of chips at $1.69.
To quench your August thirst, you might find yourself buying bottled water on the go. Walmart.com prices a 20-ounce Dasani water bottle at $1.68, while all markets around campus sold this product for $1.89.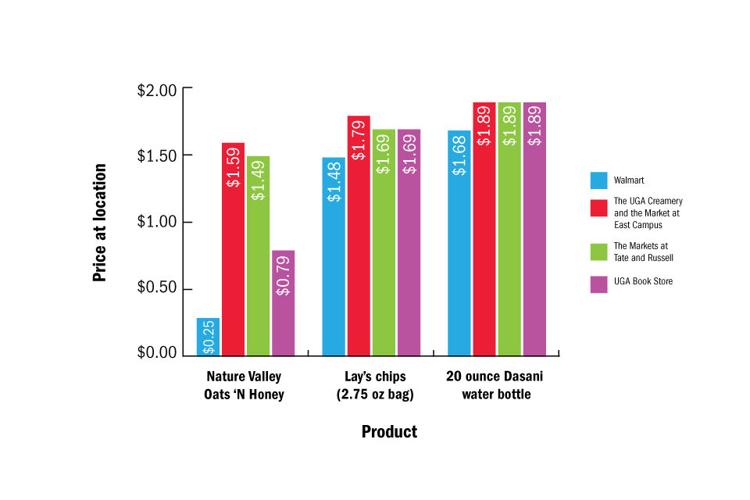 Nicole Nunez, a senior biological science major, said she purchased an item at the Market at Tate although an item's price sometimes prevents her from buying what she wants.
"I really wanted a chocolate bar, but it was $2.59 and this humongous cookie was also $2.59. I want more for my money, so I decided to pick the bigger thing."
Kendall Lee, a graduate student studying animal science, purchased a peanut butter and jelly sandwich from The UGA Creamery.
"It is a convenience factor, so I still eat here, but I just get a peanut butter and jelly because it's only $3, as opposed to all the other sandwiches which are $5 or $6," Lee said.
Zehadi Alam, a senior biological science major, was looking at things inside the Market on East Campus. Alam said he had never purchased anything in a campus market.
"This is food, so it's not something that you're buying once and then it's going to sustain you for a long time. You will have to buy food again and the cost accumulates over time. Therefore, not buying at all has been my route," Alam said.
Ross Uhlar, a senior mechanical engineering major, bought a coffee at the Creamery.
"I'm not on meal plan so I usually try to make a sandwich for days that I'm on campus all day. I know if I come here it will roughly cost me 100 percent more than what it costs to make it at home," Uhlar said. "Sometimes I may go a little bit more hungry and wait a little bit longer rather than buy something."