With IsraelFest on one end and Students for Justice in Palestine on the other, the area between Zell B. Miller Learning Center and Tate Student Center at the University of Georgia rang full of festivities and conversations on April 10.
Culture and camels
In the Tate Plaza from 11 a.m. to 2 p.m., Dawgs for Israel hosted their annual IsraelFest, complete with food, music, booths and a camel.
Sophie Rosen, a junior economics major, is the vice president of special events and one of the IsraelFest coordinators. Between the 18 tables and catered food, Rosen said coordinating the event was extensive, but worth it.
"It's really important to have a day to focus on the people and not all the conflict," Rosen said. "I love having people here to celebrate Israel as a country."
Passersby took notice of the food, balloons and loud music, stopping by to see the event. Neha Vangimalla and Khushi Gupta, both freshman biochemistry majors, decided to see what the event was representing. After arriving, they wanted to learn about Israeli culture as a whole and on campus specifically.
"It is cool to see how many people involved in Israeli culture are here," said Vangimalla. "I never would have thought that this many people would be here but looking around, there are so many."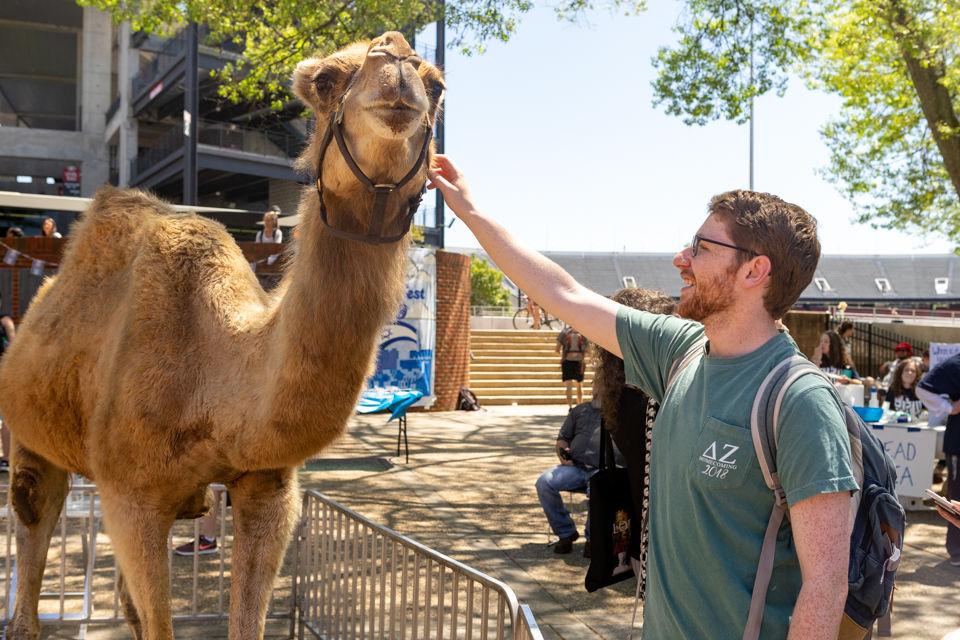 Mary Mattout, a junior pre-nursing major, hosted a table for people to make chocolate milk with Hershey's chocolate syrup and milk. She said an Israeli tradition is to combine the ingredients and drink it straight from the bag.
Mattout emphasized the importance in dispelling misconceptions of Israel as "dangerous" or only being a desert landscape. The culture and traditions, she said, are the aspects of Israel she wants people to learn about.
"There are so many things people don't know. We like to show how we feel, what we like," Mattout said. "We like music a lot, we like to dance a lot. It's really important for us to share that with other people because we are a minority.
Another table was named "Ask an Israeli," co-hosted by Or Zolti, a Ph.D. biomedical engineering student at UGA. This was Zolti's second year hosting the table, and for him, the most important aspect is educating and celebrating Israel's culture with UGA students.
Born and raised in Israel, Zolti came to the U.S. two years ago with his wife. While the transition was difficult, he found a community in Dawgs for Israel. Despite the current events involving Israel, Zolti said this day was not about that.
"We had elections in Israel yesterday, we don't know the results yet, and this festival has nothing to do with that actually," Zolti said. "Every year we're doing it, and it's a way to show the students more about Israel, about our culture and the different contributions in the world."
Zolti's favorite question he's gotten was, "Do you really have camels in Israel?" The answer? "Yes."
Tabling for Palestine
A couple of yards from IsraelFest, SJP set up a table to educate others about the Israeli-Palestinian conflict. In contrast to their annual protest, SJP opted for an educational table instead.
One of the organizers spoke about the transition from previous years' protests, mentioning that the group was trying to avoid being labeled as misinformative or antagonistic. In the past, SJP members said they had confrontational conversations with students passing by the protest. They are hoping they can avoid some of the aggression this year through switching to a table to continue raising awareness about their views.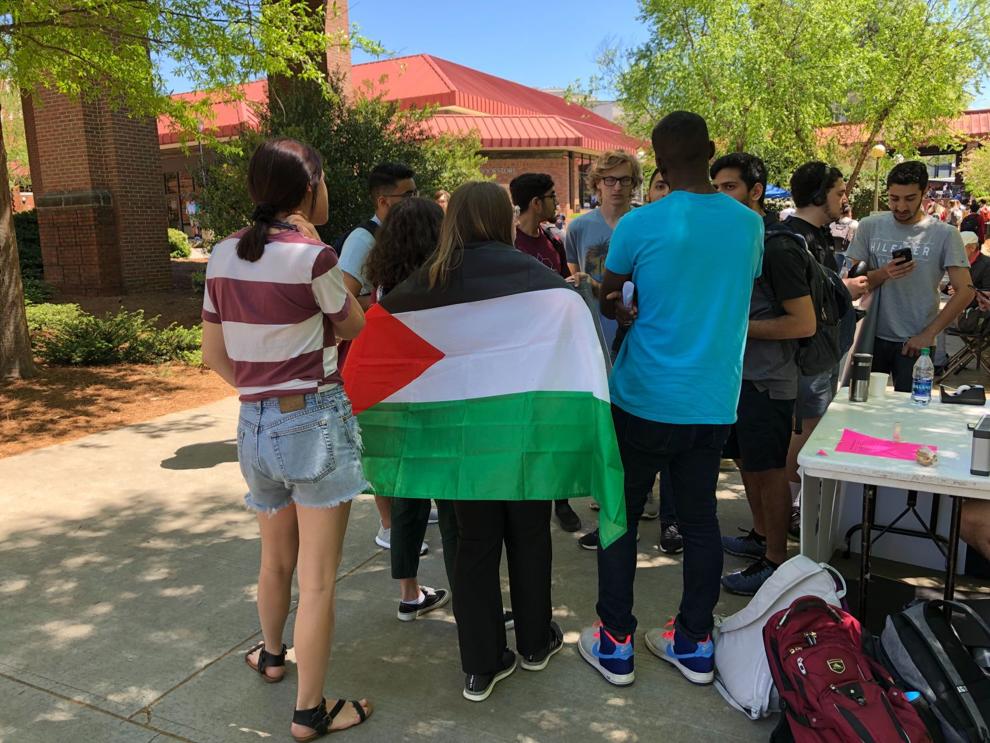 Many people engaged with the group members at the table — some with previous knowledge about the situation and others seeking to learn more.
Adrina Bradley, a freshman international affairs and political science major, listened to SJA members share their views. Bradley said she stopped by the table because she recognizes the importance of being aware of current issues around the world.
"It's always hard to get people to leave their little sphere of looking down on their phone but by approaching people and learning about things," Bradley said. "I probably care more as an IA major, but I think it's important to know what's happening in our world and acknowledge that human rights is an issue everywhere."
While Rabbi Shlomo Gelbtuch came in support of IsraelFest, he spoke to the SJP members at their table. Gelbtuch is involved in the Atlanta Scholars Kollel, which serves colleges such as UGA and Georgia Tech students. He has been with this program for the past 12 years. By coming to IsraelFest and interacting with members supporting the Palestinian perspective, he said it is his goal to "engage in meaningful and respectful conversation."
"Dialogue is key and respectful dialogue requires open-mindedness which means hearing the other side," Gelbtuch said.
Gelbtuch said he hopes that, in relaying what he describes as peaceful nature of Israeli people, he can show that Israel is at "the forefront of so many things that are illuminating the world and bringing good to the world and to all people. To people from all walks of life including to people of their so-called enemies."
Now-former UGA Student Government Association President Ammishaddai Grand-Jean, less than a day out of office, stopped by the table to have a discussion with SJP members, after speaking with students at IsraelFest as well. In speaking with the two groups, Grand-Jean hoped to gauge an understanding of both sides' perspectives. Grand-Jean asked questions such as, "How would you solve the issue?" and "What is your opinion and viewpoint?"
"It was really comforting knowing that you can get to hear it straight from people who lived there, people who have family there, rather than just hearing it from the news or reading some article," Grand-Jean said. "It was very informative to really talk to people from both sides."
Grand-Jean said the engaging conversation of either side serves as a testament to the character of the UGA community. In encouraging peaceful dialogue, Grand-Jean said discussion in a college environment is instrumental in challenging beliefs and expanding views.
"We don't necessarily have to agree with each other but we should be able to peacefully and respectfully talk about things happening and have a dialogue and discussion that is informative," Grand-Jean said, "That's why we are in college — to be challenged and to hear different perspectives and to leave with our own ideas and build upon those ideas as well."