Potheads and sexpots unite: the UGA Ceramic Student Organization will hold their biannual spring pottery sale on April 24 and 25 from 9 a.m.-5.p.m. at the first-floor lobby of the Lamar Dodd School of Art. Don't expect anything to be half-baked, though.
The sale will feature hand-built sculptures and various types of functional ware, including mugs, vases and plates, made by undergraduate students, graduate students and faculty members in the ceramics department.
The price range of each item will vary, but a larger emphasis is put on smaller, more affordable pieces, Ted Saupe, a professor of art in the ceramics department, said.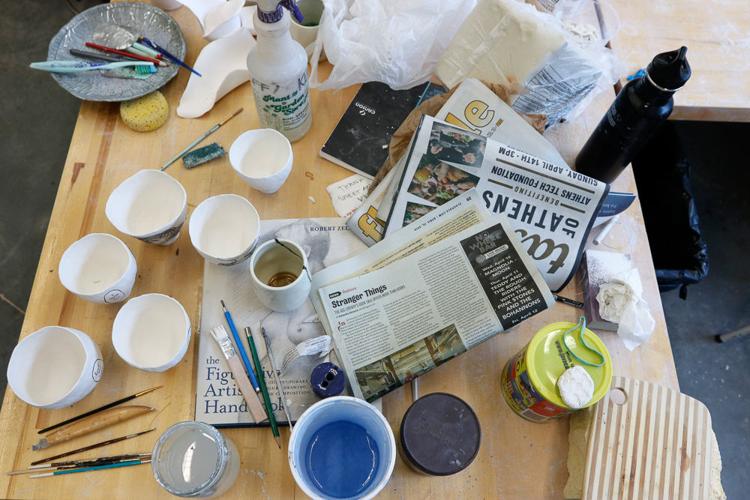 The organization holds a pottery sale each semester to raise money for students to attend an annual ceramics conference held by the National Council on Education for the Ceramic Arts.
The conference, held in a different cultural hub every year, provides opportunities for students to observe ceramic installations at different museums and galleries, attend lectures, network with students and professionals in the field and meet with representatives from graduate ceramic programs.
The most recent NCECA conference was held last month in Minneapolis, where the organization raised enough money to admit 14 students and one faculty member, Saupe said.
"It's a great place to understand what schools have to offer students and what they're looking for," said Nicholas Abrahmi, a graduate teaching assistant who has attended the NCECA conference for the past ten years. "It's pretty impressive."
The money from the sale also goes towards bringing in two visiting artists per year to do workshops for the department and critiques with students, Saupe said.
"The money goes to good causes," Saupe said. "We don't go out and drink and eat hamburgers with it. I mean, once and a while we do."
Abrahmi, who will be providing small sculptures and spoons to the sale, notes to look out for pieces made by Esther Mech, a departing M.A. candidate, and SunKoo Yuh, a professor of art in ceramics and internationally-known sculpture artist from Korea.
---
"Each item there is the mark of the maker."
—Nicholas Abrahmi, a graduate teaching assistant
---
Sophie Goode, a junior and rookie to contributing pieces to the sale, will be selling functional pottery, most of which are covered in hand-painted illustrations of insects. Her favorite pieces are the mugs she painted honeybees and centipedes onto.
"My family keeps bees, and I've always had a connection to honeybees," Goode mentioned. "I've always really liked nature—I wanted to be a vet when I was a kid, so this is my way of still studying animals and being connected to nature without doing something in that field. I'm glad I can show that in the sale."
What makes the items for sale unique are the drastic differences in technique, style, shape and influence, Saupe said. He notes that there is no signature UGA style because the department prides itself on teaching its students how to develop their own individual techniques.
"Each item there is the mark of the maker," Abrahmi said. "My pots are very much of me, they're of my hands, my hands are a certain size. You indirectly get to know a person you've never met by using their work on a regular basis."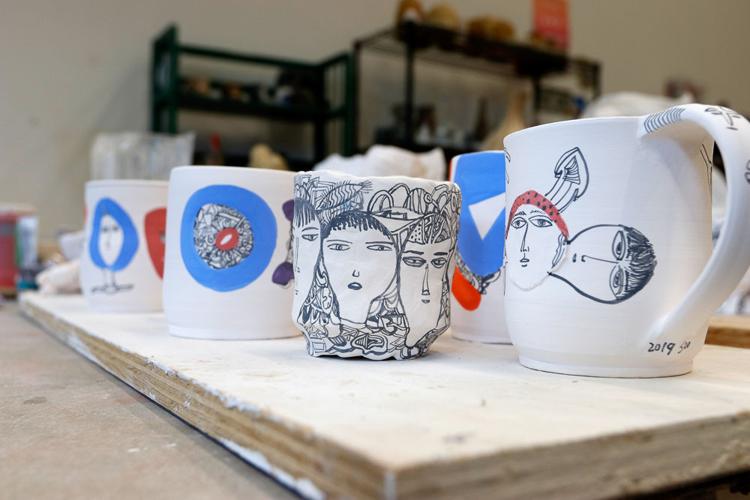 Goode encourages those interested in attending the sale to go on the first day because everything there is one of a kind, and "even if you don't buy anything, it's worth going because you get to see what your peers are creating."
"Being able to contribute to student artists is great—a lot of time when you're in school, you don't get the opportunity to sell your work at school, so it's really cool to support solo artists," Goode said. "It might even be inspiring for your own art."