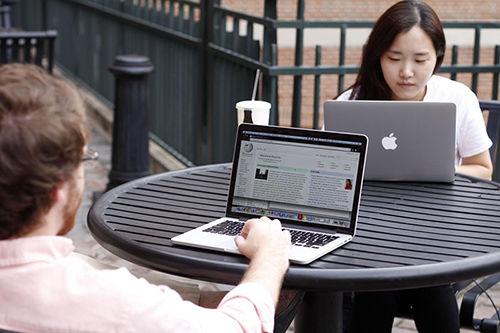 In 2012, as an incoming freshman to the University of North Carolina at Chapel Hill, Joe Puccio spent around seven hours planning his schedule to only get into one out of the five classes he needed.It was then that he programmed his phone to text him when a class he wanted had an open seat.
This was the beginning of Puccio's program Coursicle, which would develop into an app and later on, a website.
Coursicle is available on both Apple and Google Play stores and allows students to track individual classes for registration. When a class has an available spot, the app notifies its users. Students are allowed to track one class at a time for free during a semester. At UNC at Chapel Hill, the program had 900 users during the first semester and 1,800 during the second.
"We were exclusively at UNC Chapel Hill for the first three years, so we only supported UNC," Puccio, co-founder of Coursicle, said. "Then in late 2015, we started expanding to other schools, and now we're at around 830 colleges."
Puccio said some of the most popular places for Coursicle include Southeastern universities near UNC, such as the University of Georgia, Georgia Institute of Technology, Clemson University and College of William & Mary. The app was launched at UGA in spring 2017 and for the fall 2018 registration, the program had 3,100 users at UGA alone.
Coursicle also has a website that allows students to plan schedules for registration, in addition to providing information about different courses, professors and other information that has been aggregated from public sites. The site currently has 1,200 users at UGA.
Although Coursicle competes with another program known asCourseoff, which also helps students plan their classes, Puccio said there is no competitor specifically for Coursicle's tracking feature.
The site provides a combination of information from different sites, such as UGA Bulletin and Athena. While Bulletin informs students about courses and professors that may teach the course, Athena allows students to create their schedules and see what classes are available. Coursicle provides the same type of information in one place while the app tracks available seats in a class.
"I'd definitely say that it's been very helpful," said Liliana Amirhosseini, a freshman intended biochemical engineering major. "I just had registration on Friday, and it was really easy to find my CRN numbers through Coursicle and be able to plan out times and do multiple versions of a schedule and just mix and match everything and not go through Athena or anything else."
However, because the app and site are separate, students can only access the tracking feature on the app and the class scheduling on the site.
"I think that planning your schedule on an app, on an iPhone which is generally what our users are using, iPhone or Android, the screen size is just quite small, and it can be very difficult for us to design an interface that really works well for creating a schedule. That's why we prefer students use their computer to plan their schedule," Puccio said. "That said though, there has been a lot of user interest in integrating the website and the app more. "
The app only allows users to track one class at a time for free. To track unlimited number of classes during a semester, users must purchase the premium version for $4.99 on a semester basis.
"We came to the point when we were graduating college that we realized Coursicle is only going to be able to continue existing, we could only work on this full time, if we can pay for housing, pay for living," Puccio said. "We're working on Coursicle full time and in order for that to be the case we came basically to the decision where if we don't start making money we're going to have to shut it down completely."
Despite the price, students can now get premium for free for a semester by recommending Coursicle with an individual link to three other friends. They can get premium for life by recommending it to 15 friends. Puccio said the goal is to expand Coursicle's market even if that means cutting into some of its profit from the premium price.
As Coursicle moves forward into expanding its user base, its features and availability to other schools, Puccio said they expect the number of users at UGA to double from its 1,200 site users and 3,100 app users for spring 2019 registration.