A female Unversity of Georgia student was struck by a vehicle on Friday, Oct. 2, night in the crosswalk on South Lumpkin Street near Church Hall.
Another university student was driving the vehicle and said she saw the flashing lights at the crosswalk but did not see the pedestrian, according to a University police report. When she did, she was going too fast to stop in time.
The report cited bleeding around the victim's nose, mouth and right eyelid, as well as some memory loss. The victim was transported to Athens Regional Medical Center for treatment.
While the victim in this case pressed the flashing lights to alert oncoming vehicles, injuries like this are a constant potential hazard on UGA's campus due to a culture of jaywalking, Campus Transit bus driver Irene Ivie said.
Ivie, a sophomore, said jaywalkers are a risk for her while driving around UGA's campus.
"It happens on a daily basis," she said. "It's bad."
Ivie said driving past Sanford Stadium is one of the most dangerous areas around campus as a bus driver.
"Everyone jaywalks from the curve as you're headed down towards the stadium," she said. "It's a really bad place because if you top that curved hill, all of a sudden you have tons of people in front of the bus."
And stopping a bus is no easy task, Ivie said.
"A lot of people don't understand that it takes a lot for a bus full of people to stop," she said. "You can't stop on a dime."
As of Sept. 23, before the incident on South Lumpkin Street, there had been seven incidents reported in 2015, with four of the accidents coming at the fault of the pedestrian, said Bob Taylor, representative for UGA Police Chief Jimmy Williamson.
Jaywalking is common on and around campus, with many students taking advantage of the Georgia law that says pedestrians have the right of way as long as they are in a crosswalk.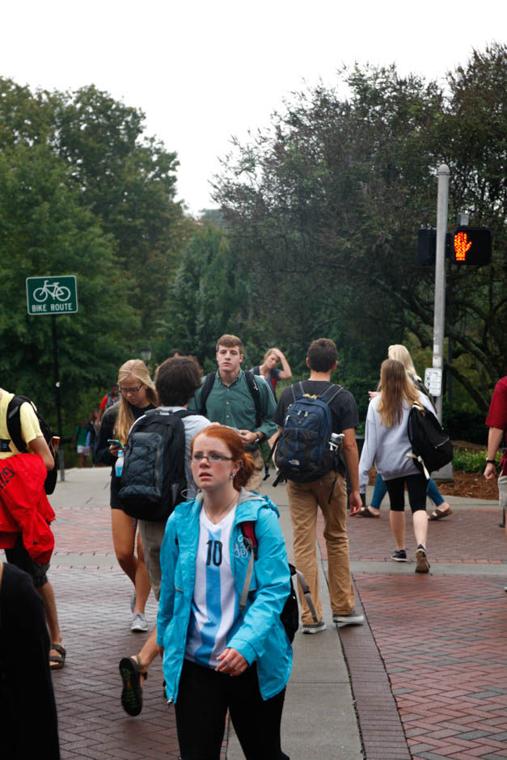 Photo by Austin Steele
"Vehicles are to yield to pedestrians in a crosswalk. But vehicles are not required to stop for people waiting to cross," Taylor said.
Georgia Code, Section 40-6-91, states that "no pedestrian shall suddenly leave a curb or other place of safety and walk or run into the path of a vehicle which is so close that it is impractical for the driver to yield."
And while police expect pedestrian traffic to be heavy around campus, especially around times of class changes, citations are written for "flagrant violations," Taylor said. In 2014, only three people were cited for jaywalking, which results in a court fine.
But when it comes to jaywalking, Taylor said the danger comes in crossing a road improperly and not paying attention to one's surroundings.
Jaywalking across South Lumpkin Street near Bolton Dining Commons is uncommon, while pedestrians often take advantage of the intersection of Baldwin Street and Sanford Drive.
And if bus drivers have to brake hard to prevent hitting a pedestrian, they could end up hurting a rider in the process.
"When I have to stop, I have to be careful because I'll throw someone down on the bus if I just slam on the brakes," Ivie said. "So it's the concern that you're going to injure someone either on your bus or outside the bus."
Ivie said she has to drive the bus slower around that area of campus.
"Thankfully I've never gotten close to hitting someone," she said. "Everyone usually steps back when they see a bus."
Ron Hamlin, director of Campus Transit, said all drivers are trained to watch for dangers around campus, including jaywalkers.
"It's more or less a fact of life, so we're prepared to deal with it," he said.
It has been several years since a Campus Transit bus was involved in a pedestrian incident, but he said that risk is constant.
"What's really concerning to me is when I may be stopped and someone is walking in front of the bus," Ivie said. "I'm not moving, but the cars and bikes behind me might try to blow around me."
Driving around a vehicle stopped where pedestrians are crossing is illegal, according to Georgia code. But Ivie recalled a recent incident outside Park Hall when a bicyclist went around a stopped bus and struck a pedestrian.
"Outside the Performing Arts Center as well," she said. "Cars pass the buses at that bus stop all the time, and that's especially dangerous because that road curves up, so you can't see the cars coming in the other direction when you cross the median."
Even at marked crosswalks, students around campus cross the street at inappropriate times.
"The crosswalk at Baldwin and Sanford, people are always crossing even when vehicles have the green light," Ivie said. "As a bus driver, I usually politely honk my horn to remind them that they're not supposed to be in the intersection, that they're going to get their turn, but that they're going to have to wait at the light just like I do."
And as for the UGA myth that any student hit by a Campus Transit bus will receive free tuition, Hamlin discouraged testing that out.
"That's a myth. That's nothing but a myth," he said. "I certainly wouldn't recommend it."