When D'Ann Conroy transferred to the University of Georgia in fall 2016, a delayed graduation was inevitable.
This was the newly decided public relations major's second transfer and third time she changed her major since 2014 when she started college.
Though she'd attended Point University and the University of North Georgia for different majors, she said she settled into Grady College easily when she made the switch to UGA.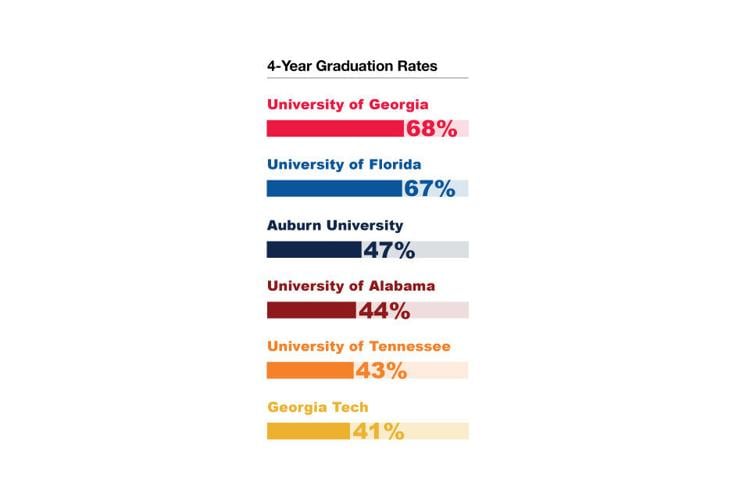 The addition of time to college careers isn't uncommon, especially at larger schools like UGA.
For students in Athens, the rate of graduating in exactly four years is approximately 68 percent, which is around 2 percent points higher than 2013, according to a UGA Today press release.
About 75 percent of students who graduated from UGA did so in four-and-a-half years, according to the release. Conroy will be among that group.
"When I first came in and was talking to an adviser at UGA, they said that if I did Grady, it would be a whole extra year," Conroy said. "I finagled it into three semesters instead of four so that I could graduate in December. I don't know how it happened, but God has been really good to me through this entire process."
Personal problems
For students such as Becca Mackelprang and Mari Reed, personal health issues can push the date for graduation back significantly.
Medical issues will force Mackelprang, a senior social work and psychology major from Statesboro, to take a full fifth year.
She didn't anticipate the strain her physical issues would have on her schoolwork, and she wound up missing many classes and having to work with professors to accommodate her needs.
"I ultimately had to withdraw when I was in the hospital for nine days, missed that much school, and then also had to get more intensive treatment after that. I just wasn't going to be able to attend school and finish out the semester," she said.
For Mackelprang, her withdrawal was especially difficult because social work classes are offered once a semester in the spring, which means she had to put off an entire year rather than one semester.
It also meant having a new social work cohort, which Mackelprang said she still has reservations about. Her goal is to graduate May 2020 or that summer depending on how many classes she can fit in.
"I will be graduating with an entirely different class of people and all my friends from last year will be graduating in spring. That was really hard to come to terms with. It's something that I'm getting use to and trying to take in stride," Mackelprang said.
Mental health issues also caused Reed, a theater major from Brunswick who is currently on hiatus, to take multiple breaks.
She withdrew for the first time during her junior year and is set to graduate in either five or six years.
---
"I will be graduating with an entirely different class of people and all my friends from last year will be graduating in spring. That was really hard to come to terms with."
-Becca Mackelprang, senior
---
While UGA has some resources, Reed felt she did not hear about many of those until retroactively.
Attendance policies are often not made to account for mental breakdowns, and the first time Reed had to do a hardship withdrawal, she said it took months to meet with a therapist at CAPS.
"I don't think I have been taken care of as a student in the ways that I would probably need, and that's not me placing all the blame on UGA because you do have to seek certain things out," she said. "I feel the resources that were available and that were in my face could only take me so far."
Reed also credits personal issues, such as a bad relationship and uncertainty about her major with needing to take a hiatus in January.
Too heavy of a load
Taking more than four years to graduate is not solely dependent on whether or not a student stays put or transfers throughout their college career.
For Allison Miller, a fifth-year double major from Sandy Springs, the extra year means facing the reality of running out of scholarship money.
As a public relations and art education major finishing her capstone courses, Miller will be paying her spring tuition and additional costs out of pocket.
While Miller has been paying for college expenses thanks to a college fund her parents set up when she was young, she is looking for a job to help pay for next semester.
Miller said her decision to add a public relations major to her art education major is what pushed her over the four-year graduation mark.
"Art education is not meant to be paired with another major for sure. It's a four-year plan and you take every single class as a requirement. You don't get much room other than having some choices with what studios you take," Miller said.
Staying the additional year was a personal choice to gain more experience for John Byers, a fifth year cognitive science and mathematics double major from Douglasville.
Byers wanted to study neuroscience, which is a major UGA does not offer.
Therefore, he opted to major in cognitive science to gain a background in neuroscience.
He said his choice to attend UGA was 70 percent based off having the Zell Miller scholarship and receiving the UGA One scholarship.
The other 30 percent came from the freedom of organizing his coursework the way he wanted.
"When I decided to stay for a fifth year, I knew I would run out of HOPE hours," he said. "It was definitely a decision I had to make with my family, but since I decided to do so a year in advance, we were able to plan for that."
Though the extra time may be inconvenient, UGA Career Center Executive Director Scott Williams said it could help with job prospects.
"When an employer reviews a resume, I feel they are looking more closely at internship experience, leadership, activities, and involvement, along with major, degree, and GPA," Williams said in an email. "I don't get the sense that they are taking into consideration the length of time it takes to earn a bachelor's degree."