When longtime resident Fred Smith Sr. went to Oconee Hill Cemetery to see the reinterment of remains of mostly African American slaves found under Baldwin Hall, a worker moved a large truck in front of the locked gate he was watching through.
"It's disrespectful… for UGA to dig up those remains in order to expand a building," Smith said. "It's hard for me to believe they didn't know that was a cemetery when they got ready to expand that building."
Smith, along with other prominent figures in the Athens African American community, is featured in "Below Baldwin," a documentary about the remains the university claims to have discovered during the 2015 expansion project of Baldwin Hall. Athens residents, UGA students and UGA faculty packed the historic Morton Theatre for the film's premiere on March 31.
Unnamed reports said the remains were moved to trenches dug in a pauper cemetery off Nowhere Road or thrown in a dump, according to the documentary.
The film also mentions a 1978 Red & Black article in which the late Dean William Tate said the university was aware of the gravesite when Baldwin was built in 1938. The remains were moved to "where the Athens waterworks were located" and "marked with a large monument" under Tate's direction, according to the 1978 article.
---
Struggles with the administration
In the documentary, Smith and other notable community members such as Clarke County NAACP President Alvin Sheats expressed their grievances with UGA's handling of the situation.
Among these grievances is the fact that the 18-person Baldwin Hall Memorial Advisory Task Force did not include any of the outspoken Athens African American residents featured in the documentary, who said the remains may be those of their ancestors. UGA also did not allow community members to view the reinterment.
Protestors questioned the university's willingness to acknowledge slavery during the memorial dedication.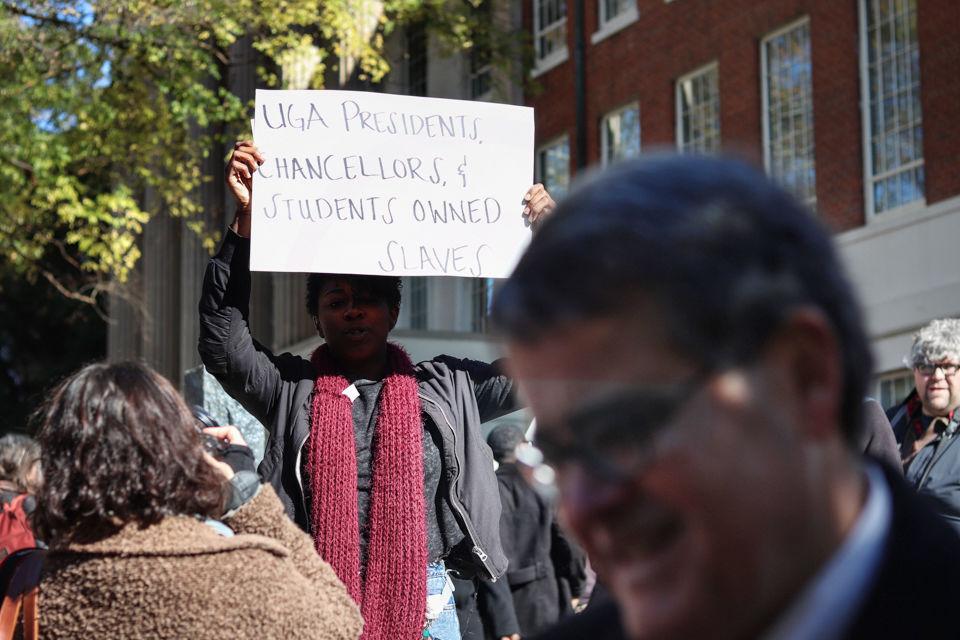 Despite the "significant monument" at Baldwin, the memorial did not address the school's history of slavery, Smith said. Community members also expressed concern about the UGA administration's role in the oversight process and campus conversation on slavery.
UGA Student Government Association Senator Jessica Douglas, who co-authored a recent resolution encouraging the university to recognize its history of slavery, wrote a similar piece of legislation last year. However, that piece was vetoed by then-SGA President Cameron Keen on his last day in office due to "factual incongruencies."
"Administrators were very concerned that the resolution portrayed them in a negative light and that it would harm their reputation, especially for future students and incoming students," Douglas said. "They didn't want it to pass for that reason."
The documentary also alleges faculty who have attempted to research slavery at UGA were pressured to alter their research goals. A group of UGA professors sought to create a center on slavery, but the administration denied this because it is not relevant to the research at Baldwin Hall and the center would be beyond the scope of resources available, according to the documentary. 
Franklin College of Arts and Sciences Faculty Senate has created an ad hoc committee to gather concerns from UGA faculty related to the Baldwin expansion, and ideas on how faculty can work more effectively to address UGA's history of slavery and UGA's current relationship to the black community in Athens.
Future tangible action
After the screening of the documentary, panelists including Smith and Athens-Clarke County District 2 Commissioner Mariah Parker discussed questions around the issue of UGA's history of slavery.
Wes Bellamy, a city councilman from Charlottesville, Virginia, who served as a panelist, told residents to gather support from the ACC Mayor & Commission to create "leverage" on the UGA administration.
"You have to write a formal letter with community support stating this is what we want the University of Georgia to do, and because you all use our water services, because you use our sewer services because you use our fire services," Bellamy said.
Panelists echoed the demands that were highlighted in the documentary, including reparational scholarships for descendants of the slaves who built UGA and higher wages for the low wage workers majority African American. Yet conversation revolved around remembering UGA's history of slavery.
"Enslaved folks were there from the beginning to help build the University of Georgia," Smith said. "We just need to pay some respect to that and not treat them as less than human."