Head coach of the University of Georgia women's basketball team gave the same advice that she tells her players on the court to an audience of female students during a panel on Wednesday night. 
"We, as women, a lot of the times want to see the finished product before we're willing to take the risk, and you cannot do that," Joni Taylor said. "You've got to just step out on faith over fear, which is what I tell our players all the time."
Instead of referring to basketball, though, she was discussing being a woman in a male-dominated work environment as part of the Women's Leadership Forum in the Russell Special Collections Libraries.
Taylor, owner of S. Boyd Holdings LLC Susan Boyd and senior vice president of human resources at Georgia-Pacific Julie Brehm made up the panel.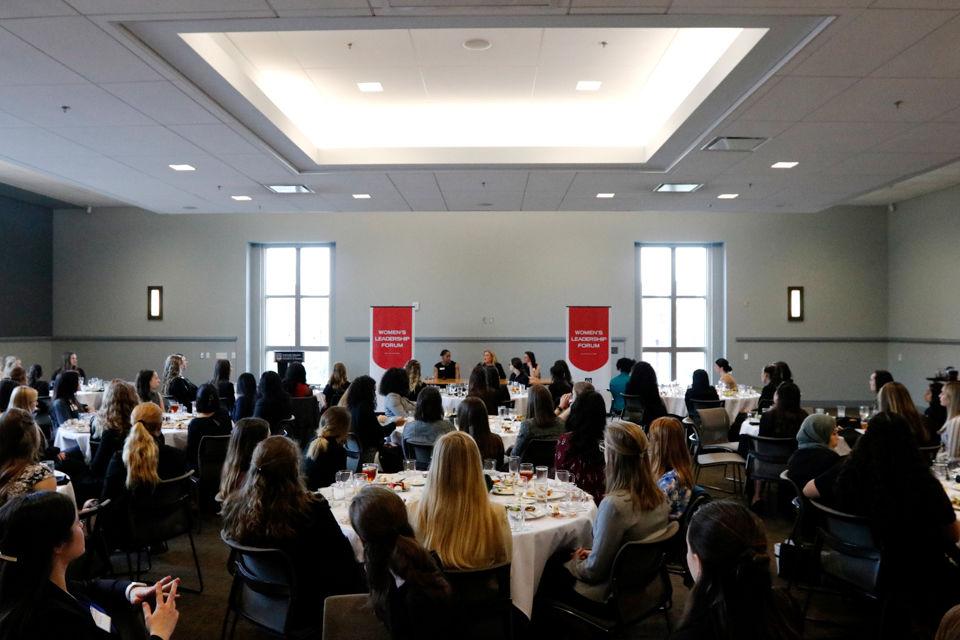 These female leaders spoke with students about ambition in a male-dominated work environment, overcoming fear and how the failures they experience refines them as professionals.
"From my perspective, I don't think I've failed enough, which means I didn't push myself enough," Boyd said. "You guys are some of the best and brightest that we have. Go for it. Dream big. Fail early. Change what you're doing if you don't love it."
Pamela Whitten, senior vice president of academic affairs and provost at UGA, opened the evening by stating some statistics about women in the workplace and introducing the three panelists.
Jessica Meaders, freshman criminal justice and international affairs major, said she was excited specifically to see Taylor speak. 
"It's really cool to have a woman as our women's basketball coach because you actually don't see that as often," Meaders said. 
The guests were treated to dinner as they anticipated what the panelists would say.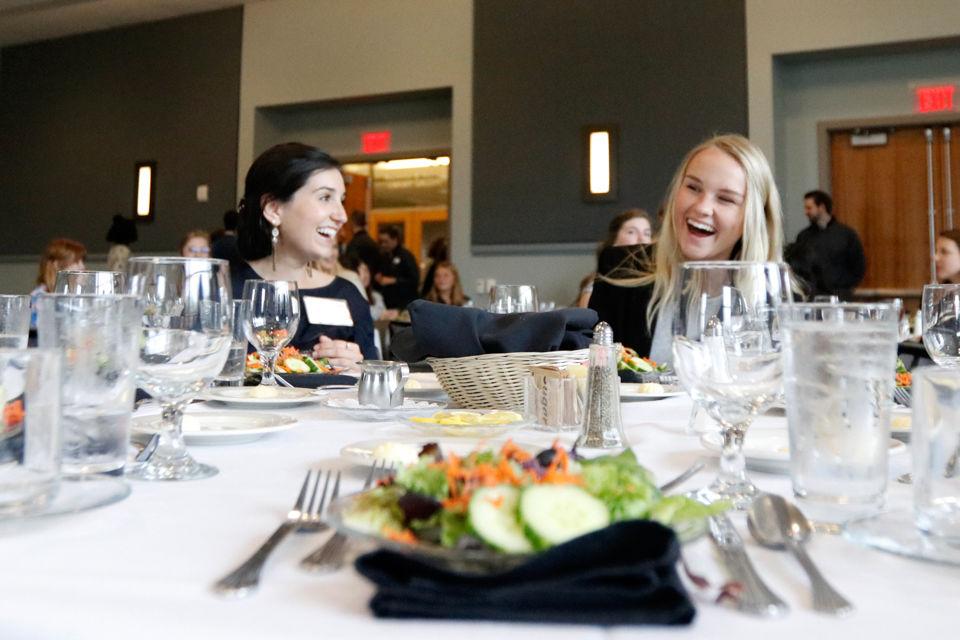 "Hopefully, what they'll talk about is some mistakes or lessons they've learned, things that I can learn and write down without having to make the same mistakes or go through the exact same experiences, especially since right now, the world of finance is very dynamic," said Natalie Strandquist, a sophomore finance and international business major.
The panelists answered questions given by audience members, who were women chosen to attend the event by a variety of organization leaders.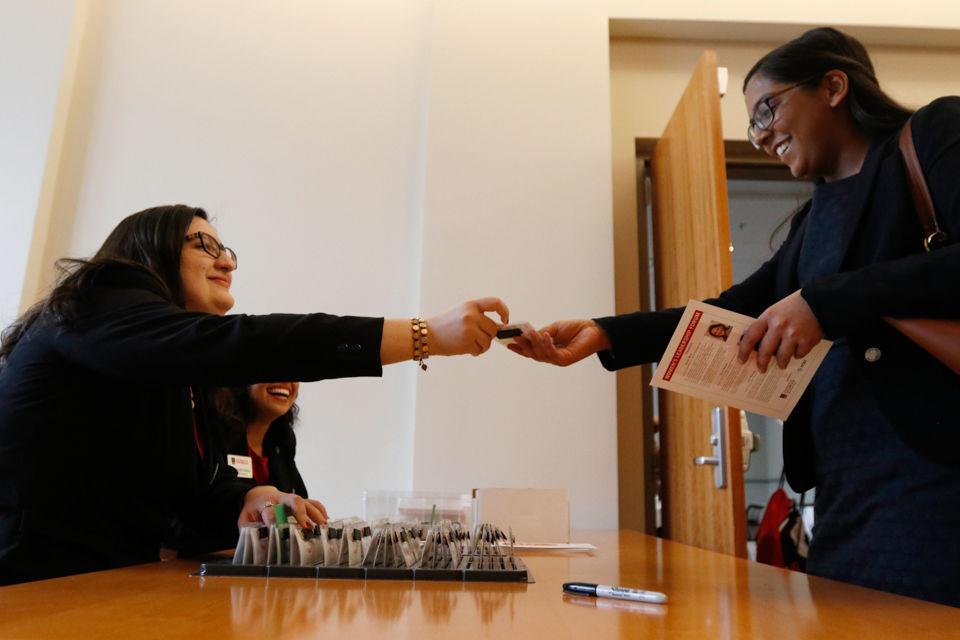 "I really just love to take any opportunity I can to come to events that are put on by the administrative of the University of Georgia, especially when there's a strong women panel because it's interesting to hear their experiences, what they've gone through and the barriers they've had to overcome," said Sabrina Regan, a third-year finance major. 
The panelists discussed about gender differences they notice in the workforce. 
"We put a ceiling on ourselves because of maybe wanting to have a family or maybe feeling less prepared and waiting a little bit longer, whereas men will jump right out there and just do it even if they don't know what they're doing. They're going to say, 'Yes, I'll do it,'" Taylor said.
They also gave advice on integrating into a male-dominated workplace.
Brehm told the audience not to be someone they're not to try and get in on the conversation, when men are talking about things that they may not be interested in, such as football or hunting. She urged the women to talk about things that they're interested in because they should be proud of the different perspective they can bring to the table.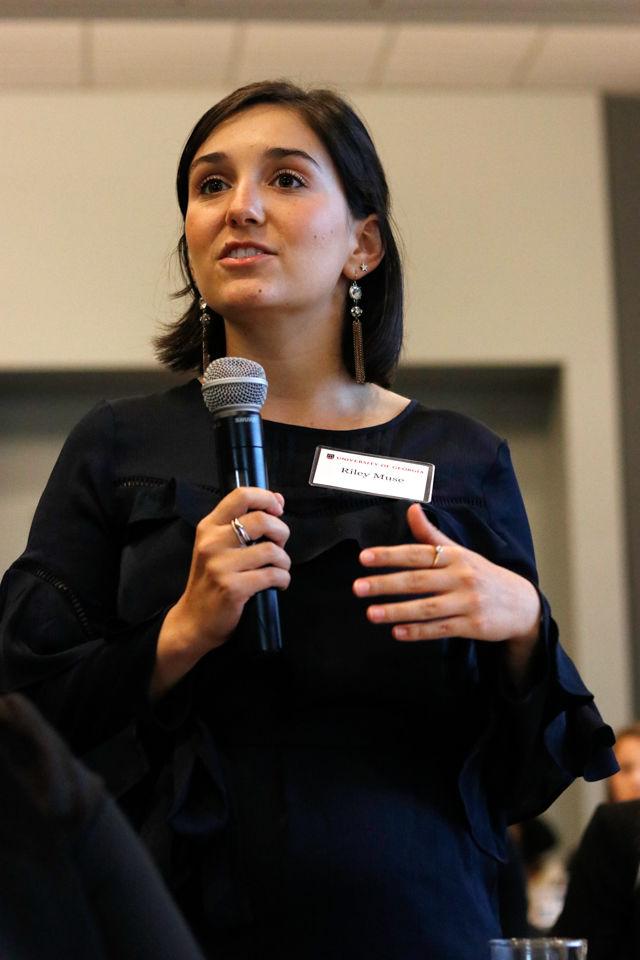 Toward the end of the forum, the setup was flipped and the panelists asked the audience questions relating to their fears and their relationship with social media. The women gave the audience advice and words of comfort following the audience's responses.
The women also remembered some of the biggest struggles they've had in their career and spoke on what they did to overcome them. The panelists told the audience about failure they've experienced and how that failure is still important.
Overcoming fear and doubts was a big theme for the event as well, as the panelists encouraged attendees to go for difficult positions and make risks.