In comparison to fall football games, which bring in millions of dollars in ticket sales each year, the stakes for the spring G-Day game are low — nonexistent, even.
The scrimmage is free and without real competition — essentially a public practice. But important plays are made off the field, as the University of Georgia Athletic Association welcomes back high-profile alumni and donors, showcasing the strength of the investment that is Georgia Football. Those donors are major players in the program's success.
"If you look across the country, I think you'll find that most athletic programs operate in the red. We've been really fortunate here, for really almost forever, that we've been able to operate in the black," said Claude Felton, senior associate athletic director for sports communications. "And it kind of goes back to the support that we've had from the Georgia fans and donors."
According to more than a decade of Equity in Athletics Disclosure Act fiscal data submitted to the NCAA and obtained by The Red & Black through an open records request, from 2005-2014 contributions have averaged 40.7 percent of total football revenue. Annual contributions average about $27.6 million.
An unusual position
The UGA Athletic Association is different from other athletic departments in that it is self-sustaining.
In 2010, 127 universities subsidized more than half of all athletics-related costs, according to the Chronicle of Higher Education. Not so at UGA, where university subsidies — from student fees, budget funds allocated by the university and government support — account for just 3.2 percent of approximately $103.4 million in athletics revenue, according to the Chronicle.
"The Power 5 conferences, of which the Southeastern Conference is one, are the only schools that really even have a chance of having enough revenue from outside sources — from ticket sales and donations and from media and marketing sponsorships — to actually cover the costs of running an overall athletic department," said Welch Suggs, a sports journalism professor at UGA.
According to the Knight Commission on Intercollegiate Athletics, of SEC schools in 2014, only the athletic departments of the University of Alabama, Lousiana State University and the University of Florida transferred more money back to their universities' general funds than the UGA Athletic Association, which gave $4 million. LSU and Florida gave $4.6 million and $4.3 million, respectively, while Alabama gave $9.1 million — a significant increase from $5.9 million in 2013.
"Everywhere else, it costs a lot of money," Suggs said.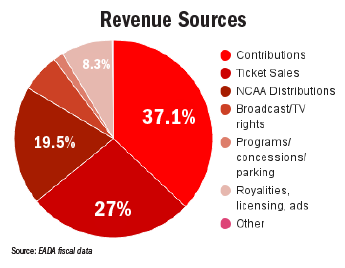 Georgia football alone has averaged nearly $68 million in revenue since 2005, according to the EADA fiscal data analyzed by The Red & Black. Expenses have averaged around $20 million. This combination of income generation and relatively frugal spending contributed to Georgia football being the No. 3 most profitable college football program in 2012, according to Smarty Cents, a finance website. In the 10 years of data analyzed, net revenue — revenue minus expenses — averaged nearly $48 million.
With the exception of the men's basketball team, all other UGA sports operate at a loss: in the 2015 fiscal year, total revenue for programs other than football and men's basketball was $5.3 million, while expenses were $21 million, leading to a $15.7 million deficit.
Net revenue for football alone was just more than $60 million in the 2015 fiscal year, which more than made up for the gap. After all athletics expenses, annual net revenue for the UGA Athletic Association as a whole has averaged slightly more than $10 million, according to the fiscal data analyzed by The Red & Black. 
"As long as there are 93,000 people coming out for seven Saturdays each fall, then the Athletic Association's on pretty firm financial footing," Suggs said.
Commitment to academics
With not a single SEC championship to its name since 2005, Georgia football might seem to have given its student fan base a decade of disappointment. But record aside, numbers pertaining to academics show otherwise.
Since the 2007 fiscal year, the UGA Athletic Association provided more than $28 million to the university, and 1,233 need-based awards since 2010. Most recently, UGA Athletics pledged $1 million to the experiential learning initiative.
In addition, the Athletic Association has annually contributed $2 million toward student scholarships and $300,000 toward undergraduate research.
"If you were at other schools, they may not be able to even cover the total cost of providing scholarships for student-athletes, and they may be depending on out-of-state tuition waivers and things like that," Suggs said.
But where other universities might make students pay higher athletic fees to offset the cost of their athletic departments, the UGA Athletic Association is able to foot the bill for initiatives such as the CURO Research Assistantship Program, which provides undergraduate researchers a $1,000 stipend to work with professors.
As a CURO research assistant, senior finance major Shockley Nunnery investigated market reactions to healthcare-related news. He only recently learned about the UGA Athletic Association's funding of the program.
"It's pretty exciting to think that something that students really care about so much and pour a lot of passion into on Saturdays has this effect on the other six days of the week — and it's not just related to the sports teams they really care about, but the teachers that they love and the research projects they can pursue," Nunnery said. "That's a pretty remarkable thing, and it seems to be pretty unique to Georgia. And that's a pretty good reason to go to school at Georgia."
According to the Office of the Senior Vice President for Academic Affairs and Provost, the athletic association has also endowed 24 professorships since 2005. Georgia Athletic Association Professor J. Marshall Shepherd said the endowment of his professorship has been a "jolt in the arm" of his department, providing resources that support performing and publishing research as well as funding to present research at conferences.
"It really illustrates the commitment that the athletic association has to supporting the academic mission of the university," said Shepherd, who works in the Department of Geography.
And UGA's professors are rare cases in receiving athletic funding.
"When I go around the nation and someone sees that I have this endowed professorship from the athletic association, people really don't know what it means; they think I'm doing research for the athletic department, which I'm not," Shepherd said. "My point there is this is such a unique thing that the UGA Athletic Association does that ... other institutions don't even understand it because they've not seen anything like it."
For Parker, the Silver Circle donor, the UGA Athletic Association's proven commitment to the university's academic mission is a primary reason why he and his wife, Kay, support athletics.
"We've given money to the forestry school, the business school, the law school, the history department, athletics — that's all part [of the university] to me. You know, one of the great things about a state university is it touches all of those things," Parker said. "And the fact that the athletic association recognizes that and puts money into the academic side, I think, is, a.) terrific, and b.) why we feel good about contributing."